NOw Mountain Goat! On Comers Rock W4V/WV-013!

YAHOO! Congrats! I just saw the ham alert for 15m but can't hear anything. Sorry I missed you on 40m.
Congrats Diana on your MG achievement. (makes your Dad proud too!) Looking forward to many more activations from you down the log. 73 Gary
Congrats Diana ! And thanks for the QSOs, too.
73
John, K6YK
Diana,
Congrats on making Mountain Goat status and thanks for all the great contacts.
Gary A. - W0MNA
Congratulations, Dee! I wish I could have worked you but the bands were terrible.
73 Gary
Congrats on MG and good working you today on Comers Rock !
73
Rob
K4RXL
Congrats Diana! I see you're already hanging your ear tag! Awesome!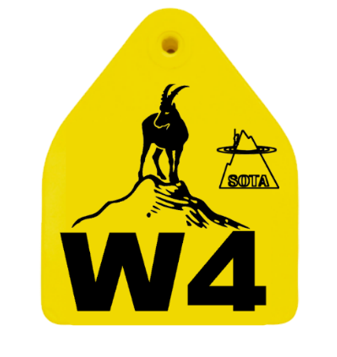 Congrats on MG

Nice working you on the summits. 73 Karen
Congrats on Mountain Goat! I am excited for you, and happy I got to work you, S2S, from Colorado, during your Mountain Goat summit activation. I look forward to many more. 73.
Ray
Congratulations Diana on achieving Mountain Goat.
Jimmy M0HGY
Congratulations Diana for this achievement and thanks again for the contact yesterday.
73 Chris
Congratulations, Diana!
73 de Jonathan "JB"
Congratulations Dee, Baaaah!!
I'm glad to have logged you on your MG summit!
73,
Andy, N4LAG
Congratulations!
73,
Keith KR7RK
Congrats Diana!
Ken & Kay, KE7BGM
Way to go, Dee! It was a pleasure working you on your MG summit and I hope for many more.
Ron, NR3E