Greetings one and all.
Big thanks to all the chasers and also the S2S for Todays log.
 Today almost got off to a none starter. In Future must have check list as when got 6 miles down the road one suddenly noticed the lack of telescopic 8m pole. It was still in the shed DOHHHH :scream:

So after U turn back home and delayed by good half an hour one finally arrived to a lovely surrounding again and the low clouds and mist backs across the Cornish and Devon valley namely the Tamar river valley. And also very over cast with what looked like threatening clouds of dark from the south coming in off the sea. Possible thunder storm brewing yet came to nothing thankfully.

 So Its break out the kit from the car and up onto the fortress part of the hill on where the locals Kept out the invaders from Europe namely Saxons.

Putting up of the antenna turned out this time to be quite simple with better guy lines and the new Inverted L 1/2 40m antenna was up. Just matter setting up radio ACU and the 9:1 Home brew unun.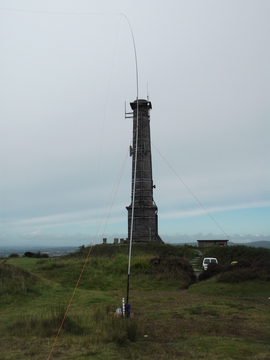 10 minutes later,s the battery's connected and the radio burst into life still on 20mb with well heavy heavy lightening static noise and then proceeded to tune in the Inverted L with fairly good ease to a Very LOW SWR. But first things first lets go S2S hunting and with in minutes clocked 3 S2S from YO/MC-052  OE/OO-070 and I/PM338 there was a good number of S2S going on too nice to hear.

So Settled on 14320 afterwards and the spot no doubt had worked good number stations came flying in on freq in Including DD5LP/p on his hill DA/AV-071 good the catch you Ed.
 Then tried 28mhz and forgot to ention first contact on 20m was EA2LU and was surprised to find him on 10m as did mention was going up there afterwards and there he was awaiting for me.

 40m pulled few out of the noise etc including young Mike from G/SP-017 and Karl and his Australian counterpart friend on G/TW-002. So three more S2S,s clocked. But surprised was doing so well into CT and EA as well.

Now note little confused here as looked on Internet for the Trig point TP-4256 but on the trig it was 3438 so not sure which one is correct any one in know please let me know thanks.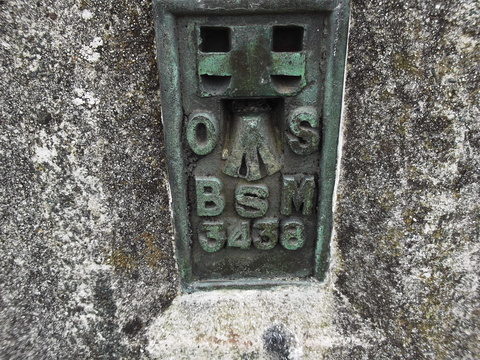 80m tune din very well 40 was bit of pain but 80m tuned straight in now problems but nothing heard.

 15M spoke with a LY2PX so one contact made on there, and Tried 10m again but noted the ALC was not responding so left 10m and went back to 20m on where the lightening static was still very very heavy indeed. Could not quite reach F/AB-274 tried but too QSB to him yet could hear him OK. Then little further up the freq I found a S2S party starting with F/AB-274 and then myself to three operators on YO/MC-052.

 Downing of the portable shack not take long before it was put all away and you not known I have been there. So the Inverted L 40m 1/2w Home brew is working, just needs better tuning down on 40m, but was about 1:3 so not that high. prefer it right at bottom me reflection needle. So One day another summit is called for will have to start planning the next one as feel more better about getting the station set up and with minor problems.

Now its time for a Big Logging off on PC for Sota, Eqsl and QRZ.com and of course the paper logs
Thanks to all again whom got me on air today
Karl M3FEH/p from G/DC-003