OK, so not really killer sheep. But they did kill my chances of any QSOs on 20m or 40m.
I activated Ingleborough back in March so had already got the activator points including winter bonus, but I didn't get any S2S QSOs so decided to go back and look for S2S. I could also check out a mod I had made to my homebrew rig.
I knew Colin @M1BUU was going to activate Red Screes G/LD-017 on 30m so I decided to start there. I set up the 20/30/40m EFHW antenna and quickly worked EA2BD/P for my first S2S. Then I saw Colin's spot and worked him. Then I noticed my antenna was loose on the ground instead of in the air. There was a sheep interfering with it. I got up to shoo it away and then realised it was eating the wire! It had bitten through and was munching a 55cm section it had bitten out of the wire. I was worried it would not be good for it if it had actually eaten or swallowed any of it. Fortunately it dropped the wire and I was able to recover it. The break was beyond the 30m link so I was able to repeg the wire and continue on 30m.
30m was doing well for me and everytime I did one last CQ I got another call. I ended up with 30 QSOs including 5 S2S. If the band hadn't done so well I might have tried to patch the wire with the terminal block I carry with me to enable 20 and 40m but I decided to switch to 2m FM instead - I had just seen an alert for M0VCM/P on Helvellyn G/LD-003 and thought it was worth calling him. He was quickly in the log and a CQ SOTA call got me another 14 QSOs including one more S2S into Wales. I also spoke to Colin M1BUU/P on his summit in the Lakes with a good 59 both ways.
As I was finishing on 2m I had an F2F QSO with M0ARW. He was doing the Yorkshire Three Peaks with his two sons and as soon as he saw my mast he made a bee line for me and we had a chat. He doesn't yet do SOTA but has got a Sotapole so maybe he will try. (In case you haven't worked it out, F2F=Face to Face).
After eating a very delicious Ginsters Cornish Pasty I set up for 10m with my ground plane antenna. Unlike last week my CQ calls actually produced an RBN spot and I was called by a very weak MI0OAT/P for a final S2S to GI/SM-009. I also worked EA4M.
My homebrew transceiver includes an AGC circuit based on that by AJ8S for the QCX. It works quite well but I found some issues which sometimes caused problems with the sidetone for 10m. I disabled the circuit and, to prevent my ears being blown out by strong signals, had put 4 back-to-back diodes across the volume control (that's two lots of two in series, in parallel with opposite polarity, if that makes sense). I have this on my other homebrew SOTA rig and it works well at limiting strong signals. I was pleased that it solved the issues I was having on 10m transmit, although there are still a few things I need to resolve on 10m RX.

One of these sheep ate my antenna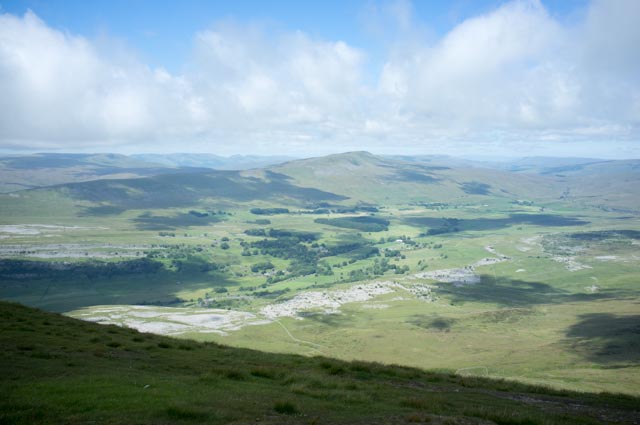 Whernside G/NP-004 and other SOTA summits in the distance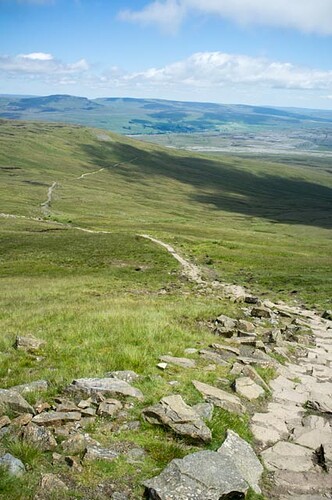 The Three Peaks path heading for Pen-y-Ghent G/NP-010


Pen-y-Ghent G/NP-010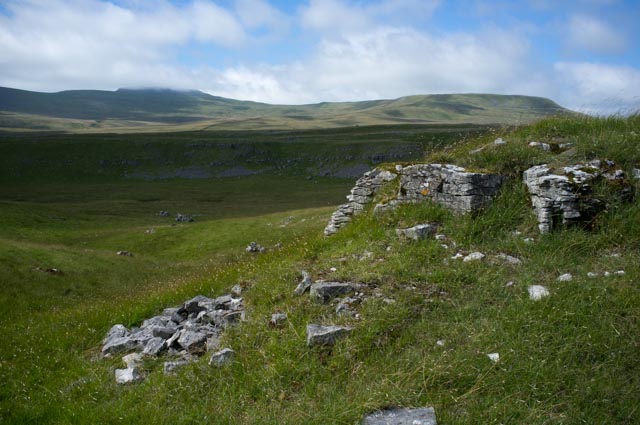 The top was clear for me but some cloud down on Ingleborough G/NP-005
So a successful day out despite the sheep getting a taste for yellow wire.