Andy, I'm glad and jealous to read about your 2 hours biking and 3 hours SOTAing. I can imagine your skin looking like a boiled shrimp,

Take care of it and put some after sun cream on the burnt areas.
Having my wife left me alone with our 3 kids today for professional reasons, I've only been able to chase 4 activators from home while taking care of the kids. Despite the very cloudy sky in the morning up to the afternoon, it held without rain and it finally cleared a little, so we went to the movies in the afternoon and later enjoyed some time in the nice park of Yamaguchi in Pamplona.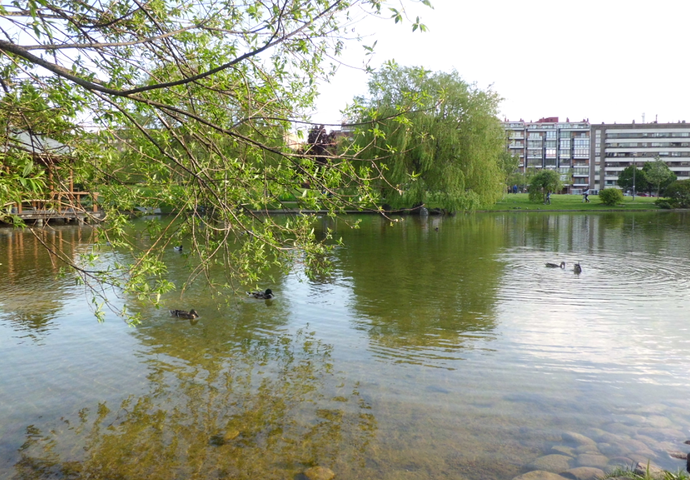 Roberto, thank you very much for the activation and the SOTA points for our QSO on 20m SSB today, as well as for sharing that beautiful picture of the landscape you enjoyed in HB land today. Sometimes it's difficult for me to copy HB on 20m and sometimes I can't copy while beaming directly to HB and have to do it through backscatter beamming to the NorthWest, but we were lucky today and you were loud and clear from the NorthEast, the direct beam.
Ed, I see you had a winter weather today during your trail-running event. However, it's better like that for running rather than too warm, as dehydratation becomes an issue when running or hiking under the sun with too high temperatures.
The weather we had today, although a bit too windy, it was perfect for hiking in the mountains, because temperature was around 15-17° C with no rain at all and the clouds covered the Sun, which can be a bit too strong by this time of the year to be exposed to for many hours in the mountains.
I'm glad that you enjoy the activation reports I write and post here. We have exceptionally good conditions for SOTA here with so many not difficult and wonderful mountains to hike around at relativley short distances from home. Should you feel like visiting the area one day, I'll be pleased to help you and guide you to activate some of the many summits here and even join you on some activations, assuming you come in a weekend and I don't have other commitments like today.
Well, no activation for me today, so I'll be eagerly looking for a good one next Sunday.
Have a nice week.
Best 73 from Guru