Thanks to all chasers and activators for the contacts made yesterday from I/TO-314. I failed to reach the summit of Mont Calvi I/TO-304 as I chose an unfavorable route through a quarry, where explosives were being used… Pics attached, taken before the two friendly Italian workers turned me back off the site by giving me a lift in their vehicle. We had to converse using signing due to the language barrier…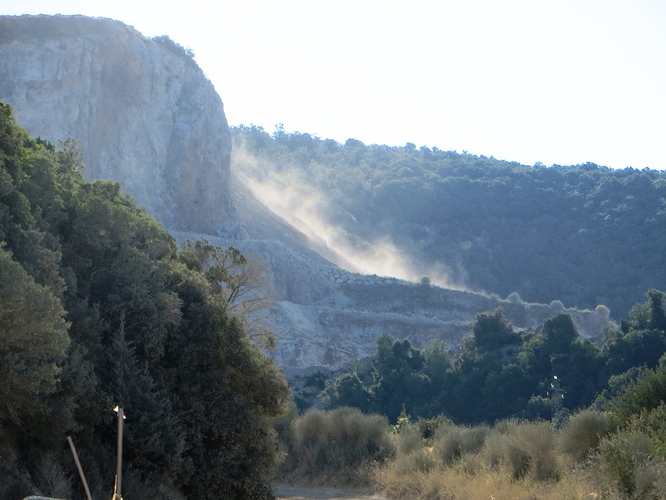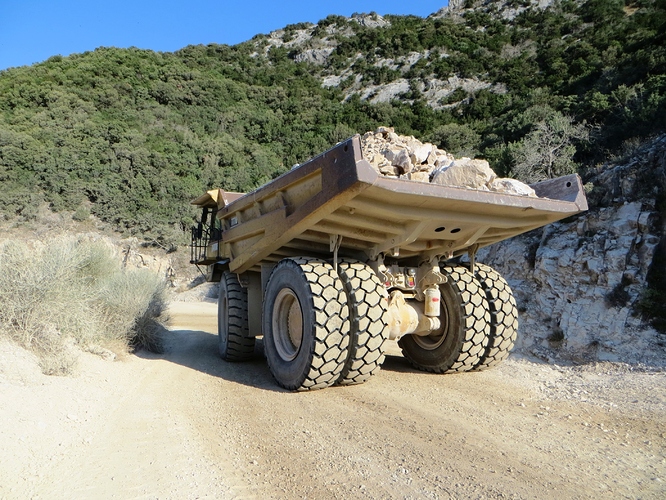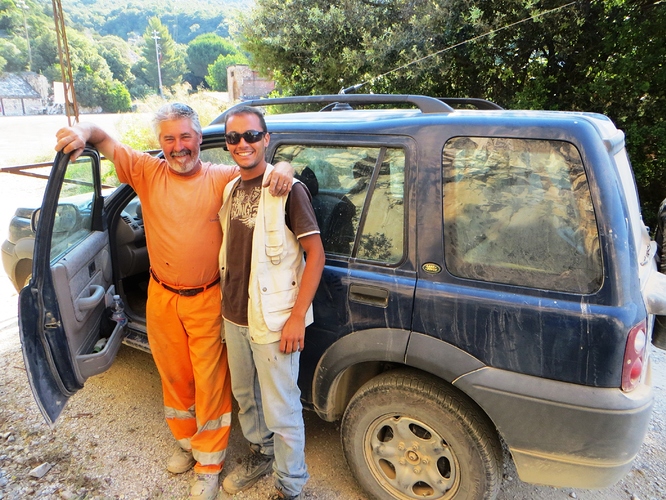 They had CB in the Freelander and I guessed the guy driving the Tonka Truck tipped them off and so they came down the hill to interdict me and get me off the site. I was covered in the finest dust I have even seen, finer than talcum powder even.
I gave up on that summit then and concentrated on getting to I/TO-314 where I made 70 QSOs. I tipped off Roy G4SSH by phone as to what I was doing and I am grateful for him spotting this on SOTAWatch. I hope that next week I will return to TO-304 Monte Calvi and by approaching the hill from the other side, will have a successful activation. She has been activated three times before so I guess there will be a clear route that way - DL4MHA, OE5PEN, OE9HRV - any ideas please to my address in QRZ.COM.
What is apparent is that there are several errors and looking at the terrain and on OSM, many omissions from the summits list for Tuscany, which lists just 21 summits.
From where I can staying I can see il Telegrafo on Monte Argentario 33 Km away line of sight. She is 615m ASL and sits on an island connected to the mainland coast by two causeways. No doubt whatsoever about her prominence. This is just one example, and I am sure there are many more summits in Tuscany that meet the 150m prominence criteria but which are not listed. Quality check needed I suggest - the Italian association was accepted into SOTA in March 2011, so I am surprised no one (as far as I know) has found these discrepancies before.
I will e-mail the Italy Association Manager with my findings and ask if this summit can be added to the I/TO list. Doubtful this will happen in the next week, shame, as if it was included I could activate it whilst I am here. The Italian Association Manual covers this situation well by stating " The summit database is unlikely to be complete. If you find a summit, which you would like to add to SOTA I, or if you find a mistake in this ARM, please contact the Association Manager. Activators are asked to submit details of proposed additional summits to the Association Manager. Summits cannot be counted for points until the Association Manager has allocated a reference number.".
So I will ask for il Telegrafo on Monte Argentario to be added to the list ASAP, and we will see if I get a reply from either IW1ARE or IK1RAC in time using the addresses in their association manual.
I should be back SOTA Chasing tomorrow when I set up my chaser station again. Activators please listen out for I/G4OBK/P and note that I will not be on a summit, at least until well into next week. I hope to work my G friends on Saturday when they activate G/NP-002 Mickle Fell, a summit which is owned by the military and where (strictly speaking) permission by permit is needed to access the place due to the risk of live firing taking place most of the time.
73 Phil