M1EYP/P 11-13 August 2023
SOTA G/SC-003, G/SC-010, G/DC-005, G/SC-004, G/SC-001, G/SC-005, G/SC-006, G/SC-002, G/WB-021
Gig: Tony Christie
Venue: Babbacombe Theatre, Torquay
I had a gig playing for Tony Christie in his show at the Babbacombe Theatre, Torquay. Liam was keen to keep me company on the long journeys and roadie for me, and Marianne was clear to get us both out of the house for three days!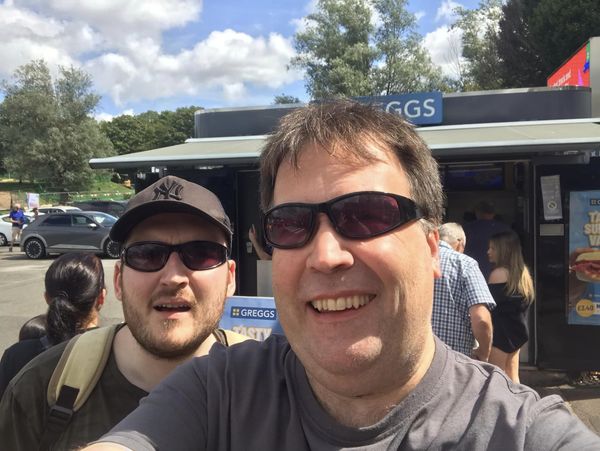 We set off on the Friday morning, 11th August 2023. Nine hours of purgatorial driving on motorways that barely ran at much more than 35 mph was punctuated by two SOTA activations.
Dundry Down G/SC-010
Excavation work and thick impenetrable vegetation has made safe access to the trig point very difficult. We gave up and activated in the field with the PROW between there and the main transmitter complex.
20m CW: 5 QSOs including S2S with OK1CZ/P on OK/US-019
20m SSB: 3 QSOs including S2S with EA3O on EA3/GI-064
Beacon Batch G/SC-003
We approached from Rains Batch. Parts of the path were pretty soggy and needed careful negotiation - but much better than the 1-3 feet deep of rushing water last time I ascended this route!
20m CW: 6 QSOs
20m SSB: 2 QSOs
We continued then down to Torquay in continuing sluggish traffic, eventually arriving at the theatre digs at 9pm.
We had a quick shower and change before heading down into town for a meal at the East In The West restaurant.
On the Saturday morning, 12th August 2023, I left Liam in the digs for a lie-in, but I was up and out at 0515 BST for more SOTA!
Christ Cross G/DC-005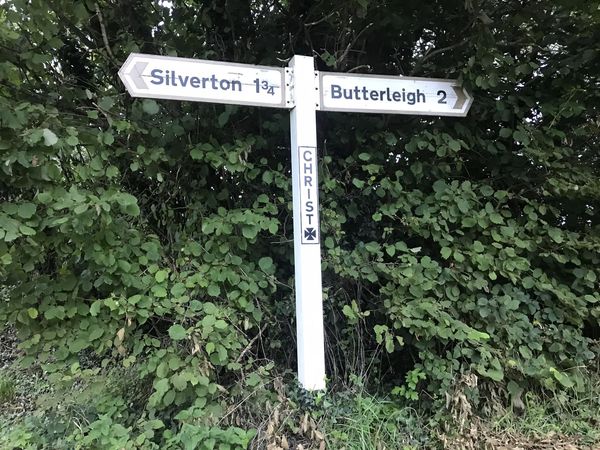 I walked up the track to the transmitter complex and found the trig point concealed in the hedge (it helps if you know where to look!)
I set up while chatting to an engineer working up there, who was really interested in my SOTA activity.
20m SSB: 2 QSOs
20m CW: 3 QSOs
Staple Hill G/SC-004
Parked around 1km SW of the summit (in the AZ), but did the flat walk to the trig point anyway.
20m CW: 5 QSOs including S2S with S53XX/P on S5/TK-002
20m SSB: 7 QSOs including S2S with F/EA3GNU/P on F/PO-159, SP9BIJ/P on SP/BZ-027, IN3ADF/P on I/AA-157
Drove back to Torquay, collected some giant steak pasties for brunch, and returned to the digs. Liam was just getting up and dressed as I arrived! Liam had the big room in the digs, so we sat together in there to watch the Lionnesses in their exciting 2-1 World Cup quarterfinal win over Colombia. Interestingly, the previous day we'd enjoyed this song being played on the radio while driving!
Next it was off up to Babbacombe Theatre for set up, soundcheck and a mini "top-and-tail" run through with the musical director. I'd done a fair bit of practice and preparation for this gig, knowing that the other guys in the band were also working with Leo Sayer, Sad Cafe and the Brand New Heavies! Determined not to show myself up!
The band then adjourned to the nearby pub and enjoyed a beer as well as the magnificent views over the bay. The show went really well and Tony was on great form. He's sounding in fine voice, is funny and charming in his chat between songs, and looks in fantastic shape. You'd never believe he was 80 years old!
After the show, and the several chats with fans at the stagedoor (not something I am at all used to in my music career hi!), Liam and I drove down the hill into town. (Torquay is a bit like Rome - built on several hills!!!) We grabbed a late pint and picked up a Chinese takeaway for supper having not eaten since the (admittedly giant) pastie earlier. We returned to the digs and we to our individual rooms. I fired up the laptop, not for WSJT on this occasion, but for Match of the Day on the iPlayer!
On the Sunday morning, 13th August 2023, we checked out of the digs at 9am. After the late fried rice supper, breakfast wasn't urgent, so we drove for an hour straight to Exmoor for a walk up one of My favourite hills. In fact I am very fond of all three SOTA summits on Exmoor.
Dunkery Beacon G/SC-001
The gentle walk up took about 20 minutes, and passed a group of bullocks on the way up. They were very close to the path and stared at us as we passed, but seemed very placid. At the summit we posed for a photo in front of the large cairn and National Trust plaque.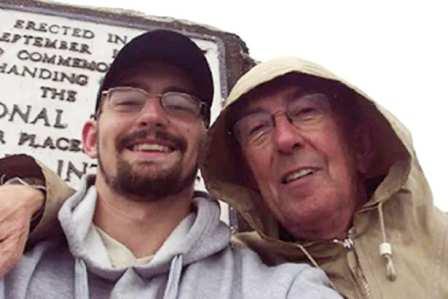 The week before I had binge-watched the excellent "The Sixth Commandment" series, featuring the brilliant Timothy Spall. The closing credits of the final episode shows a rather chilling photo of university lecturer Peter Farquhar and his would-be killer Ben Field at this same spot.
I called on the 2m FM handheld and immediately got a reply from legendary SOTA chaser Don G0RQL. I hadn't self-spotted, but Don just happened to be monitoring S20 in the shack. Three stations from South Wales followed into the log, and the activation was qualified.
We descended then drove down into Minehead to get some brunch from the Oggy Oggy pasty shop. Yum! Next it was back in the car and drive up the hill.
Selworthy Beacon G/SC-005
Such an easily accessed summit this one. Barely five minutes stroll up a track on an easy gradient from the car. A walker passed and said "Amateur radio?" He was an amateur but not active in the hobby for well over 25 years. He had never heard of SOTA, or that the CW test requirement for HF access was no more! I think his callsign (from memory) might have been G4WOC.
I tried to "get away with it" again with the 2m handheld - but only managed three QSOs! So up went the 20m groundplane.
2m FM: 3 QSOs including S2S with GW4HQB/P & MW0OVW/P on GW/SW-004
20m CW: 3 QSOs
20m SSB: 5 QSOs including S2S with HB9/M0KYB on HB/SZ-018
Now back through Minehead to tackle the third of the three Exmoor summits.
Periton Hill G/SC-006
We walked as far as the trig point, which is a few metres inside the wooded area beside the footpath. We then backtracked to the path junction where there is better space to set up - and better VHF take-off.
2m FM - 2 QSOs
20m SSB - 5 QSOs including S2S with SP9MPZ/P on SP/BZ-080
Unusually, I didn't bother with CW from this summit. Some may see that as a sign of progress…
Next, off to the Quantocks.
Wills Neck G/SC-002
The satnav wanted to take me up a narrow public footpath signed as "Unsuitable for motors" - so I reversed back out and found a longer way round! Liam and I made a short circular walk out of this one.
Four QSOs from the handheld made for a rapid easy qualification.
It was really time now to start thinking about making progress north towards home! It was just after 5pm local as we drove away from the car park for Wills Neck. Just one more activation…?
Ruardean Hill G/WB-021
I couldn't resist bagging a "freebie" - a drive-to-the-top summit that actually lies within a village centre!
I parked in the car park for Pantod Beacon, and operated on the handheld just underneath it, barely 25 yards from the car!
Four contacts in four minutes on 2m FM, and I did briefly experience guilt about reverting to being a "four-and-run" merchant! In my defence, I (as always) put a few more calls out before switching off - and I was hungry - and still had at least three hours of driving to get home.
We found a chippy in Mitcheldean from where we both got chicken, chips and curry sauce. Just the job. The drive home was enjoyable, listening to the BBC Concert Orchestra on BBC Radio 2, a recording of the "100 Years of Hollywood" concert from Malta in June this year. Radio 2 Celebrates 100 Years of Hollywood - Sunday Night Is Music Night: Celebrating 100 Years of Hollywood - BBC Sounds
We arrived home at 2 minutes to midnight. (Obscure and irrelevant Iron Maiden reference…)