No overlap in the new list. Some region codes will be kept remain the same.
You can do something with google and wiki
はじめまして 私は ヤーッコ です.
Nice to meet you. My name is Jaakko. (if there is no mistake)
73, Jaakko OH7BF/F5VGL
Here are the proposed changes from Toru JH0CJH:
JA
Aomori: AM <= AO
Iwate: IT <= IW
Akita: AT <= AK
Yamagata: YM <= YA
Miyagi: MG <= MY
Fukushima: FS <= FK
Nagano: NN <= NA
Kanagawa: KN <= KA
Chiba: CB <= CH
Satiama: ST <= SA
Tochigi: TG <= TO
Gunma: GM <= GU
Shizuoka: SO <= SZ
Gifu: GF <= GI
Aichi: AC <= AI
Mie: ME <= MI
Kyoto: KT <= KY
Shiga: SI <= SH
Wakayama: WK <= WA
Hyogo: HG <= HY
Fukui: FI <= FU
Ishikawa: IK <= IS
Okayama: OY <= OK
Shimane: SN <= SM
Hiroshima: HS <= HI

JA5
Tokushima: TS <= TO
Kochi: KC <= KO


JA6-XX
Fukuoka: FO <= FU
Saga: SG <= SA
Nagasaki: NS <= NA
Kumamoto: KM <= KU
Ooita: OT <= OI
Miyazaki: MZ <= MI
Kagoshima: KG <= KA
Okinawa: ON <= OK

JA8
Soya: SY  <= SO
Rumoi: RM <= RU
Kamikawa: KK <= KA
Sorachi: SC <= SR
Nemuro: NM <= NE
Shiribetsu: SB <= SH
Tokachi: TC <= TO
Kushiro: KR <= KU
Hidaka: HD <= HD
Iburi: IR <= IB
Hiyama: HY <= HI
Oshima: OM <= OS
I have a script now working that renames the regions in accordance with Toru's list in the previous message.
The date for the change will be after 2000Z 25-Sep-2015. I'll re-name the regions and adjust the summit refs and regenerate the summitlist.csv and mapping data at the same time.
Andy
Thank you very much. I really appreciate your great job. I will announce in Japan SOTA community. Also I will revise all docs.
Hi Jaakko,
I will be OH in next month and will QRV from there.
As I understand it, the primary motivation for the change is to make the region codes unique across all of the JA* associations, and is nothing to do with pronouncability. Seems like a Good Thing to me.
The change also eliminates the use of the invalid region codes NA and SA.
Andy,
While you update database, this may have some impact then I let you notice. In Ehime region in JA5, I found missing number and some sequence errors. Please find the following screen shot and be reminded about this. You may be better to use the updated excel data. I will send you separately.
Also I am continuously updating the summits name then I will send latest summits list in excel file to you and Rob.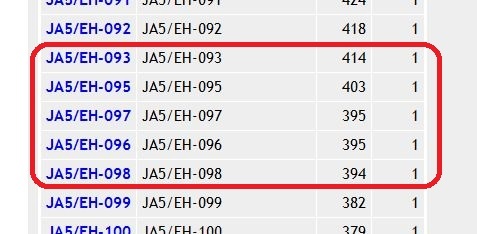 Hi Toru, the missing number was my fault - there was a duplicate summit in Ehime that was deleted before submission, but I must have neglected to update the codes.
The sequence error is almost certainly just an SQL artifact on SOTAwatch, based on how the data is stored on disk and returned to the query planner. Perhaps an ORDER BY on height desc, summit code ascending might be sufficient to fix it on the display side - but without knowing the schema, I'm guessing a little.
Hi Andrew
OK understood. It is really trivial compare with your great job. Just I wish to avoid hiccup on this point for DB correction.
I'm getting many messages on Hamfair in Tokyo and via mails, that SOTA JA motivate all peoples love summits and radio. Thank you again for your big job.
BTW when will you come to JA next?
Only the existing data in the database is being amended, no new data or changes apart from region refs are happening. This is for a series of logistical reasons to do with the workload on the summits team. We have a major European association update to manage very soon and a new association of nearly 20000 (twenty thousand) summits is almost ready for upload.
Very late with a reply. I just joined a few days ago. I'm a Filipino living in Japan, operating with a JA reciprocal license.
To answer your question, they use normal alphabet and standard phonetics when giving out callsigns. Sometime they use different phonetics though, for example local JA hams like using "Peter" instead of "Papa".
They revert to wabun (和文) when giving out their Japanese names or QTH (or use JCC/JCG numbers). For example my name is "Mera" which is an over simplification of my legal name. So I will send it via voice like "onamae wa Mera desu. meiji no me, radio no ra". -> "My name is Mera. me like Meiji. ra like radio."
HTH
Mera (メラ)
I'm updating this thread to bring it back to the top of the list for everyone.
Please remember the JA regions will be renamed sometime after 2000Z 25-Sep-2015.
The regions will be renamed.

Summits with no name that use their ref. for a name will be renamed to use the new ref.

summitslist.csv will be regenerated

SOTAwatch will be updated as soon as can be arranged, you may need to use the old codes for a day or two to spot and alert JA summits.

A new map data file for the SOTA mapping project will be generated, expect to see the new region names appear on that site on 26-Sep-2015.
Japan has had its summits/region data renumbered/renamed.
summitslist.csv has been regenerated
If you have JA summits in your personal log on your own computers as a chaser or activator then then you should download your chaser and activator logs from the database and re-import them. This is to make sure you log uses the correct regions and summits refs.
Hi All,
Just a heads up.
It seems there are now inconsistencies with Sotawatch and Sotamaps. I am getting some errors while trying to access regions that has changed.
It seems Sotawatch is still using old code "JA/WA" while Sotamaps is using the updated code "JA/WK" already.
Andy
Thank you for your effort.
Two regions are not yet updated
JA6 Fukuoka need to be FO
JA8 Okhotsuku need to be OH
The rest is fine. Thanks again.
Toru JH0CJH
Hi Andy,
I know you are very busy now to fix DB but are you going to change these two region code ? Please let me know after fixing DB. If they are not going to be changed, I have to change ARM.
Toru JH0CJH