Anyone after a house with a sea view? Room for aerials?
HeHe, the Hull and District ARS should buy it as their new clubrooms!
They're always up for a challenge!
73 Ed (in Hull on the Humber, born and bred) DD5LP.
I'll bet it's an exciting place on a stormy day! Reminds me of the St. George Reef Lighthouse
in Northern California. A couple of good things, no TVI complaints, no nosey neighbors, no antenna restrictions, no AC powerline noise, etc.!
73
John, K6YK
OS Map - Bull Sandfort is less than two miles from Spurn Point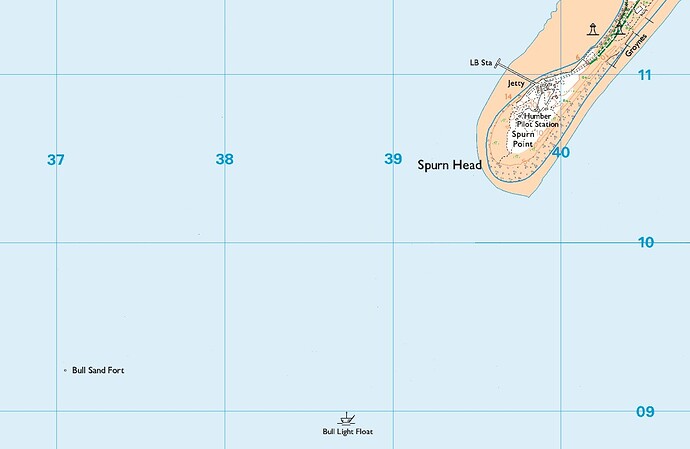 ©Crown copyright 2022 Ordnance Survey. Media 041/22
No AC powerline full stop?
JO03? Why would you buy an offshore shack when it's not even an MWS?
Ahoi
Pom
I might be interested if it where it's own unique DXCC entity.
At least an IOTA ! And bring along some solar panels (might need a fishing pole, too!)
Don't we all have a fishing pole in our SOTA rucksack?
Ahoi
Pom
Paul, you could make it a DX entity. Just declare yourself King, issue stamps and apply for UN membership.
EL
The guano and the truck tires should bring a few GBP, sufficient to pay the mortgage for about 90 seconds.
EL
A lot of pile-ups to enjoy

73 Karen
Great spot to put up a full sized top-band vertical with the salt water earthing system!
Sorry Ed, listed building - so you might not get planning permission for your top band vertical…
73 Phil
I wonder what antenna systems were on there during WWII … A top band vertical as a restoration action to how the fort was during its earlier days?
Actually - Humber Fortress DX Amateur Radio Club has to be the most likely customer from the ham radio community! They activate Spurn point lighthouse in ILLW each year.
Actually the Real estate agent - should be advertising here
73 Ed.
Ahhh, you could rent it out for a contest/field day site !
K6YK