Yes it certainly as an interesting read.
I know of one locally that is buried under the Currant B & M here in Saltash Cornwall and you can still be within 30m of it from the car park.
Karl
Thanks for the link Dave. 73 Allan
Very interesting thanks Dave

73 de Paul G4MD
PS sorry missed you at Norbreck, didn't seem to get round to half of what I planned :-s
The 5th picture of Trig, metal pole and someone in a pink top is Ben Vorlich GM/SS-008.
Perhaps next time, Paul - I hardly managed to get away from the WAB stand to go visiting myself!
Had the bands been in better shape, might have whizzed out there and activated the Cold Ashby (no. 1) trig, it's not too far from us. Also looking at TrigpointingUK, there may be an issue with farm gates and a grumpy farmer! Planning and better band condx required.
So in that gallery we have GW/NW-009, GW/NW-001, GM/SS-008, GM/SI-105, GM/SS-023, G/SP-010 and G/WB-009.
I'm sure there must be other SOTA summits in there too - can anyone reference them?
Thanks Dave , top class 73 Roy
Anyone recognise the one in my avatar? Quite distinctive so no prize

73 de Paul G4MD
I have carried out many a portable operation not far from this trig running many of the bands between 2m and 3cm. Thankfully there was no need to invoke the wrath of the local landowner as we weren't concerned with getting close to the trig and we just used the road verge further along the road which is quite wide. The trig is also a few metres down from the highest point of the hill. I note it is TP0256, Fetlar up in Shetland taking the honoured TP0001 spot. [quote="G4MD, post:10, topic:13017"]
Anyone recognise the one in my avatar? Quite distinctive so no prize


[/quote]
I'm saying nothing!

I can't see it clearly because some old giffer is sat in front blocking the view

I doubt you've been up that one Andy. The view is not important anyway.
Here's one for you so you don't feel left out.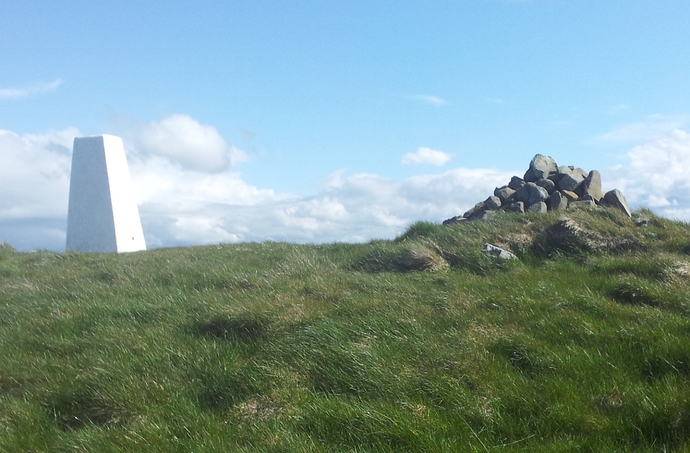 Think further north in GM/SS. Nice summit and a pleasant walk, though be it with a heather yomp, at least the way that Paul and I approached it… and yes you have activated that one Andy.

Spot on Tom

Didn't think I was looking that scruffy :-s[quote="G4OIG, post:17, topic:13017, full:true"]
Needs a coat of paint.
[/quote]
Oooo I peaked 8 years too early ;)[quote="G4OIG, post:11, topic:13017"]
I'm saying nothing!


[/quote]
Yes that would be cheating a bit

Many thanks for letting me nick the pic