Another Aberdeenshire 1 pointer, which I chose as it hadn't seen much activation. Weather was about perfect, cold (-3C) but sunny and clear with no wind. The day started really well as soon as I arrived at my walk-up location. I was expecting to have to struggle through gorse bushes on a very overgrown old landrover track as described in a Jan 2020 Walkhighlands post. However, the old track is now a brand new 2-lane width hardcore road nearly all the way up, narrowing to single track about 100m before the top. I presume this has been made as another service road for the comms masts at the NE end of the ridge.
The walk up was therefore quick and uneventful. Views of the surrounding country from the top were very nice, with a lot of low mist around as the sun rose. Lots of wind farms to the north.
The top of the hill is covered in heather(no surprise there…) but the heather sits on very marshy ground, so every step is a squelch and a ground sheet and/or waterproof trousers are a must for sitting. There are some old spoil heaps from ancient quarrying activity which could possibly be used as a drier alternative set-up site, but I had no need, having brought both sheet and troos.
I was expecting the bands to be in good shape and so it proved. First QSO on 20m at 1010 was a S2S with YO6PIB/P; 20m then gave me a good run ending with another S2S with HB9DIZ/P. With 10m open I managed a couple of QSOs with SV2RUJ and SV2MAP but no other takers after some extended CQing. I dropped down to 15m and had a similar experience - 1 QSO after a lot of CQs. 40m brought some more customers but signal reports seemed down compared to my previous activations. There was also a very loud strange signal on 7.160 or thereabouts, like very distorted CW. 20m then provided another good run with 7 S2S. Switching back to 15m I had my first nice DX QSO of the day with Alain, FG5GP. I then had a visitor, in the shape of Mike, MM7MWL, who was out for a walk and lives locally to the hill. After a chat with him I continued on 15m but raised just 2 more EU stations. 10m having gone quiet I returned first to 40m and then back to 20m which gave me my first US QSO of the day at 1322 with K4TMG in Fla. who was quickly followed by WD8KDB Mich, KC3JVU Penn , KI5MM Tx and VA1SEA in Nova Scotia. Going back to 15m I had better results than before, with SV2RUJ(2nd QSO) then US QSOs with Georgia,S.Carolina and Vermont, then 3 more SV stations.
With the sun starting to sink, I went back to 20m which produced EA9E, N4EX NC, N2RRA NY and VE2YJ Quebec. I then decided to start packing up while I still had some light and took down the Hyendfed mini and masts. As that went pretty fast, I had one last bash with the 20m loop and got my furthest DX of the day with WB6POT in N Calif.
Thanks to all chasers and activators there was hardly a dull moment and it was great to see 10 and 15 open; I see from a DX Summit 15m spot that I was heard by PU2YYD in Brazil, so maybe next time I can get a S.American contact.
Summit trig point with my masts and the big comms masts in the distance: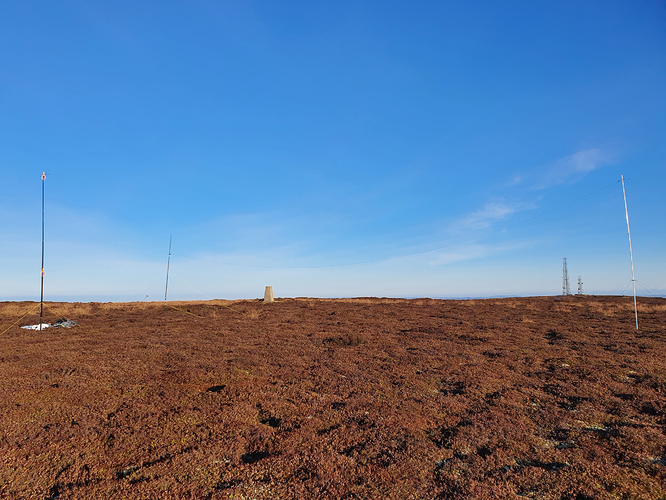 Typical view of the surrounding country; summit spoil heaps in the foreground: