SOTA on Hengeberg DM/NW-148
I've been visiting Bielefeld a bit recently. Sometimes I get a chance to take radio equipment with me, and then I like to fit in a SOTA activation or two if I can. There's a long ridge that runs North-West South-East through the area, and it has a few SOTA-qualifying summits along it. This time I went a little further North-West to Hengeberg (SOTA DM/NW-148).
With a little help from my GPSr (which knows more about finding places in the middle of the woods than my Sat-Nav) I found somewhere to park, and then walked a mile or so uphill to the summit. It took a little longer to set up than usual, and having got the antenna up I decided to give it a try on the band to which it was set. That turned out to be 80 metres. It was, probably, a bit too near noon for the band to work well, but I put out a CQ on CW anyway. RBN spotted me, though looking at its spots makes me think it was being a little enthusiastic about my speed initially.
de     dx         freq   cq/dx        snr    speed   time
DL9GTB DL/M0LEP/P 3553.0 CW CQ [LoTW]  8 dB  16 wpm  1012z 27 Apr
DJ9IE  DL/M0LEP/P 3553.0 CW CQ [LoTW] 29 dB  16 wpm  1012z 27 Apr
DF7GB  DL/M0LEP/P 3553.0 CW CQ [LoTW]  6 dB  14 wpm  1017z 27 Apr
DQ8Z   DL/M0LEP/P 3553.0 CW CQ [LoTW]  4 dB  13 wpm  1019z 27 Apr
DL1RNN DL/M0LEP/P 3553.0 CW CQ [LoTW] 12 dB  13 wpm  1020z 27 Apr

I got a reply after about five minutes of calling, and then ran into problems. I'd noticed during setup that the paddle wasn't generating dots, but a little re-seating of the key cable had seemed to solve that. However, the problem returned, with an added "and won't stop sending dashes" dimension, when I tried to send a signal report. I hurriedly swapped in the spare cable, and managed to complete the QSO, but not easily. I suspect the key itself also needs adjustment.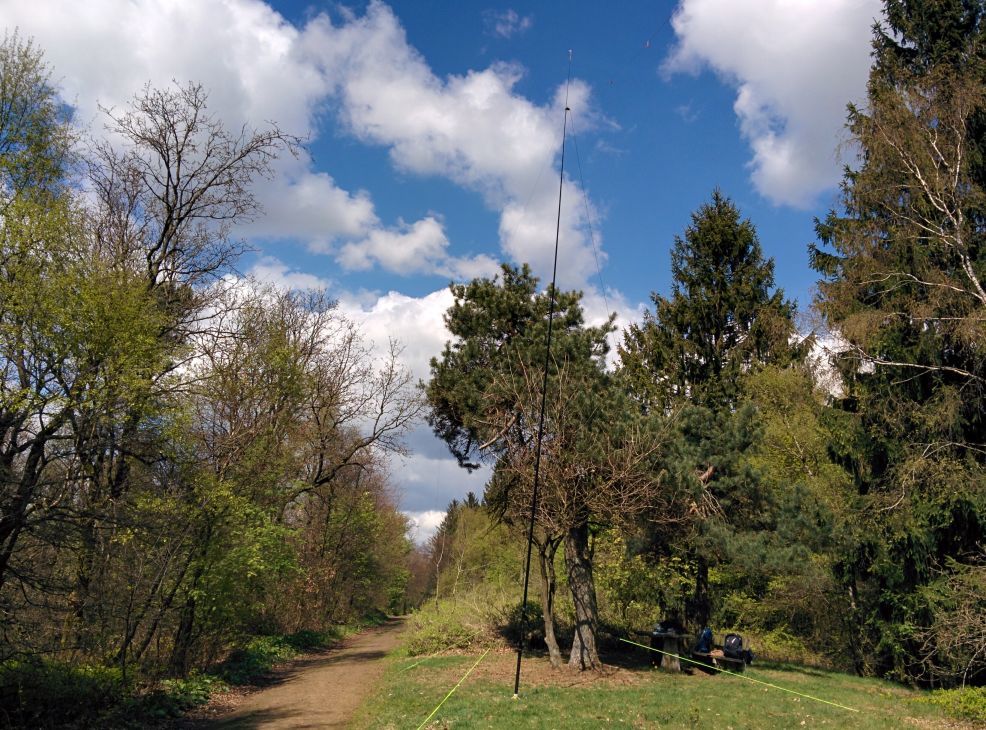 After that one QSO, I got no more replies, so switched to 40 metres. The antenna was being a little reluctant to tune. The KX3's internal ATU usually gets to 1:1 on my linked dipole. I checked things out, but couldn't spot any obvious problems, so put a CQ out on CW. I spent nearly ten minutes calling there, but heard no replies, so I switched to SSB. There was plenty of SSB activity. I eventually found a clear bit right up near the top end of the band, and started calling. I'd not been able to get any phone network connection on the summit, but decided to try to get a spot out using RRT. Somehow, it managed to get one out, as I suddenly started getting answers to my calls from familiar chasers. Unfortunately I discovered after sending the spot that it had a stray "W" in my call from the last time I used RRT. I hope I managed to get my correct call across to all chasers over the air. I tried to send a corrected spot, but RRT couldn't get that one out. However, any spot seems to be better than none, and I managed to get a dozen calls in the log. Propagation was being a bit strange, and some of them were clearly having some difficulty hearing me, as there were more than the usual number of lower-end signal reports with comments of QSB added. At just before 1pm local time the answers seemed to dry up, so I called it a day, packed up, and headed back to base.
SOTA on Le Mont d'Henri-Chapelle ON/ON-026
I took a southerly route home from Bielefeld, and at around lunch time I found myself close to Le Mont d'Henri-Chapelle (SOTA ON/ON-026), so I combined a lunch break with a quick activation. A road runs along the ridge, and there's a bit of off-road parking at the high point, but it was well occupied by folk who were flying radio-controlled gliders in the field opposite, so I decided to follow the tip given by Peter ON4UP on the SOTA site and go down to the little picnic spot and view point just below the summit. There wasn't easy space for all of my 80 metre linked dipole, but I managed to get enough of it up to work on 40 metres. No problems this time with the antenna matching, so Thursday's matching issues must have been something site-specific. No problem getting network either, so I used RRT to get a spot out, and then again to remove the stray "W" that RRT is determined belongs in my home call. Having not had time to give the key any adjustment, I decided to stick to SSB. Once the spot got out, calls came through at about one a minute for twenty minutes or so, and when they (and my voice) dried up I took the antenna down, packed up, and headed on down the road home.