Nigel M5TUE and I ventured up Lambrigg Fell today G/LD-046. I arrived at his house dead-on 8am local and after the usual deliberation of what to take and what to leave behind we decided to take the lucky anvil but leave the kitchen sink. The walk up Lambrigg can be done direct from his QTH.
With drizzle on the drive through I knew that we were in for a 'Lake District Scorcher'. How these weather-people can sleep at night is beyond me. The forecast heatwave was in reality a mixture of low cloud and drizzle - at least the latter escaped us for the most part, but Nigel's DD Magic Carpet XL came in real handy with the incessant Southerly wind. It was warm enough out of the wind, but it would have been decidedly less pleasant in it.
Band conditions had clearly eased since my last outing on Saturday. Later finding out we were faced with a spotless sun it made sense, but at the time much head-scratching was done - equipment or conditions?
If anyone had been daft enough to climb Lambrigg today (and they weren't) they would have been impressed by the amount of antenna in the air. Firstly the Arrow 'don't buy get the lighter one' Alasaka on guyed tripod was up, pointing South and catching MW0NLG on Snowdon GW/NW-001 - with his self confessed challenge of getting 100 contacts in a single activation, then Tom 2W0TGI/P on GW/NW-004 worked after they'd exchanged S2S.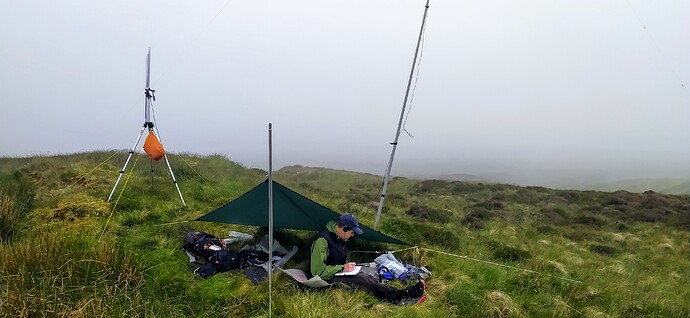 Lake District Heatwave in full force
Nigel's excellent QRP trapped end-fed was up and running fairly quickly - much easier to guy the pole with two on the job and his expert knot tying saving all sorts of gizgmos I have to rely on.
I jumped in and out of S2S on my pink-wire special 5 band linked dipole which survived the wind. Sergiy @SO9TA had remembered our QSO yesterday and it was great to get him S2S from SP/BZ-055.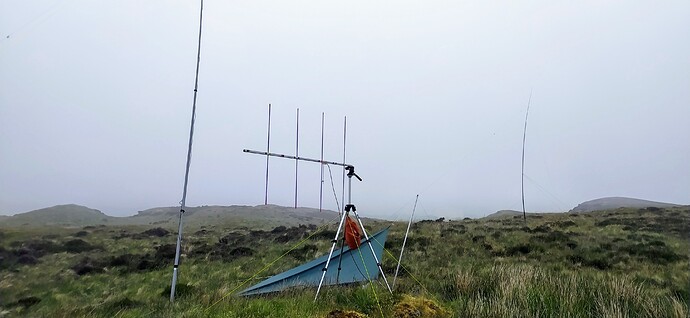 Finally remembered the tripod guying kit
Nigel wasn't having a great deal of luck with the bands and his QRP rigs and we just couldn't work out what the issue was. I suspect it was primarily 'sink hole' deep QSB causing 59 signals to fade to nothing on 20m. Regardless he worked 10 HF SSB stations.
Eventually I persuaded him to bite the bullet and do an activation on 20m CW, FT-857 set at 30w and my Palm Pico Paddles used in his preferred side-swiper configuration. Without the aid of SOTA 'for the weak at CW' Spotter references he worked through one chaser contact and four S2S contacts. Nicely done Nigel. Not easy on the first attempt at working a pile-up, unlike my G? G8?, G8C?, G8CP? monotony that sorts out those who really want the points from those that don't.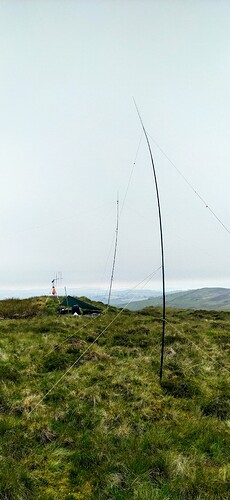 Two for HF, one for VHF
In the meantime Allan @GW4VPX was booming in 59 from GW/NW-028 and we caught G6WBS/P on Dale Head G/LD-030 with a real nice 59 both ways groundwave 20m contact.
Having experienced another break at one of the PowerPole connections on my dipole (resulting again in having to ditch two of the connectors to get bare wire to join 30m link - I'm regretting using PowerPoles now) I eventually got QRV on 40m for some more S2S and then QRV on a spotted frequency to give the chasers a chance.
Around 11:30 local we started seeing a few glimpses of the fell more than 100m away and visibility steadily improved, although never to result in any views to the Lake District fells to the West.
In the end I was 13 S2S up and 27 QSOs in the log. With an agreed-ish departure time long overdue we packed up all the gear and headed back down.
Regards, Mark.