Well today marked a mini goal - 500 points and the first complete region for me (G/SB), but I seem to have regressed somewhat from my recent ability to turn up at the right place and time with the right kit.
The day started normally and after dropping my teenagers at work I headed off to the hills with the dog via Greggs in Hexham (A (cheap) bakery chain in the UK)
Error No 1 - probably getting the bacon roll as the obvious car park for the Simonside hills and G/SB-007 was now full. Not too much of a problem because in the pre planning I spotted an alternative with an extra 1Km walk, however this made the start both later and further away and I was needed back at home for 5… and I was now setting out at nearly 11 and had just added another 2km of walking.
Walked to the summit - it was an easy path for anyone else doing the hill and is one of the most scenic relatively low level walks I have done and was ready to go at 12-51 (Local) . …and then I spotted…
Error No 2 1PM in the UK is the time that most people are eating a Sunday dinner so it was going to be harder work than if I had been an hour or two earlier as most amateurs are eating not playing radio…
Error No 3 - The microphone in the bag was the speaker mike for the handheld and not the mike for the KX2…. So off to 2m I went using the FT270 and the speaker mike. 2m was pretty empty as I listened around the band…
First in the log was David G0EVV and after checking the frequency was clear I QSY's to 145.525 but there seemed to be something strange going on with a heterodyne over his audio … sometimes. I wondered if it was an error in his rig but it was ……. Error No 4 and I had fallen foul of the band police. A station (who was slightly weaker than David) pointed out that it was the GB2RS frequency - strange I thought as I had not heard the news, and had been involved with GB2RS in 1977, before I had my licence. But he didn't just jump on after I had finished transmitting he waited about 20 seconds to cause more confusion - or possibly just DQRM. Of course I will QSY if asked particularly on what appeared to be an empty band. I did spend some time worrying if I had lost my marbles and plonked myself on top of the news broadcast, and after the activation downloaded the GB2RS schedule - the broadcast was an hour earlier indeed there are no broadcasts at all at 13:00 on 145 MHz but the band policeman insisted that 145.525 was an emergency only frequency… I didn't argue and just moved but was quite upset by this performance. I don't think David could hear any of this…
Error No 5… and to top it the speaker mike for the 270 ( a flea bay special ) turned out to be a bit rubbish - so I took it off and managed the rest of the activation.
Woody was particularly loud today - I think he probably was reacting to my increasing stress levels…
QSY's to 60 and remembered the microphone built into the EarPods that I have for the KX2 - and managed a couple of extra contacts HF seemed a bit rubbish and probably … Error 6 I should have brought the Linear and run 30w. I finished with a couple of nice QSO's on 2m…
So… finished the activation with 500 points, one complete region and a telling off, got home at 5-20 and managed to cook a very successful roast dinner, indeed so successful that Woody only managed a tiny nibble of beef.
Lessons learned - just avoid 145.525 and check kit so not PPPPPP. ( prior planning and preparation prevents poor performance ) more BBDA. (Bacon Buttie Delays Activation…)
Paul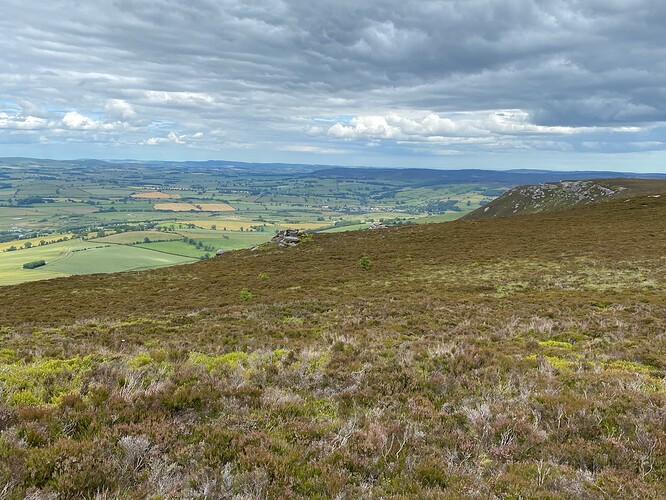 View from G/SB-007