Double activation day. The plan was to activate;
GW/NW-043 - Cyrn-y-Brain
GW/NW-042 - Moel y Gamelin
Park in the layby/car park opposite the Ponderosa Cafe./
I started with 043. After a 30min walk up to the summit I got the mast wedged into the rocks with the guy ropes out and setup for HF and 2m.
GW/NW-043 - Cyrn-y-Brain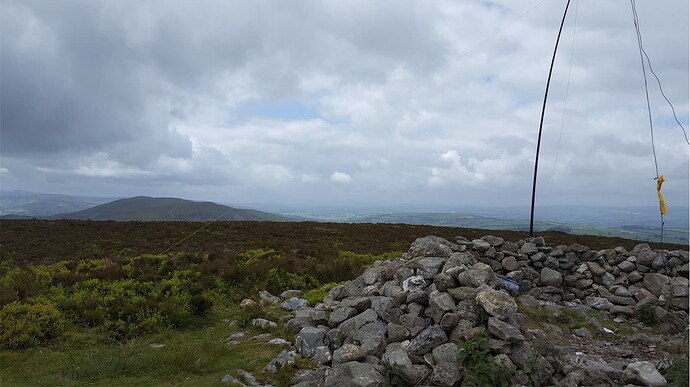 The wind didnt help matters

Once the mast was stable, and coax connected, off we went.
Called CQ on 2m and first in the log was G6KLB in Lancashire.
Managed 13 in total and a S2S on HF 14mhz with HB9DQM/P on HB/FR-041 and a mobile station on Isle of Man - GD0VIK
The rain started appearing and thought time to pack in.
Back down in 15mins. Put the phone on charge in the car and went across to the cafe for a bacon and sausage butty and a Yorkie bar.
Returned back to the car to munch and have a brew while pondering 042.
Time for 042. What a climb. It kept the legs working!
Made it to the top and was rather windy.
Tried CQ on a Baofeng handheld and got MQ1EYP/p on G/SP-015.
Decided the HH was not going to cut it and got the mast setup and the 2m antenna attached.
Kneeling on the floor into the wind, I had the mast leaning on my shoulder and wedged between my knees.
30mins later, I had 23 in the log and 2 x S2S. MQ1EYP/p on G/SP-015 and MQ0RWX/p on G/WB-013
Time to pack up and head back down.
Into the cafe for coffee and a slice of coffee and walnut cake and time to relax.
Thanks to all the chasers and the S2S for being out there.
Maybe a LD summit or two tomorrow when we head to Whitehaven
Cheers