Well Foel Goch GW/NW-039 ended up being a bit of challenge in several ways. We started from the Church in Llangwm with what I thought was plenty of time to get to the summit for the alerted time. Alas the snow covering on the upper parts made things a little more challenging as there were no visible paths. Also the snow drifts on the last 100 metres of the ascent made the going a bit slower so we ended up being about 40 minutes later than expected.
By about 1pm I was setup and ready to go, on a calm cool summit, but not calm for long. Firstly as I turned on the radio my heart sank as I heard the bedlam of the contest traffic on 20m. Then almost on queue the wind picked up causing the temperatures to plummet with the wind chill, causing Bev deploy the Boffy shelter.
I foolishly opted to continue to use the trig point as an operating desk. I found a clear frequency and managed after some cold hand fumbling to get a spot out. Annoyingly moments later I was obliterated by contest traffic. After another quick sweep around the bands I managed to find a clear frequency and get another spot out. Unfortunately I only managed to pull in 2 contacts before I was swamped with S9 QRM on adjacent frequencies. I tried again but failed to find a clear frequency. I swapped my Band hopper over to 40m and tried to find somewhere on 40m but it was just as busy. At this point with more snow looming I decided to give up on HF. Apologies to the chasers but I just couldn't pick callsigns out of the noise.
HF gear packed away safely from the freezing drizzle type rain, I gave 2m ago. I managed 2 more contacts on 2m including a S2S with GW0MJG/P on NW-051. I was at the point of thinking this is going to be a failed activation when I suddenly realised 2 HF + 2FM = 4. The cold can do that to you

and much to the pleasure of my XYL Bev it was time to get off that mountain. As we continued on our walk Bev decided she has a new theory about border stones, they are not border stones but head stones marking the point where SOTA XYL's collapsed with hyperthermia. We are so looking forward to spring, well spring like weather at least.
Paul.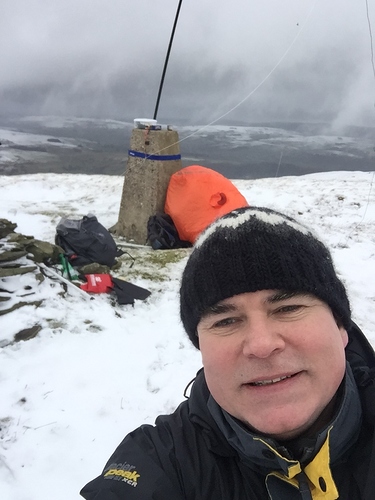 <img src="/uploads/db9433/original/2X/1/17dbacff84f96dc46b801e4a1a7d8c4cc67a52fa.jpg" width="375" height="500 >