Hi all my first activation after UK lockdown was yesterday to GW/MW-006
I took some if the family as they wanted some fresh air.
We came to the summit from the south west and the farm yard with the loud dog. The farmer came out as we drive towards the gate, I asked if I could park in his yard or if I could go any further as I had my 2 1/2 year old grand daughter with us. I had a quick 5 minute chat with him and he was very friendly and allowed us to go further with my car. I took the car to the third gate and parked so we could at least have some kind of walk.
I set up my ft817 multi band dipole and 2M yagi. I yried my handheld at first as I know GW4VPX Allan was waiting for me in 2M fm. The handheld did not make the journey so the 2M yagi was hard and my first contact was logged.
I tried back to Telford as I had planned QSO's to my fellow Tdars's members but even the yagi was not making it. I phoned G0UFE Simon our club chairman and asked him to try 2M SSB and we managed the QSO. After a few more to qualify the summit I decided to play on HF SSB.
I managed 10 QSO's in all and was willing to carry on but the family said we are getting cold can we go back.
We decided to to to have coast, Aberystwyth was the closest and a great portion of fish and chips each on the sea front . So all in all a great day out.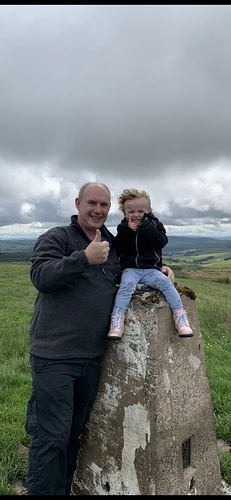 Paul
M0PLA