Yesterday evening I flew into Pittsfield MA right next to Massachusetts' highest peak W1/MB-001 of course I had to activate the mighty Mt Greylock.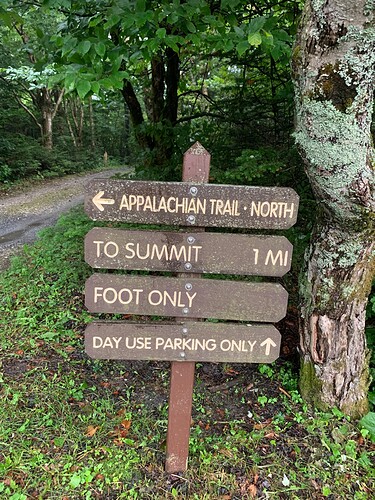 I parked @1.5 miles from the top (this sign not accurate) and racing the setting sun I hiked up in fog, heavy wind and light rain.
When I reached the top a Ranger making his rounds pointed out a shelter-cabin that was in the AZ and I thought Awesome! A dry place to activate from.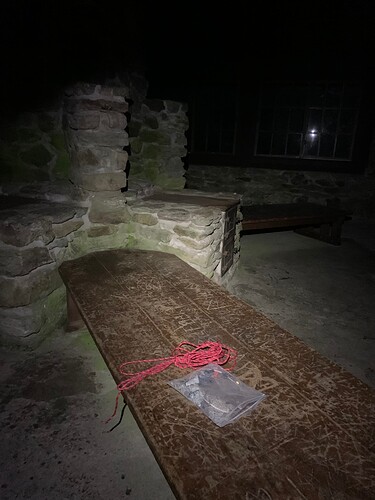 Creepy cabin!
I set up my rig and stretched out my endfed to a pine-tree's top and started calling CQ. I had a G4 station fade in and out and could not for the life of me copy them. Thanks for trying if you read this!
I was not very productive for some reason my RBN signals were very low 2-5dB but I was able to scratch out 5 QSOs for the activation.
During the activation in the fogged in-very dark cabin I felt a tap on the shoulder. THAT scared the heck out of me. A hiker who was totally drenched and shivering stood before me seemingly out of nowhere. They asked if I had any water and of course gave them my extra full bottle. I had a spare fleece top and also gave it to him to change into. We talked for a couple minutes and he said thanks for the help and started to take the fleece off, I told him to keep it and I would run down to the car and get him in a warm place. I went out to get my antenna down and in that 1-2 minutes later he was gone!!! At least he kept the fleece.
I looked around the room for a bit and then out the window and saw this! It took me a couple seconds to realize it was a light on top of the Veterans memorial.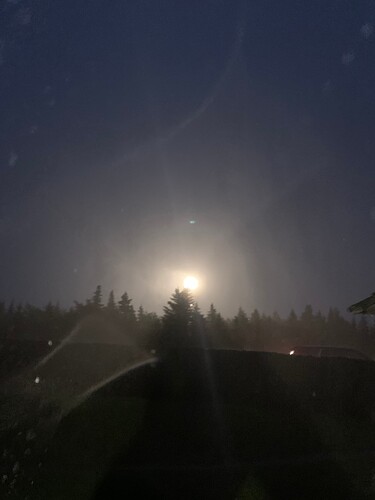 Looked like a UFO in the fog for a second!
I ran down the road soaked and cold myself hoping the hiker made his way safely!
Erik
KE8OKM