Hi
I've managed 5 qso,s from mount eagle just now,
So is that a successfull activation
Many thanx
Iain
MM6IXE
Well, Iain, it depends on what you mean by successful


My efforts at chasing has been pretty unsuccessful today (only 3 on HF) so by comparison your activation looks good. It also gets you the point in the activator table and scores 1 unique activation too.
With HF conditions as they are and chasers living with noise levels or s5 or above I have become content with four contacts over as many bands as it takes. Disappointing compared with the several pages on one band available a few years back - but that is the way it is.
Well done on your first and I hope to catch you on a summit some time.
73,
Rod
many thanx rod, im happy with how things went
hope to catch u on next summit
iain
What band/s did you use today?
I just used 20m band, didn't bother with 40 or 80, too tight to unwrap loads of wire for dipole
Iain
Yeah the new plantation has really taken over, I couldn't find the trig point last time I was there.
Perhaps catch you on the next SOTA outing. I'm planning Meall na h-eilrig on Friday coming. Near Abriachan.
We used a Garmin gps to locate the trig, when pretty near it, wouldn't have found it without one, vegetation was just too dense
Took a couple of pics, but don't know how to ad to forum
Start a post and just drag the image into it. Consider reducing the image size and resolution. My images are around 10MB from the camera and I drop them down to 1/5size and about 200kB.
I tried to copy and paste image from iPhone, when I try to paste in reply, I only get "look up"
After copying to the clip board, try using CTRL+V in the post.
73 Ed.
Hi Ed
I've not got the control and v option on iPhone,
I'm downloading iTunes just now, that should give me my photos on pc, then I can go from their
Sorry I'm not pc or gadget literate my friend
Ah sorry, I was assuming you had transferred the picture from your iPhone to a PC or Mac or whatever. I'm not sure what is supported to this site from mobile devices.
Ed.
OK, This works on Android … It might work on iPhoneOS - once you have "copied" your photo to memory in the phone. Go into edit on the post that you want to add the picture to, now press and hold the screen in the post, after a few seconds under Android an option to Paste appears, select that and the picture is pasted.
I have no idea if that will work alos on iPhones - worth a try though!
Ed.
Thanx Ed il give it a go👍
Look at bottom right of the message reply box arrow pointing upwards.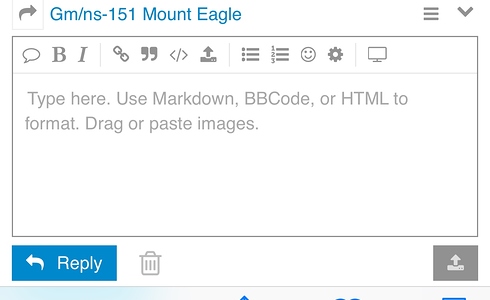 Once you click on the symbol you get the option shown below and just and them from your phone library. You can preview the message an make any adjustments to the photo size.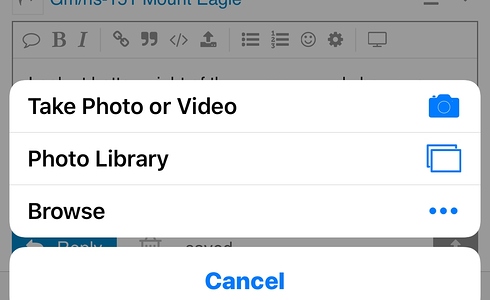 Hope this helps
Graeme