No Inversions today - just rainbows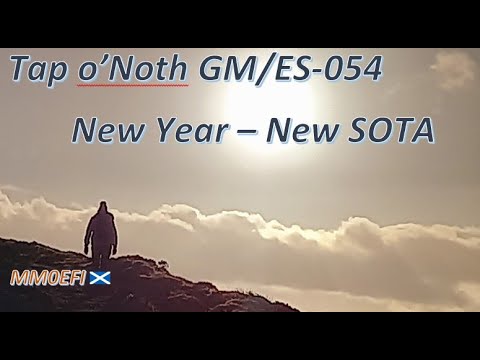 Tap o'Noth is a cracking wee hill, just a couple of miles west of Rhynie and about a 30 minute drive north of our QTH. Mo and I had been up here before, although she had no recollection of it. My recollection is that she borrowed my big North Face jacket to climb it in sub-zero blizzard conditions! I wonder why she can't remember?
It's a reasonably short 1.5 mile hike. We started around 1015 and it took us just an hour to plod up the steady grade which was a mix of constructed path, grassy track and rocky hill path.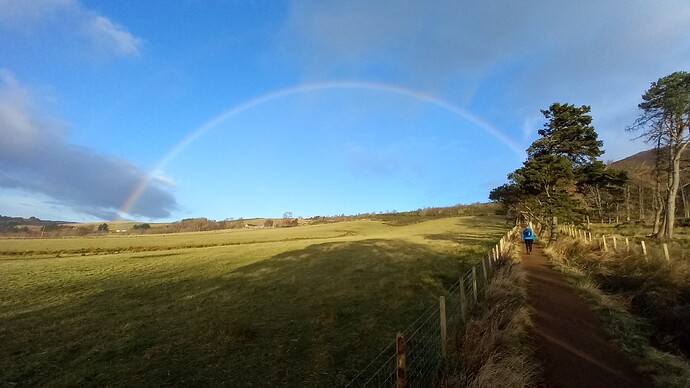 Heading up the steep initial path
It doesn't feel like you're climbing the hill initially, as the track countours round to the left for a fair bit before picking up the hill path which zigs up and across the south face of the hill, before a short zag leads up to the unique summit area.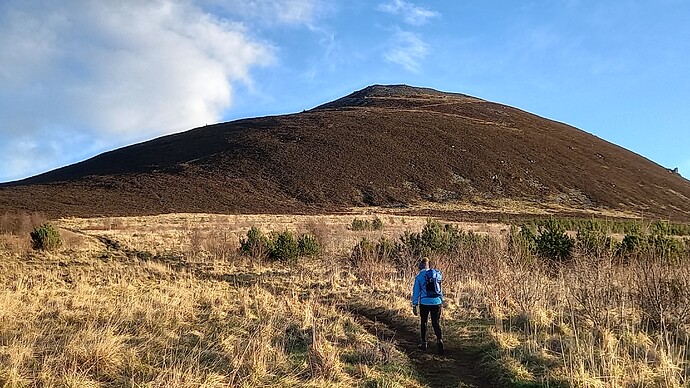 On the hill track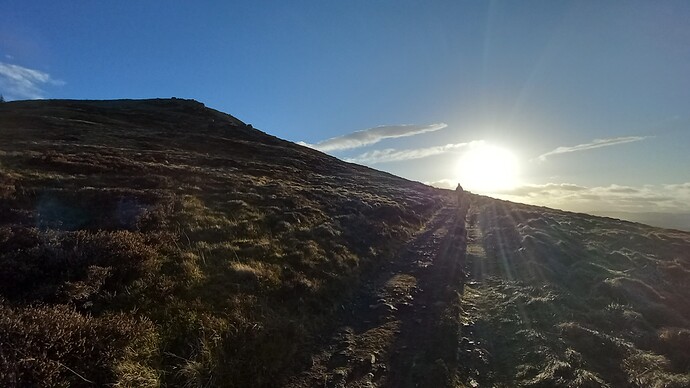 sun but no wind…yet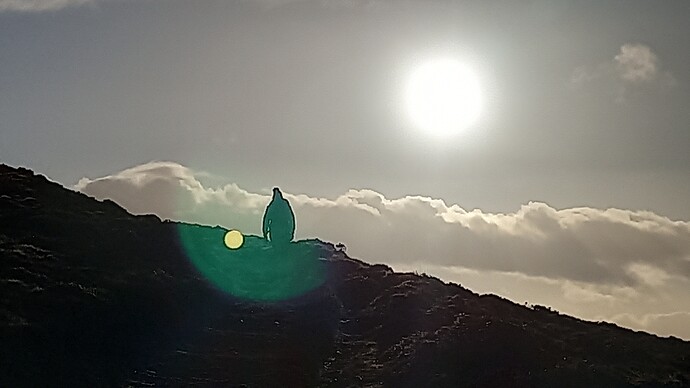 Why is it unique? Well the entire summit area is taken up by the remains of a hill fort. Estimates of its age are between 1000 and 3000 years old. In areas the rock has been vitrified (fused through heat). It means that the summit plateau is actually a slight depression, with the remains of the rocky fortifications all around.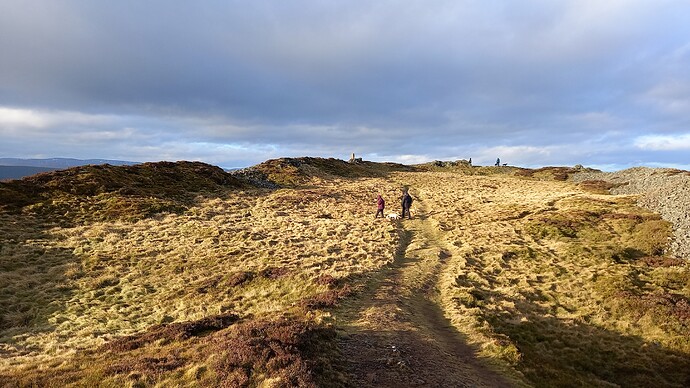 The summit area of Tap o'Noth GM/ES-054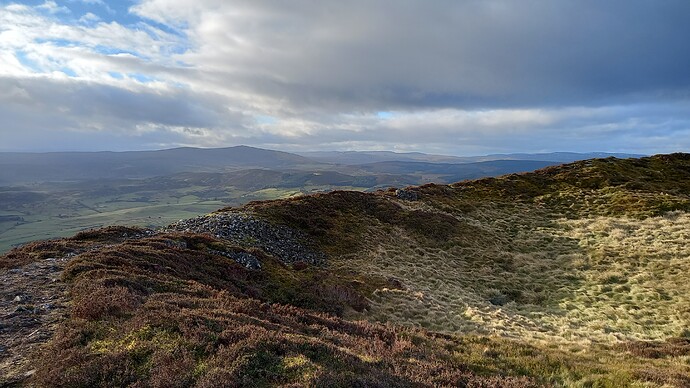 The Buck of Cabrach GM/ES-039 seen to the south, over the fortifications
When it came to setting up station, I was a little concerned around going too low into the middle, but also keen to keep away from the summit trig point, given the popularity of this place. In the end we found a shelter at the extreme west end of the plateau. Mo wasted no time in getting the kettle on and I set up the W3EDP running west to east, easily guying the mast in the grassy depression. It was a fairly windy day, with a strengthening southerly, so the decision to use an end-fed was based on shelter and practicality rather than propagation.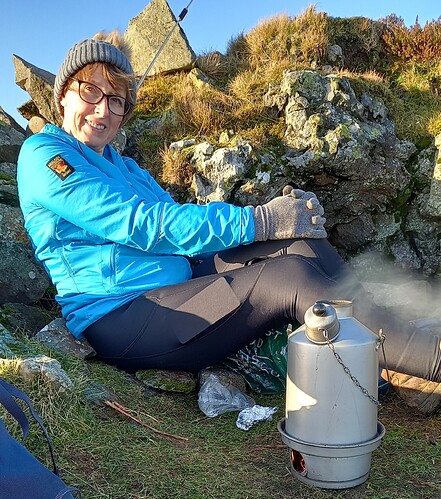 Tea time
After tea and cake I got myself organised, plugged in the KX2 and somehow managed to find a spot on the 40m band.
The activation was straightforward, with many of the usual Chasers and lots of Happy New Year messages being passed back and forth. What amateur radio is all about! Highlight was a S2S with @LB4FHP/p who was on LA/RL-063
I used VK port-a-log, although I had a pad and paper in my pocket, however I'd forgotten my watch. I still haven't worked out to log a Summit-2-summit with this in real-time. Must RTM.
I was conscious of dogs running around and when I looked up I couldn't believe my eyes. There were half a dozen dogs running around and about 20 people. Too many for my liking, so I decided to pack up. One chap who spoke to me turned out to be an ex Navy radio operator. He asked if I was doing voice or morse. Another chap asked how far I'd got and I heard him explain to his family that I was on HF.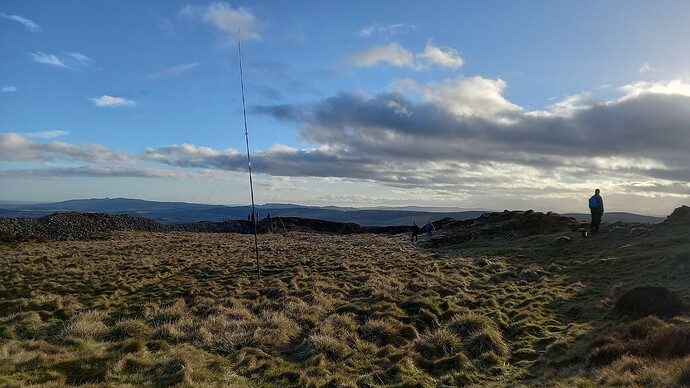 The summit getting busy
Another reason to pack up was that the wind was really picking up and Mo was starting to express her displeasure at any prospective band changes!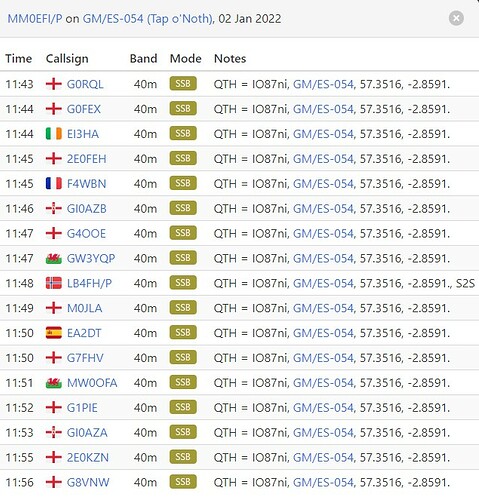 The log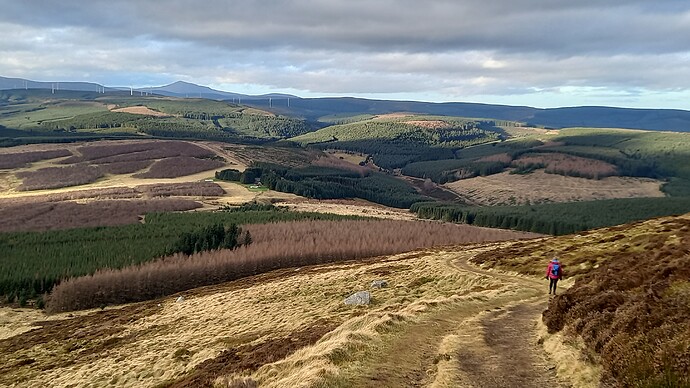 Heading down with Ben Rinnes GM/ES-021 on the horizon
Descent was by the same route. We must have passed another twenty folk who were heading up (plus dogs). Should have known better really - New Year weekend and a nice(ish) day. Everyone wanting to walk off their steak pie! Lots of large groups too, so maybe families and friends playing it safe and meeting up outdoors.
Well that's 2022 off to a start! Thanks Chasers. Great to hear you all on good form today.
73, Fraser