We wanted an easier day after the previous day's exertions. The forecast was for some light rain, so we decided that this would be a one summit day. We hadn't had our fill of Glen Isla (it is a pretty valley), so went for Badandun Hill on its eastern side. Parking was a lot easier – there's a proper car park for several cars just opposite the phone box in Folda (it seems to be associated with the Cateran Trail).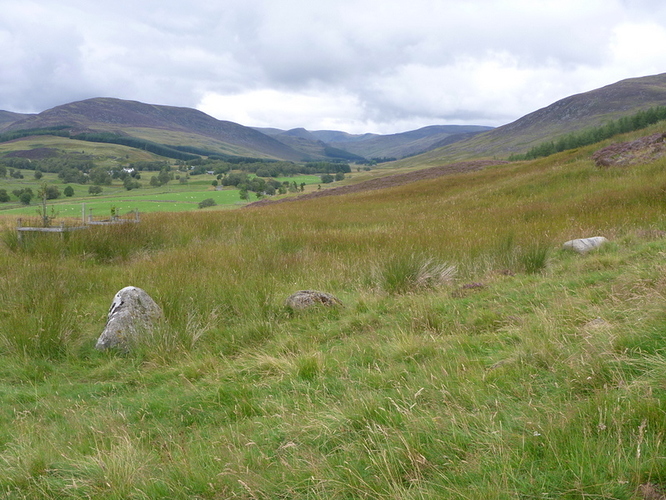 Glen Isla
We headed north up the road and headed along the Cateran Trail as it headed north east. This climbed past wood and onto open moorland. We left the Cateran Trail as it bent south and headed north over Cuingard, all the time following a well defined track. There were clouds on the higher hills, but we kept below the clouds, and only suffered a little light drizzle. The track passes close to the trig point which we used as our base with Caroline using the hole in the trig point to support the VHF antenna. There was plenty of space for HF on the flattish top covered with grass and low heather. This time Caroline qualified on VHF with 5 contacts in 10 minutes, while Martyn got 9 contacts on 5MHz. Caroline then moved to 7MHz for a reasonable run of 16 contacts, before letting Martyn have the HF dipole back for 14MHz – just 5 contacts, with an interruption to work John GS0OOO/p on 2m FM S2S.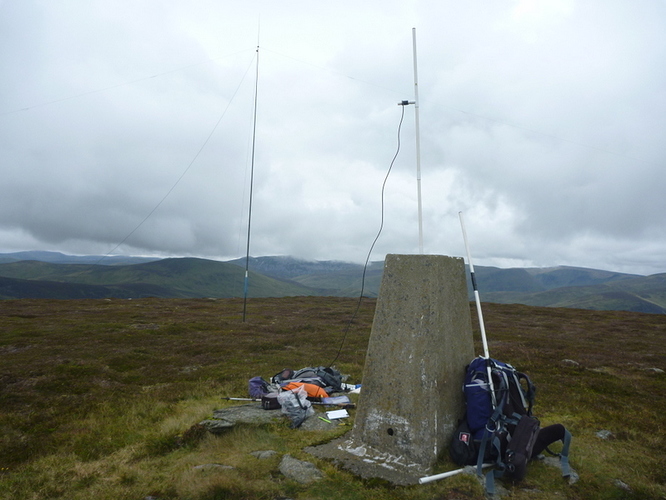 With only one activation in the day, we decided we had time for a slightly longer return to make it into a circular walk. We continued NE on the track dropping down into a valley and a little way up towards Craig Lair before turning left to descend along the side of the Fergus burn, getting good views of the hill we had just activated. At Fergus Cottage we headed south on a track along the east side of Glen Isla, getting a different perspective from yesterday – a pleasant low level walk, and thankfully with just enough breeze to keep the midges away.