An easy peak, an isolated one and a journey back to be savoured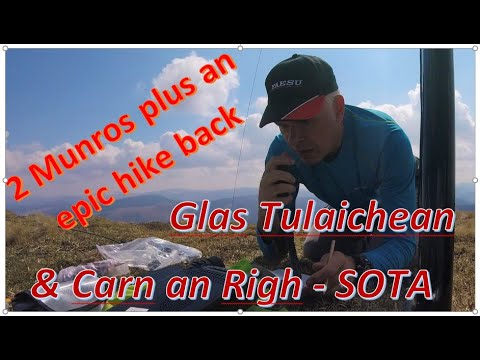 We'd been on holiday all week, travelling to the Isle of Arran on the Monday, driving through snow over Glenshee. By Friday we were home, with much improved weather and Mo had decided the garden needed her attention for the weekend. I messaged my son Callum MM3ZUP, "Fancy doing a couple of Munros this weekend?". He replied, "Yes".
As it was the bank holiday weekend, I was keen to avoid travelling too far to an overflowing car park, so I opted for the above peaks, accessible from the Spittal of Glenshee.
It's worth driving up the private road to the Dalmunzie House Hotel and paying the £5 parking charge. This shaves 4km off the walk. At reception they ask you to fill in a route card and display it in your windscreen. The card is redeemable for a discount off of food and drink at the hotel.
Sunday morning, 0715z and we commenced the easy walk up Glen Lochsie in calm, warm weather. We strolled along Land Rover tracks and sections of grassy trackbed from an old narrow gauge railway line that was once used to take shooting parties up to the hill and bring their trophies back down.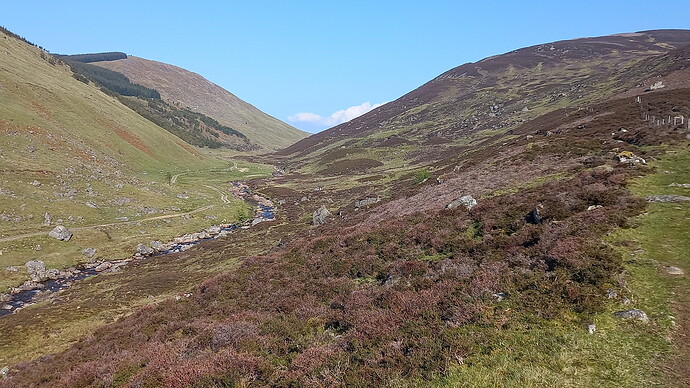 We crossed the burn above the ruins of Glenlochsie Lodge. I fell in. I'm blaming it on slimy rocks! A quick wring out of the socks and we were on our way up the vehicle track that initially steepens up the slopes of Glas Tulaichean, before soon easing off to a reasonable grade, crossing a few bumps before reaching the summit, some 4km along the ridge. A fairly easy and boring Munro from this angle.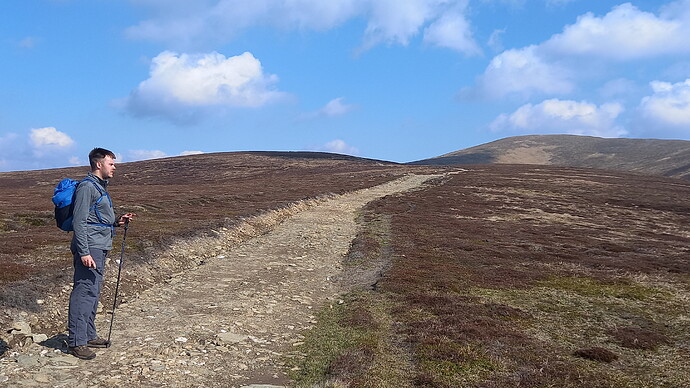 I set up the station, using my usual ft-857d and linked inverted V for 40m and 80m. It needs no tuner.
Callum watched in awe as the mini-pile-up commenced and I worked the radio for a few minutes, making contacts on 40m SSB in quick succession. Callum passed his foundation licence when he as 11 years old, but has only really used it for 2m FM when we've been active in our other past -time, which is Motorsport Recovery at stage rallies.
I didn't prolong the activity, conscious that we had another (very distant) peak to climb and activate. Best DX was Spain, with 14 contacts in all.
Glas Tuilachen only reveals its true character and splendour when viewed from afar, or indeed from its north ridge.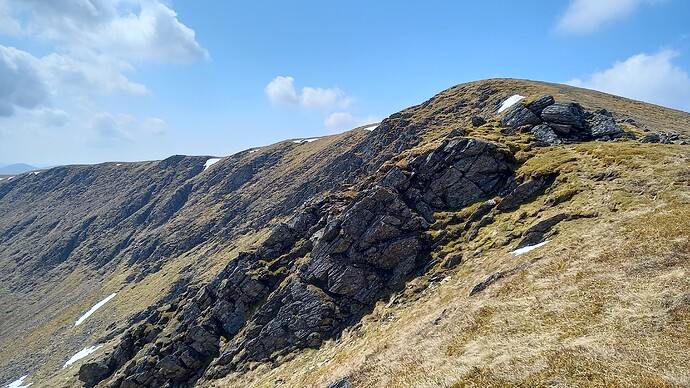 We descended this ridge on a decent path, which extended down to its lower slopes. I was conscious that we needed to drop west across steeper ground and the valley floor in order to pick up the path which headed west up to Carn an Righ. Too soon would mean too steep a descent as well as crossing a myriad of rivers, burns and bog. Too far down the ridge would mean drier ground in the valley but would add distance that we didn't need.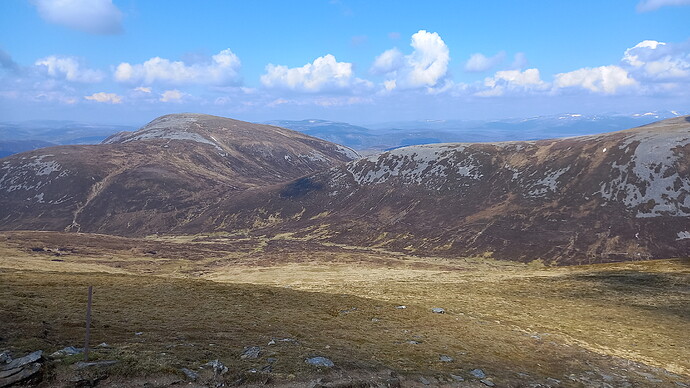 We found a reasonable compromise and crossed the valley on dry ground, with just the one burn to hop across.
The path up to Carn an Righ was peaty at first. This gave way to a rough stony path closer to and on the lower slopes of the hill. A short stone field was crossed shortly before we reached the rocky dome of a summit.
Callum on the upper slopes, with Glas Tuilachean in the background.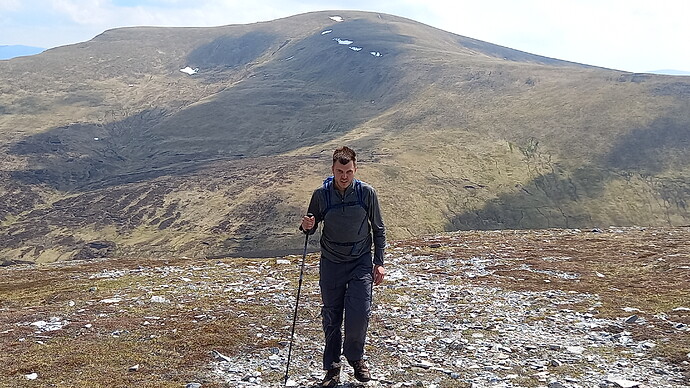 The usual stone circle shelter was in place at the top, but although the wind had picked up considerably, I was conscious that others were coming up the hill, so we elected to set up station 50m to the north of the summit, below a low natural rock wall.
The views from Carn an Righ are extensive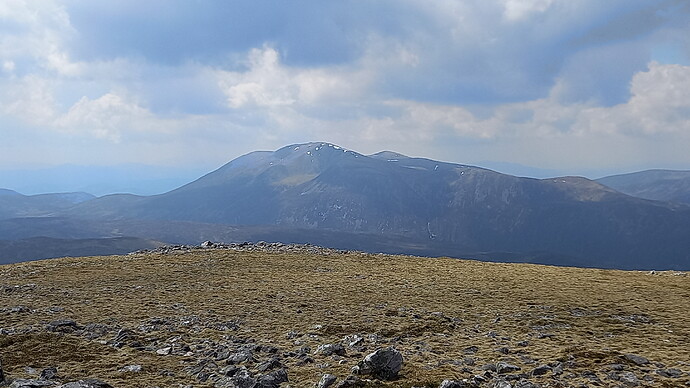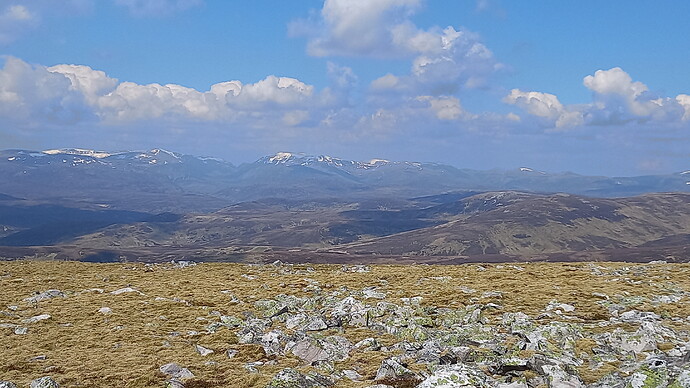 For simplicity, I called CQ on the same frequency as last time - 7.155MHz, running the same 30 watts in to the inverted V. Callum was a great help in setting this up. He wondered how I manage this on my own!
Crouched behind the wall, out of the wind I was told by my first contact Don G0RQL, that I had great audio and that I could keep the wind up in Scotland - he didn't want it in Devon! Another fourteen contacts followed, including summit to summits with GM4JXP/p Simon, who is very local to me, but we've yet to meet. Also s2s were DB7MM/p and GW4VPX/p, who I struggled with due to QSB. Best DX was Spain. The pile up over and the QSB deepening, we packed up.
Callum on guy rope duty on the summit of Carn an Righ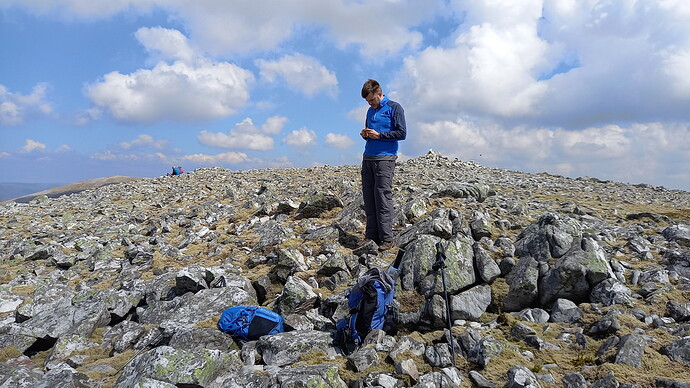 It's a long walk back! It's a remote mountain and I really felt this as soon as we turned east to head back down our ascent route. Keeping to the north side of the valley, we eventually came to a narrow section, with just enough room for us and the infant burn. A great place to replenish our water. We'd carried a litre each, but must have filled up three of four times during the trip.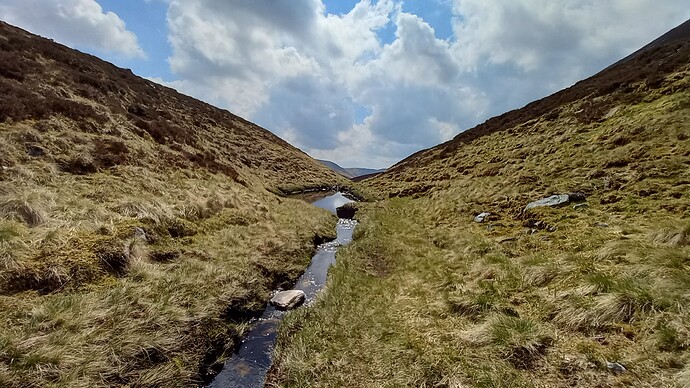 Out of the valley and across a slightly boggy section led us down to the side of Loch nan Eun, with An Socach (GM/CS-038) stretched out beyond.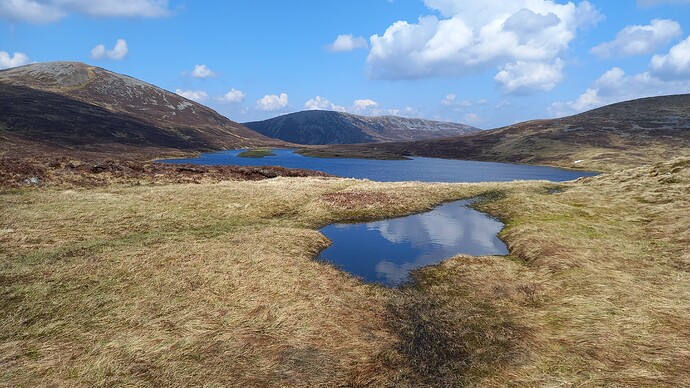 We turned the corner to an astounding and surprising view. A new glen! I wasn't even aware of its existence until we'd planned this walk, nor its beauty! The only downside was its length - we'd need to walk the full 7km length of Glen Taitneach in order to return to our car.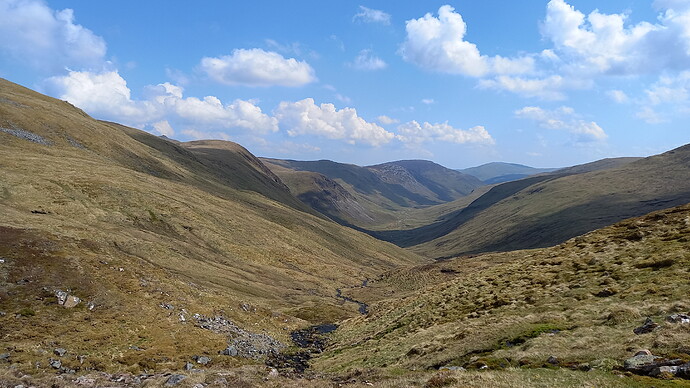 The outflow of the loch spilled into the glen, down cascades and steep falls. The path followed the water closely. This was tough going, however eventually the valley floor widened and we picked up a decent Land Rover track.
looking back up the glen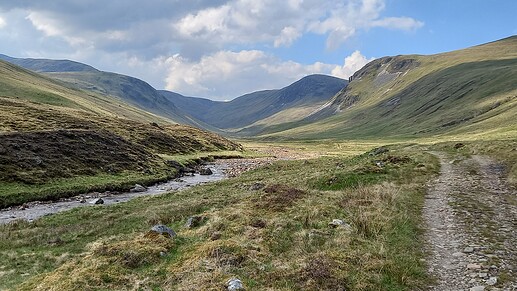 We eventually had to leave this in order to cross a wooden footbridge over the burn. This took us onto a grassy path back to the car park.
We arrived back at the car some 9 hours after starting and having hiked 16 miles or some 26km. A 45 minute drive home and the best surprise of the day - Mo had the BBQ on! I can't remember what we ate that evening, but it was awesome and we ate lots of it!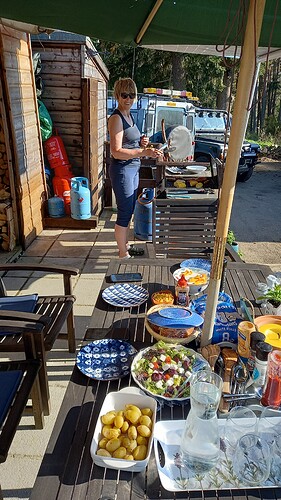 Hill Kit
long sleeve top and long trousers. Sunhats
Suncream - applied three times each
water - 4 litres each, thanks to plentiful supply in the burns
warm item of clothing (worn on Carn an righ in the wind)
waterproof, walking poles
food, first aid, compass, GPS, map, map on phone
Radio Kit
Ft-857d
linked inverted V for 40/80m
20m monoband vertical as backup (unused)
LiFePo battery
7m Spiderbeam pole and three guys
waterproof notepad and pencil
4G was good on both summits, enabling simple self-spotting
In summary, the best hill day for ages, a really memorable trip and the return was as good as the climb. Callum enjoyed seeing a new aspect of amateur radio and I wouldn't be surprised if I got him on the mic. next time. Conditions were generally good on the bands and I really enjoyed relaxed QSOs with the Chasers, as well as some nice S2S's.
73, Fraser