We woke to another glorious sunny day – sad to be packing up, but at least we had another day's worth of activating before catching the ferry home. We left just after 10 having been chatting to the owner for a bit. It took us a bit under an hour to get to the parking for Slieve Gallion quite of lot of which felt to be stopped at the many traffic lights in Cookstown! We parked at the official car park picnic area and viewpoint at H822882, though we later discovered that there were places further up the road where it would have been possible to pull off the road and park.
The sun was shining brightly as we set off up the road, we cut across the first hairpin, but otherwise followed the road as it meandered its way upwards, getting views over Lough Neagh and towards the Antrim Hill, with the distinctive whale of Slemish visible, though the views of Lough Neagh itself were misty. Where the road took a 90 degree right towards the lower sub-summit with a transmitter station we headed left on a track which started off slightly downhill, but then ascended via several turns becoming progressively fainter, before coming to a fence with a stile, from where a boggy path led towards the now visible trig point. We now had good views back to the main Sperrin range.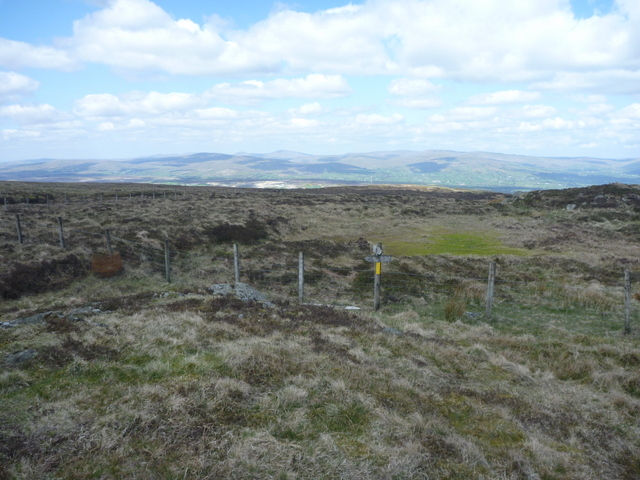 Sperrins from Slieve Gallion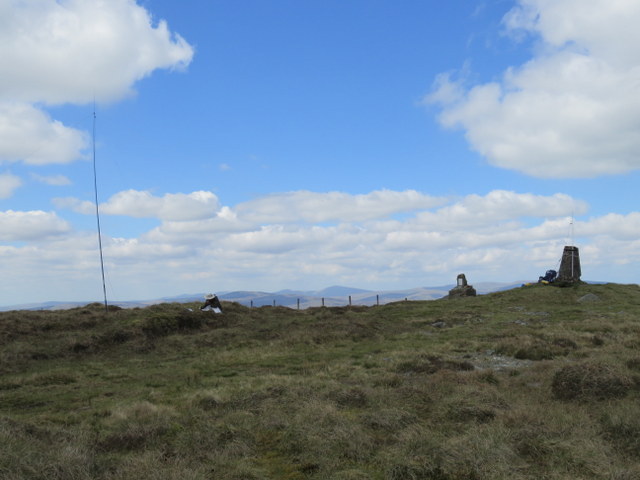 Slieve Gallion
The trig point had a distinct lean, but seemed stable enough, so Caroline took advantage of the lean to get the VHF antenna more vertical than usual, which Martyn move a little away to find a reasonable dry patch for the HF antenna. This hill had a good take off and Caroline had the hill qualified in under 10 minutes, getting 9 contacts before moving to 7MHz for another 16 contacts. Martyn got just 7 contacts on 5MHz, but we both grabbed another S2S with Victor GI4ONL on EI/IN-042. Having finished with HF Caroline returned to the VHF radio to do some final calls, and was very surprised to hear a faint GM7PKT calling summit to summit, and even more surprised when Robin told me he was on GM/WS-161 north of Fort William, we exchanged reports, but his signal disappeared before Martyn could also work him. We later concluded that the path was probably aircraft reflection: it's this sort of unexpected contact that fascinates Caroline about amateur radio. This was one of the summits where we saw some other people both on the road and passing the summit, but it was still pretty quiet.
We returned to the car and decided we needed a fairly simple hill to do to ensure we were in plenty of time for the ferry. We chose Big Collin, which we had chased earlier in the week, so an activation would make it a complete. We parked in the picnic area car park at J237973, and having read the information board about the two aircraft crashes on the hill, headed SE along the road to the track entrance at J239971, where there would also be room to park without blocking access. Over the gate we followed the track briefly, but then headed over the rough grass straight towards the highest point. The exact highest point was unclear – there were several depressions in the summit round. Although the sun was shining there was enough breeze to make it worthwhile dropping down slightly away from the wind. Again Caroline qualified with 4 contacts on 2m FM in under 10 minutes, but then nothing, so she moved to 7MHz (9 contacts) after Martyn had 12 5MHz contacts in under 15 minutes. We decided we had time to try 14MHz before heading off to the ferry, but it yielded just 3 contacts.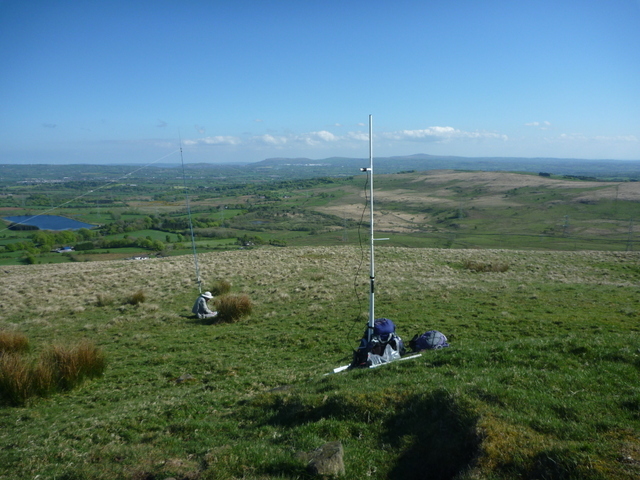 Big Collin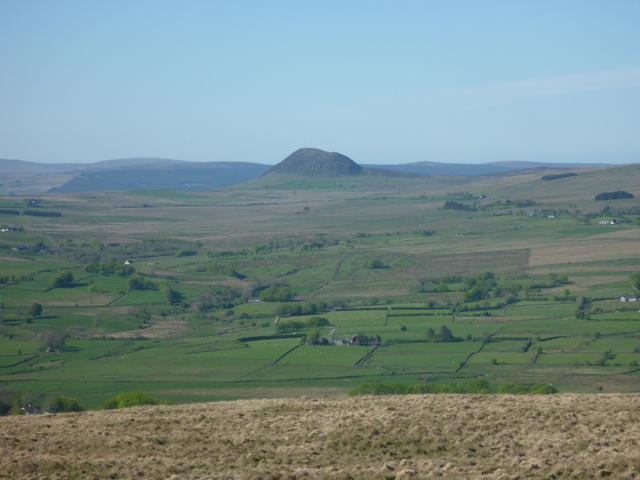 Slemish from BIg Collin
We dropped down to the track a little quicker on the return and returned to the car. Our next stop was the Tesco at Glengormley where we bought dinner to eat in the car. We had intended getting salad and cold meats, but on passing the hot food section realised that they had Cumberland sausages and bacon rolls reduced for quick sale, so we got some of them to go with the salad. We slightly overestimated quantities, and Caroline couldn't manage all the Cumberland sausage, but it made a nice change from cold meat. We were glad we had eaten before heading off to the ferry, because although it had arrived on time, there was a problem which stopped us from boarding until late. Despite the late departure the ferry caught up the time and arrived in Birkenhead on time at 6:30.
Caroline M(I)3ZCB with Martyn M(I)1MAJ