G4YSS Activation Report, GLD-004 Skiddaw on 2m-FM
Issue-1
LAKES WEEK-2019:
This was day-3 of our annual six-night break in the Lake District with the usual walking group; just three of us this year plus two non-walking XYL's.
G/LD's activated in the five available walking days: Day-1 LD11 & LD18; Day-2 LD20; Day-3 LD4; Day-4 LD3; Day-5 LD7, LD10 & LD22
This activation:
G/LD-004 SKIDDAW on 2m-FM
G4YSS using GX0OOO/P
All times BST UOS (UTC + 1)
With walk leader David Barnes
EQUIPMENT:
Moonraker MT270M 2m / 70cm 25W mobile rig
IC-E90 4-Band, 5W, VHF H/H (used for the last two QSO's)
Half-wave vertical J-Pole for 2m
5Ah Turnigy Li-Po Battery
Pack weight: 8kg including 750ml of water & primaloft jacket
Other:
Garmin Geko 301 GPS
Hitachi MP3 Player & DAB Cube (not used)
INTRODUCTION:
The Day-3 forecast was for rain early and late. Rob scratched today and David proposed that we climb Helvellyn. It was still raining when we arrived at Wythburn church car park at around 09:45 so we elected to wait it out. The problem was that we were still doing just that an hour later.
David suggested driving down to Grasmere to visit a café there. Two were closed but we found the one at the garden centre after parking in the pay and display which cost £3 for the hour required! We'd had continuous bursts of moderate to heavy rain when waiting under Helvellyn but it was merely light drizzle in Grasmere. When we returned to Wythburn it was drizzling there too but once we were out of the car and about to get walking it turned to proper rain. By now it was well past noon so we finally made the decision to give up on Helvellyn and try Skiddaw instead.
The weather at the Underscar was different again and evidently others knew it; the car park was bursting at the seams. There was no rain at all and though it was dull, there was very little low-cloud visible 'upstairs' on Skiddaw. It didn't take long to agree that we were 'going for it' but it was regrettable that much of the day had been squandered due to the weather. I would have been concerned if an HF sortie had been the plan but a simple 2m-FM activation should not take long.
Route:
Underscar Car park is at NY 2802 2534 (295m ASL) and it's free. Go through the gate and turn left at NY 2828 2551. This is a very well used path in mostly good condition and almost impossible to lose even in bad viz. About five minutes in, it drops a few metres then goes up steeply, zig-zagging where necessary, seeking to maintain a roughly constant gradient.
Just after the half-way point at Jenkin Hill, you take a right fork to bypass Little Man, immediately passing through a gate at NY 2717 2753. This gate can be difficult or impossible to open in winter being in a place that seems to encourage drifting snow.
The path is level for a while, in fact it loses a few more metres, then starts to climb again after the lesser path from Little Man rejoins it from the left at NY 2640 2831. After that there's one false summit; the real summit ridge beginning at around NY 2603 2860. From there it's another 500m of rocky and slightly undulating ground along the top and heading north to the trig point at NY 2604 2910.
EXECUTION:
We left the car at 12:58 and soon afterwards I made the discovery that I'd left my camera at the B&B. To minimize the time that David would have to spend on the windy top I went ahead from NY 2684 2812; a technique we adopted right from the start in 2002.
We'd agreed before the off that in order to save time in what remained of the afternoon, we wouldn't be walking all the way to the trig point for once but would operate from the first available wind shelter. The shelter adopted for this purpose was at NY 2604 2866 and I think some kind person has done some work on it recently. Arriving there at 14:26 I set up and had two contacts in the log by the time David loomed out of the mist 10 minutes later.
SKIDDAW, G/LD-004, 931m (10 pts) 14:26 to 15:11. 9C. Wind 20 mph. Overcast with low-cloud 90% of the time. Sunshine for a few seconds only. (IO84KP, WAB: NY22, Trig: TP6001 – not on offer today) Vodafone coverage 50% of the time.
145.550 FM - 10 QSO's:
Using the MT270M and J-Pole, I worked G0TDM in short order. John put up a spot for me which saved me fiddling with the phone. Geoff G4WHA/M called from Carlisle using a 70cm handheld to link to his car's 2m rig outside the computer shop. Both stations reworked me using their 'B' calls G7GQL and G6SMW/M respectively just in case but I'd have been loath to use this dodge. Happily, I didn't need to and there are always other avenues to explore like sitting on .500 to grab anybody who comes up or even pleading for simplex QSO's on a repeater as I have done in the past. Today 4m-FM from the IC-E90 was also an option.
For a while qualifying wasn't looking promising but thankfully there were further QSO's as follows: GM3VMB Peter just outside Lockerbie; G1GDB Derek in Bothel; G1OHH Sue - Lancaster; M0LJH Les in Blackpool 41/ 55; 2E0RKA/M Mark on the A66 three miles from the M6 and 2I0KPY Peter in Antrim 2 x 55. All reports were 59 both ways apart from those shown above and the session spanned half an hour.
Power was 25 Watts from the Moonraker apart from the final two chasers who were worked with 5W from my Icom IC-E90. This was because the mobile rig's receiver kept getting overloaded and not for the first time this week. The problem was confirmed when I was told that stations were calling me but I wasn't responding. The MT270M mobile's performance was beaten by a mere handheld, apparently of better quality. It seemed to me that the frequency went quiet, as far as I could tell that is. David was visibly pleased as he'd chilled off quite a bit during the half-hour session.
Descent:
The beauty of this 2m-FM routine is that you don't need 10 to 15 minutes to pack up so we were walking off 7 minutes after QRT. A short time later something made me check my phone. There was a text message from Victor GI4ONL in Bushmills. 'Hi John, I can hear you on 145.550. Give me a call and we'll see if we can make it.' What a missed opportunity that was. It was with regret that I had to tell Victor that the activation was now over and we were descending. 'Oh well, another time… 73', was the philosophical reply. It would have been good if I'd checked the phone earlier!
The car park was reached in 70 minutes with time to spare at 16:21. After the disappointment of a morning waiting in the pouring rain under Helvellyn, we'd 'got away with it' on Skiddaw in the afternoon. Either way I was ten points the richer and there would be other opportunities to do Helvellyn later in the week.
QSO's on 2m FM: 10
Walk data:
12:58: Left Underscar (295m ASL)
14:26 to 15:11: Activation
16:21: Arr. Underscar
Summit time: 45min
1hr-28min up/ 1hr-10min down
Ascent and Distance: 680m (2,231ft) ascent and 10.6km (6.6 miles)
10 points
Comments:
The third walking day had been in danger of being lost to bad weather but was salvaged in the afternoon. Yes, we can battle the elements but what's the pleasure in it? It becomes more like a survival exercise and as far as I'm concerned those are consigned to the past.
David kept me company and a good thing too. I felt less fatigued after this than if I'd done my usual 'flat out and screaming' approach. Conversation, if there's spare energy for it, takes the mind off the discomfort of ascent which I feel greatly.
My nickname for the path we used today is 'The Skiddaw Motorway' but it's the most efficient and therefore quickest way of accessing LD4's summit. Best times for this route are 1hr-9min up/ 52min down in 2012 and 1hr-15min up/ 48min down in 2011. David would have preferred coming up via Ullock Pike, Barkbethdale or Lonscale Fell. So might I but time was too tight for that.
10 QSO's on 2m-FM with eight different chasers hardly set the World on fire but as far as effort is concerned, VHFM saves an awful lot over an HF multi-band, multi-mode high power operation.
Thanks to all stations worked and to G0TDM for two spots; the second one imploring, 'Needs Contacts.'
73, John
(G4YSS using Scarborough Special Events Group Club Call GX0OOO/P)
Please report errors
Photos: 1a (Forgot my camera – one photo thanks to David Barnes)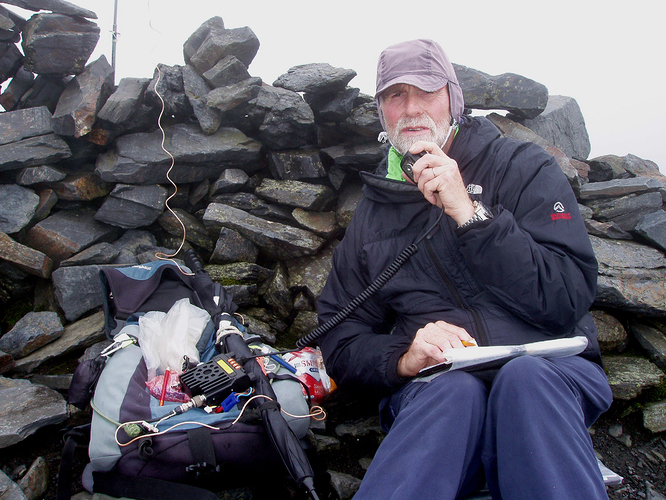 Above: Activation of Skiddaw G/LD-004 on 2m-FM only. G4YSS in QSO with G0TDM, John in Penrith. Moonraker MT270M 25W mobile rig.