Well yesterday was the first day of half term holidays that wasn't blowing a hoolie or raining. Which meant only one thing, SOTA!
I asked my son(6yo) "Do you want to go up a hill today?"
"Err. . YEAH, I'll go pack my rucksack and we can make packed lunches,"
I didn't want to waste most the day driving so the close North York moors were to provide the destination of our travels. I picked Guisbirough moor as I hadn't activated it this year and as he hasn't been out walking with me for a while didn't want a lot of uphill walking.
So we packed up and set off to our starting point. The end if the road on top of the moor at NZ607118 (Percy cross rigg)
Upon arrival the cloud was still a little low and was windy and spitting in the wind. After getting dressed up in all our equipment like it was December not June we set off. We soon warmed up with the walking and hats, gloves, waterproofs keeping us dry.
Halfway into our walk however the rain stopped and wind dropped. This caused a short break to re evaluate the clothing and take the 3 hats off my son's head and gloves from his hands.
Upon arriving at NZ613136 he was asking when lunch was and was starting to tire a bit. I said you can have lunch while I play radio. So I checked to see if I was in the activation zone to save him walking about another kilometre to the actual summit. Although I was within the 25m vertical height I didn't think it counted as there is a 20m decent followed by 30m ascent to the summit. So after checking the rules online and to be on the safe side, he'd had a rest by now, I told him we need to walk for a bit further, until I could get within 25m vertically of the summit.
Upon arriving in a suitable spot we sat on the stone wall and I set about setting the station up. By this time there wasn't a breath of wind and the clouds were on the rise.
After cqing once with 5w and again after self spotting I raised my pwr to 25w and cq'd again. A S2S with HB9BIN/p on HB/LU-011 was the first qso in the log followed quickly by the familiar pileup I worked through as best I could. All giving me 56-59 reports. It was then I thought I may have been premature with upping the power but by now the pileup was gone so I stopped to eat my own lunch.
As it was a local summit and havnt activated on anything other than 20/2/70cm I thought I'd take my half g5rv with me to see if I could get that working as I knew there was a fence I could use to help me with the mast etc. I usually use a resonant half wave end fed antenna for 20 but a wire antenna with the centre held by the mast makes the mast a lot more sturdy I found. Unfortunately I didn't measure how long the piece of ladder line on the g5rv was so I couldn't puty 10m fully up. The did not matter in the end as my TS480 still could tune the antenna no problems on 40.
I found d a clear frequency and did a cq shout to see if everything was OK. The rig rebooted and displayed Hello. I did another shout and it was fine. But at this point I looked at the ladderline-coax and realised I'd forgot my balun and as I only had 1m of rg213 coax with me no coax loops could be made I packed up. I ate the rest of my lunch and we set off back to the car. Suffice to say he slept all the way back home and I was tired as well, probably the weather and havnt been out on the hill for a while contributed.
It has make me wanna try the half g5rv out again to see if I can get 40m to work and see what other bands it can get tuned onto and how it performs.
In total I had 9 qso's on 14mhz
0 on 2m (after cqing for 5 mins)
0 on 70cms ( after cqing for 5 mins)
73
Anthony
M0VED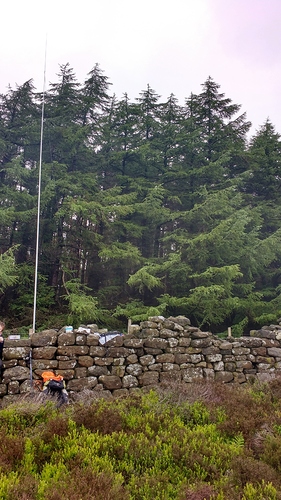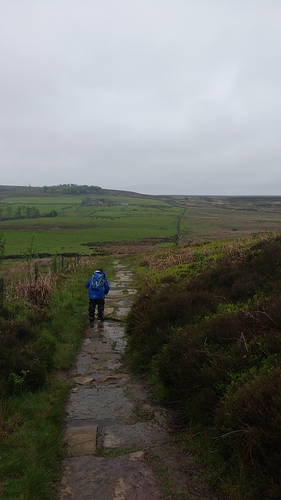 Walking towards highcliffe farm