We activated Black Down on our way to a long weekend on the South Coast. We arrived at the Tenneyson's parking area at SU921309 just before 1pm. The earlier rain had stopped but everything was damp. Despite the weather the parking and paths were busy as we headed roughly south. Around the point that we estimated that the true summit was to our west we left the main path to make our way on a faint path through the trees. At the top of the ridge we found another slightly better defined path leading to the trig point in among the trees.
Caroline's operating position was easy – with the trig point centre hole providing VHF antenna support, and the trig point itself supporting radio and log away from the wet ground. Martyn had more of a fight to work out how to string the HF dipole through the trees and bushes. One leg ended up suspended over a hollow which made link changing more of a challenge. Martyn found 5MHz in reasonable good shape, getting 13 contacts.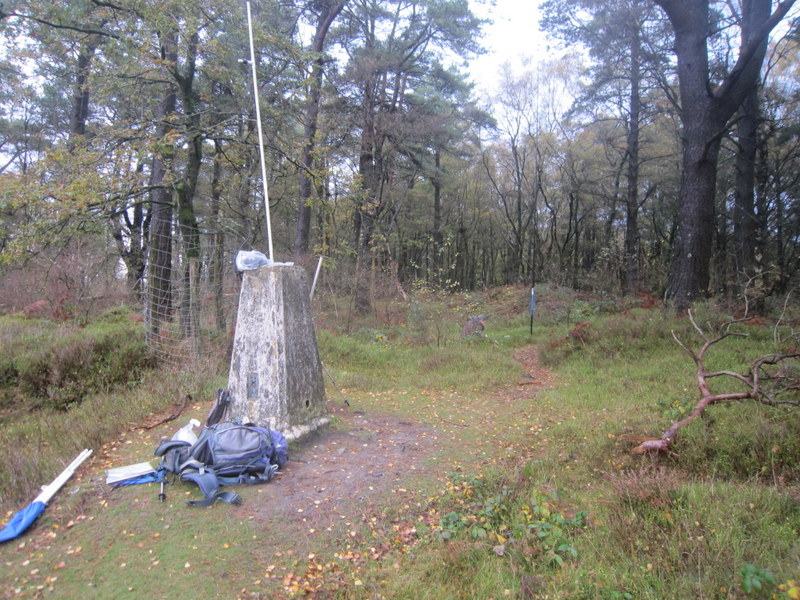 Caroline's FM VHF operation suffered an initial hiccup – having both listened and asked if 145.400 was free with no response, she QSY'ed there with the first caller to come back to her calling channel CQ. Having again asked if the channel was free to no response she started talking to the caller, only to be interrupted by someone who didn't give a call sign but said that the frequency was in use permanently. A quick QSY down a channel revealed it was free, but Caroline never heard any traffic on 145.400 when passing through it on her trips between 145.500 & 145.375, on her way to qualify the summit with just 4 contacts.
We swapped stations for Caroline to have a good run of 28 contacts on 7MHz, while Martyn flipped the dipole horizontally for just 2 2m SSB contacts. After callers had run out we decided to explore the area a little more. A small heard of Belted Galloway cattle were grazing near the summit, but didn't conflict with our activation. We headed south on a narrow path running along the ridge to a wider track where we headed east briefly to pick up the south heading path we'd earlier left to reach the trig point. From there we headed to the "Temple of the Winds" viewpoint. Although dry it was still misty so views were limited. We continued our circuit heading down a valley northwest to the pretty farmhouse at Cotchet Farm before climbing up to pick up the outbound track and head back to the car.