Activation report G/NP-023 Ayre Gill Pike
Having read Richard's (G3CWI) tips on our Ayre Gill Pike can I wasn't immediately filled with enthusiasm having said that the weather was a lot better

with lots of blue sky and despite having lots of warm gear walked to the summit in a shirt. Walked possibly implies a path rather than pools of water, on the way up managed one boot full of water, on the way back both boots. I'm usually quite good at reading the vegetation to judge if it is floating, but these holes were more cunning than usual.
There are three walls to cross and I've mostly got stiles covered with the dog. I go first, get to the far side and call him over, however these had little gates at the top making it a bit more difficult. Anyway the result was that as the dog jumped off, the hand holding is lead and my walking poles accelerated sharply causing me to hit myself in the head with the walking poles.
The third stile was nearer a climb over the wall being both higher and with much smaller steps, and with a gate at the top. This involved lifting Woody to the top and then lowering using his harness.
I noticed an alert for Scafell Pike, and started the activation with a great S2S on 2m.
Having read other reports I had a go at setting up a tarp for a shelter. After 10 mins gave up, I need a bit more shock cord and practise. It did provide a bit of shelter but the noise of the flapping tarp made any communication impossible.
Set up on 80m. I'm afraid my report isn't as detailled as John's but i use an FT817Nd, set at 2.5w feeding an MX-P50M amplifier to produce about 30w ish into a full length linked dipole for 80/60/40. Power supply is a 4AH 4S1P LiPo with a buck converter to get to 12v. (I found one that doesn't generate too much noise) I also have a speech compressor which can be switched in.
Called CQ and failed to spot and had a couple of QSO's with stations getting excellent reports, and then put a spot out. Woody by this stage had settled down, got a coat on, eaten dog biscuits and was apparently content, this changed as soon as the pile up started, and the barking started. He normally does not bark, at home, at the postman, walking, sitting in the office / shack when I work, have a QSO, indeed the only way of getting him to bark seems to be to climb a hill with a radio. I put up with it for a bit and then deployed plan B, a filled bone. I did hear one station comment "His Antenna must have fallen down" but I was actually looking for dog treats. Woody is also my passport for hillwalking - no dog - no pass… lesson 1 - find the dog toys before spotting. A huge pile up then appeared - I didn't realise that a pile up on 80m was "a thing" but it was. Lesson 2 do NOT start by asking for stations with a zero in the call. Almost everyone has a zero in the call…,. start at nine and work down!
After a bit more barking which was solved with a sausage roll… MY sausage roll I worked the pile up and then after a quick try on 2m headed down this time managing to go knee deep in hidden swamps with both feet.
Having carefully read the activation reports got back to the car to heat up a can of soup - which apparently is a key part of Tom's activations before driving home. Woody was of course silent at this point.
Have decided to start a blog for the NP hills, as hopefully should complete them shortly, as I always find other peoples reports most useful… this might be an activity for Lockdown 2 - the sequel…
PS Woody is on a lead during the walk
PPS Only saw one other walker all day, but the A684 was full of Motorbikes.
PPPS Was thinking of SOTA summits within easy driving distance of Barnard Castle for Lockdown 2. Nine Standards Rigg particularly good as it is possible to test eyesight by counting Standards…
Mystery bonus item carried … probably too much winter gear.
Missing item … the Sausage Roll…
Thanks to all the chasers who put up with the erratic operating.
Picture at the end for Andy who helped fix my cock up with the Database…both of us probably equally barking mad (dog and owner not Andy)…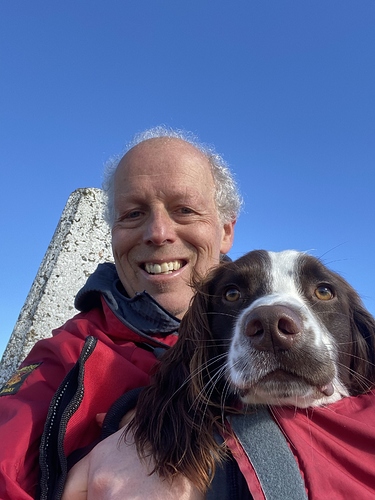 73
Paul