Whilst not quite the suprise on Seat Sandal when four of us appeared on the same summit in the pre-covid lake district weekend it was nice to meet another activator.
I'll be honest I found the walk and ground tough, perhaps as this is the first winter activation I have completed since Covid struck in 2020 and it would be fair to say conditions on the summit were quite harsh - approx -2C with a gusty 25 mph wind. The last 100 vertical meters of ascent were sort of icy - to the point when you put your weight on a carefully positioned foot it falls through the crust and decends another foot through the snow and vegitation so by the time I reached the summit I was to put it mildly quite tired, but relieved - the Ice Axe was in the car and I was starting to think it should have been on the bag if not in the hand… I had also decided to take the older FT817 and amplifier combo - so more weight, and more power and a more robust set up as it is in a heavy waterproof case the alternative being my little KX2 carried in a camera bag… I had a chat to Richard G4TGJ on reaching the summit - his pole and efhw visible as I arrived. It would be fair to say that chatting was a bit difficult over the barking dog and gusty wind. Really impressed just how efficient his set up was, mine in comparison was a bit of a jumble sale. Still one advantage of a barking dog is that it completly ensures that complaints are not about using a radio… ( Could this be a Slipperstones Excuse - The warden can't hear or see the radio because of the dog )… ( PS Woody is always firmly on his leash …)
I opted to put the shelter (tarp) up - and probably because it was rushed it wasn't great, indeed I gave up with it towards the end of the activation. Woody was being loud and despite his extra coat was probably feeling the cold. He was quiet as he wolfed his dog biscuits. I just tried 80/40 SSB and 2m, 80 went well but 40 wasn't great. ( I chased Bill G4WSB this morning and his signal went from 59+10 to nothing in 20 seconds so very strange QSB. I must admit to being very relieved to easily get to four contacts as it wasn't the right weather to linger… Thanks once again to all the chasers, and particularly to Don (RQL) and Allen (AGB) who almost always seem to find me in record time.
I took a detour on the descent as when ascending I had to pass close to a herd of Belted Gallaway cattle - without a dog I would not have any concerns but didn't really want to appreciate the herd at close range on the way back. Once back at the car Woody was put into his new dog drying bag - it is a bit like a dog sleeping bag made out of a fleece towel material. He sat looking out the back of the car from his bag as I faffed around making a coffee and trying to tidy up.
I climbed Buckden Pike mainly as it fitted in with the arrangements for Dad's Taxi ( Darlington @ 5-30 ) and without the wind it would have been brilliant - as it was I know that I need to look at my kit - again… and probably practise tarp shelters in the snow - always easier without help from a Springer Spaniel…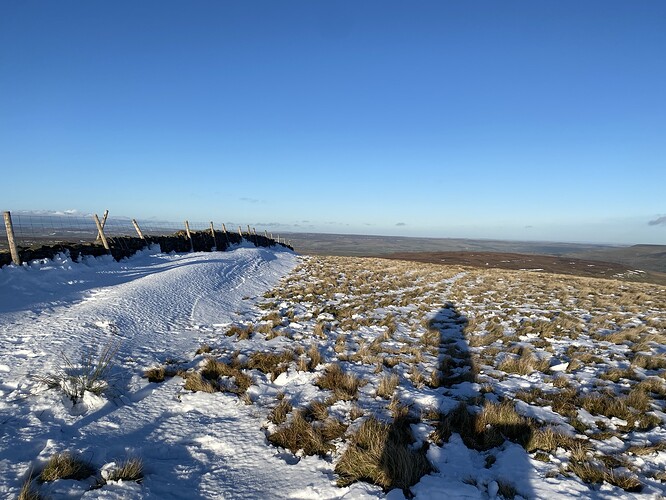 View at the Summit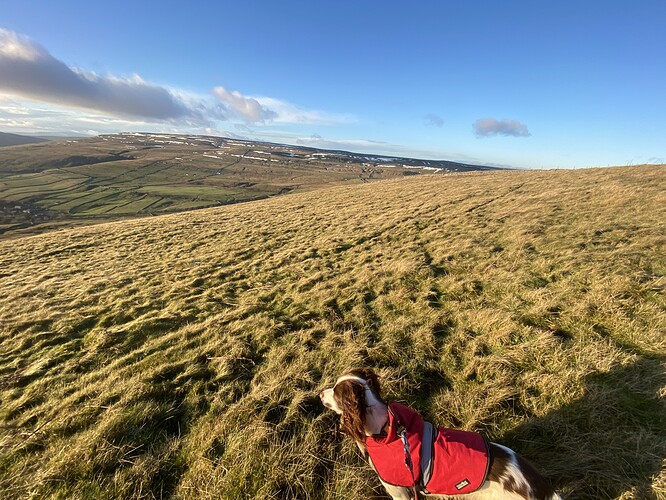 A happy dog on the way down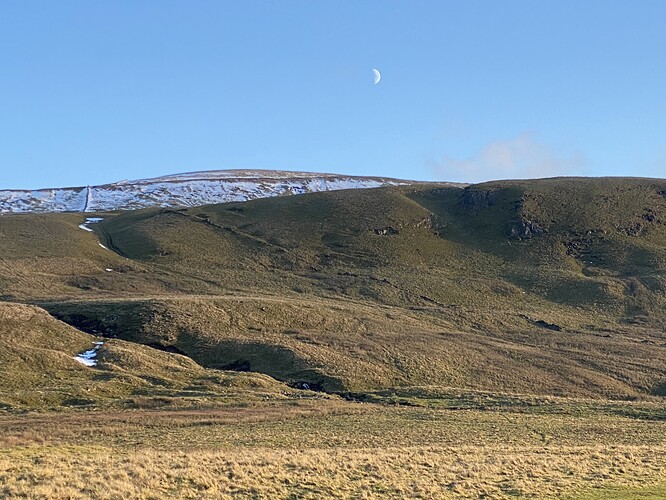 Buckton Pike - as the moon was rising …
PS Car was parked at 944717 about 400m above the pub at Cray opposite the footpath to the summit - so a relativly short walk 11Km and 350m of ascent although it felt more.
Bonus additional item - 1l water - the dog had plenty of streams on the way up and down so it was just ballast - that might have helped me from blowing away.
Missing item - well sort of - I had missed that the Ft817 unlike the KX2 has an RF gain control which I had knocked - so I was probably missing a bit of RF gain!
73 Paul