The forecast was for a reasonable start, but with a band of rain coming from the south and west later. Cold Fell was on our list, since it was the only G/NP that we hadn't activated, and weather-wise might have been a better bet, but we didn't want another long drive, so decided to head east towards Buckden hoping to do both Buckden Pike and Birks Fell. We were going to take the shorter narrow hill route over Oughtershaw, but at the start of the hill out of Gayle there was a notice saying closed due to ice and snow, so we ended up taking the longer route via Aysgarth.
There was some early sunshine, but it soon clouded over. We parked in the National Park Car Park in Buckden - £4.50 but at least there were loos. The car park was busy with Mountain Rescue people gathering for an exercise. We headed up the pretty valley of Buckden Beck on a signed footpath, with lots of little waterfalls. At an impressive waterfall, the path headed back to a scarp where there was a narrow scramble, which we didn't think we could manage with rucksacks on. Instead we tracked back west along the steep slope under scarp until we found an area we could scramble up, to the next level, where we headed east and up again to where there was another little scarp to be scrambled up, and then back east along a narrow faint track running above the scarp. This was slightly scary as the ground was wet and steep with some trees to be negotiated. The path became clearer, but muddier and still just as narrow as we passed the scramble near the waterfall we had earlier declined. After another scary section, we dropped down next to the stream: at this point we decided we had had enough of trying to follow the stream and took a steep path up by a fence, following the fence where it levelled out and turned back east to meet the stream again, we repeated the process again – steep up, then flatter back to stream. By now the hints of sun had gone and it was looking cloudy with hints of rain, so we decided to cut up the hill rather than visiting the lead mine remains, eventually picking up a permitted path which took us up to the summit ridge wall. As we approached the ridge we spotted wires and equipment on the ground and some people a little way off, and a little note saying "cave radio", which we guessed was probably part of the Mountain Rescue exercise.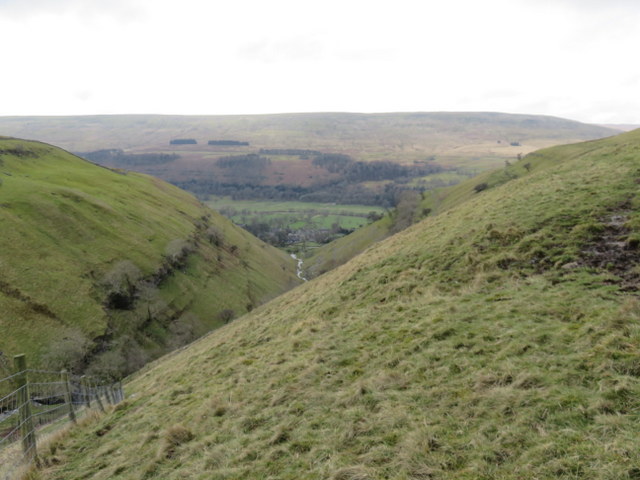 Looking down valley of Buckden Beck before clouds descended
At the ridge, we turned left along a flagged path to the trig point and summit cairn. We were now in damp cloud with a cold east wind, with small patches of snow, and little visibility. We needed some shelter, so Caroline sheltered on the west side of the wall, using one of the fence posts attached to the wall to support the VHF antenna. Meanwhile Martyn tried to get the HF antenna away from the paths (despite the weather there was quite a bit of traffic), using a dip in the ground for shelter. Caroline's lunch was delayed by the good run of 23 contacts on 2m FM, while Martyn had 20 contacts on 5 MHz. 20m was open but full of contest. It was clear that we wouldn't have time for Birks Fell, so we might have had time for more bands, but despite having put on multiple layers we were getting cold, so packed up. We thought about returning via Starbottom, but decided that given the lack of views it wasn't worth the longer route, so we headed back on the main more northerly path back to Buckden. Before long we were under the cloud getting misty views of the valley. We passed through a group of Highland and Belted Galloway cattle and headed back to the car before more rain caught up with us.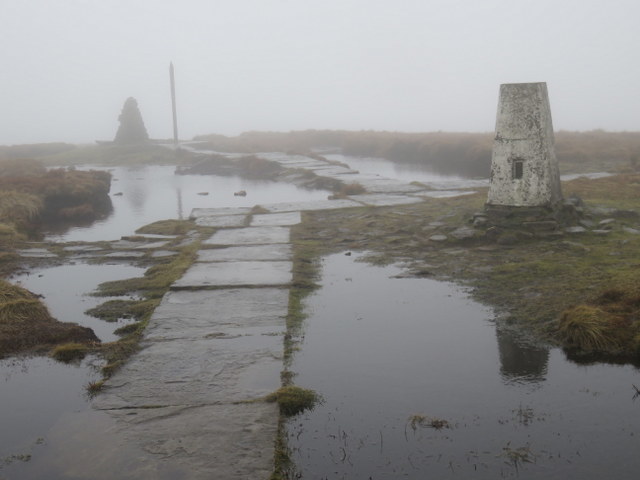 Wet and misty summit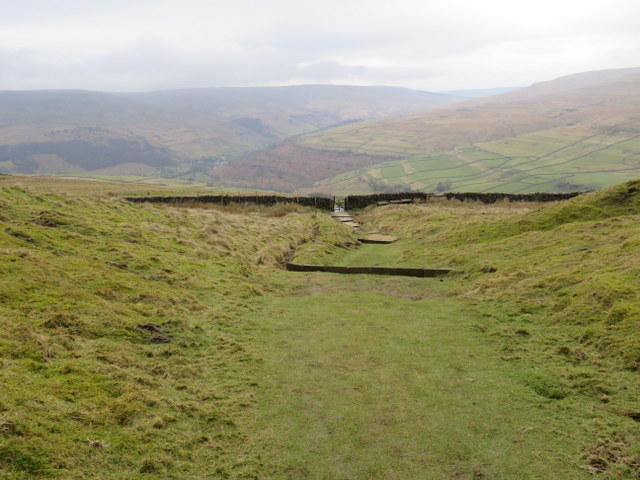 Some views on way down.