Around ten years ago, I reconnected with amateur radio after a brief lull due to a marriage, becoming a father etc. I really wanted to build something, so with some money given to me by my mother in law for my birthday, I ordered a RockMite 20 kit from Dave Benson, K1SWL. I really enjoyed building the kit but I wasn't very confident with Morse code, so once the rig was finished, I put it away in a box.
I got interested in Morse code again due to LA1KHA's PP3 SOTA challenge and I put together a simple homebrew version of a RockMite but modified for low current consumption. Starting off at 10wpm, I slowly gained more and more confidence in activating for SOTA with CW.
In 2011, I was operating a special event station over a weekend and after the day event had finished, my friend headed to the bar, whilst I plugged my RockMite 20 into the station antenna. I'd predicted that a path to east coast USA, would be open and I joked to my friend that by the time he came back from the bar I'd have a QRPp transatlantic contact in the log. I called CQ a few times and then I almost died with shock when I was answered by N1WPU, Ted in Stockton Springs, Maine! A pretty good first contact on the 300mW rig

Somehow, an idea and tradition evolved that I put my original (built tens of RockMites since!) RockMite on air on my birthday every year. My usual choice of summit is Ingleborough G/NP-005, although I have been known to use Pen Y Ghent G/NP-010 if I haven't already claimed the summit points that year.
I've opted to do Ingleborough this time, so I'll drop the kids off at school and then head to Chapel le Dale. I'm packing the RockMite 20 and also a QRP amplifier - not sure how successful I'll be with 340mW! My amplifier will boost my signal to a whopping 3w output. I'm also planning to take my FT817 40/30/20 dipole and SB270 yagi. Maybe I should use the example set by Guru @ea2if and operate on a frequency connected to my birthday - chasers might find me on 40m!
I tested my RockMite 20 on the bench last night and it seems to be in good shape.
Please work / spot me if you hear me!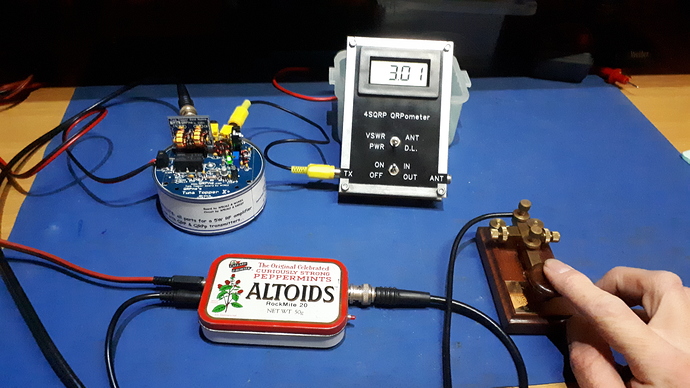 I have the power!
73,
Colin