G/NP-003 The sequel
Whilst not up to The Cloud standards three visits to a summit within a year is about 2 more than usual, but despite not being my closest hill the combination of the short walk and drive means I can be on the summit in just over an hour from home depending on the fitness / fatness ratio. ( At the moment the latter is higher….)
The weather was stunning, even if the roads were a bit icy for the drive and with some local stations reporting visibility of about 30m my approx 50 mile visibility was amazing with views of the lakes, Scotland and the fog on Tyneside.
It was much warmer than the last outing on Buckden Pike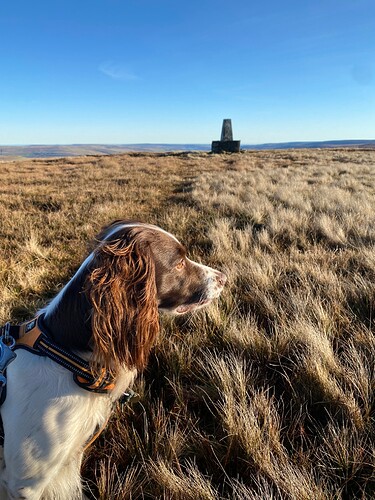 I started on 2m with 5w to the J Pole and then set about 40m, 10w from the KX2 to a efhw through a 49:1 balun. Conditions were good. I then tried 20 which was even better but the pile up was quite difficult to handle. At one stage after calling for the S2S only I took my time to explain that the only station I was going to work next was the S2S and anyone else calling would have to wait…. It seemed to work and I completed the S2S.
Woody the hound was particularly loud today getting a 58 report from Scandinavia at one stage, but unfortunately I have an idea why as when I started walking with him to take the kit down an unexpectedly loud bottom burp came from the dog….
Thanks again to all the chasers, and apologies for the background barking. Happy Christmas. Paul
PS If the weather is OK I intend to be back on January 1st up the same hill…