G/LD-003 7th June 2022
Following the arduous slog up the "motorway" that is now the mostly paved and stepped path from Thirmere to the summit of Helvellyn, the weather gods were kind today (better than Fairfield yesterday!)…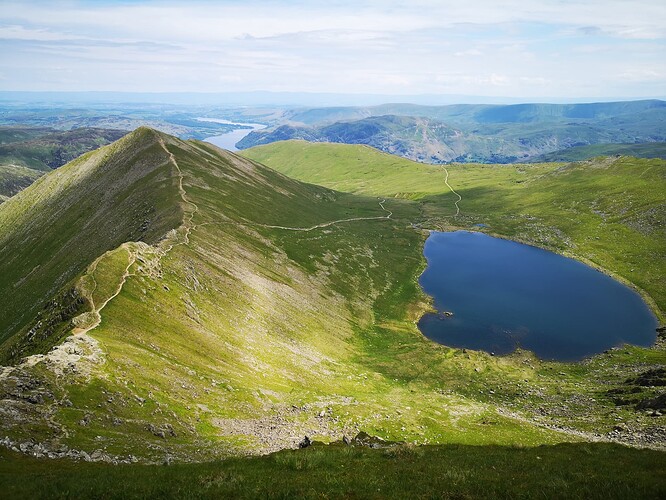 Swirral edge from Helvellyn
Views far outweighed the screaming leg muscles and constant midge attacks to make a pleasant activation in the still air and sunny conditions. Two walkers stopped by to say they had seen Countryfile and now understood why there were these crazy people on hilltops with radios.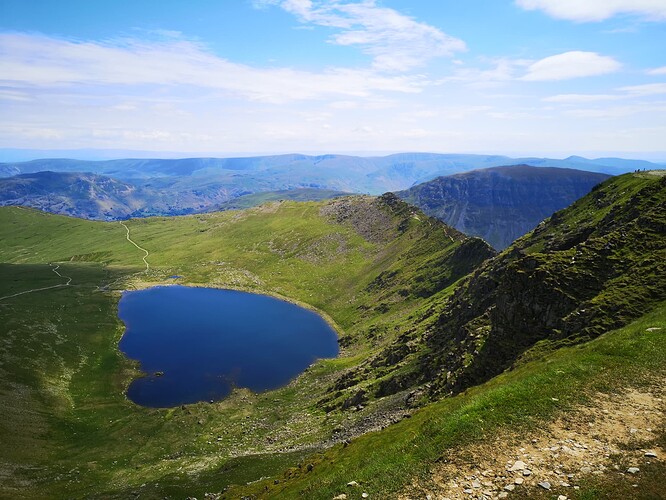 Striding edge from Helvellyn
The activation today was a lightweight kit session comprising the FT5D, RH770 telescopic antenna and the mighty QRO power of 5w. 23 chasers obliged with G. GW and GI represented. A request by Geoff G4WHA/M to switch over to C4FM at the end of the FM session provided another three and some interesting comparisons between FM and C4FM, G0PMJ in Darlington commenting that my audio level and signal strength were better on the digital mode.
For future activations I intend to alert this as a mode option.
APRS activity from the summit was unusually high, I am guessing the altitude and enhanced VHF conditions today contributed to this.
It was a pleasant change to pack up in less than two minutes and not have to untangle the dreadlocks that the mast guy lines manage to get into whilst in the rucksack.
As an added bonus on the way down, I spotted a rucksack with a 2m antenna strapped to it, coincidentally the legs and rest of person carrying the rucksack belonged to Chris, M0RSF, and his poodle powered partner Natalie M7NTD, we had a chat in the sunshine for a few minutes before they set off up, as I continued my decent.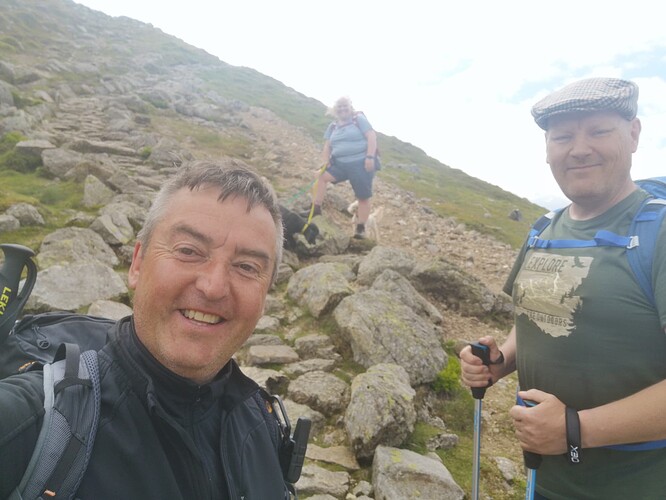 From the top, Natalie, Chris, and a rather sweaty self on the motorway
As I walked into the house and turned on the shack radio, I was pleased to work Chris on 2m from the mountain I had just left.
Thanks as always to all the chasers.
73
Tim
G4YTD