O4/01/2019
I left Seathwaite for Scafell Pike at 9.30am and decided to take the 'Corridor route'. A path less taken - a quiet and interesting route via the western side.
I hadn't put an alert out the previous day so I was delighted that I found I was able to put an alert out on the way up using my wife's old phone I'd now inherited. The last hour was in mist so I was having to use my compass as its been many years since I'd been that way before.
Arrived at around 1300 and to my horror, I found the summit crowded with people, frosty, windy iced up and just a boulder field. Where to sit?? There wasn't a place I could erect my tarp/tent… Then I noticed a small roofless shelter which many of you will be familiar with…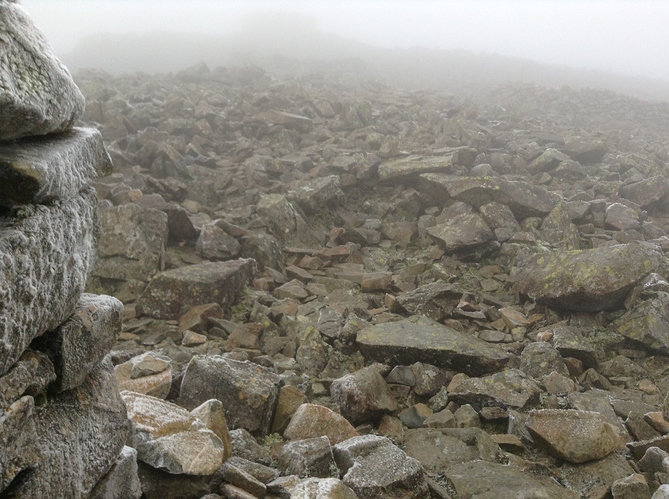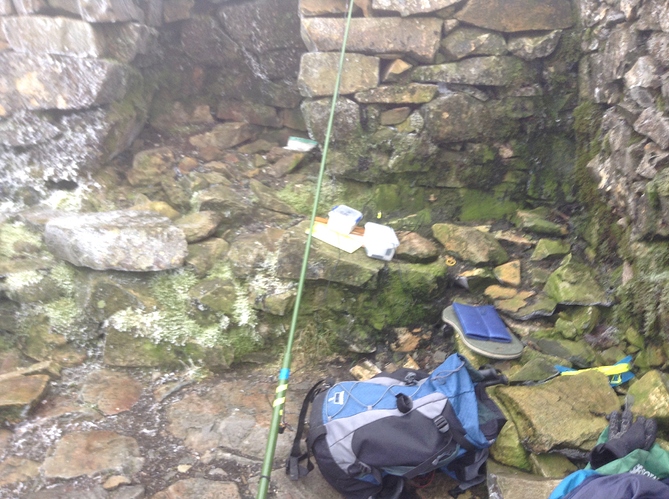 I'm sure those who have seen it found it useful. More amazing, no one was using it. I took vacant possession. I wondered who'd built it and for what reason.
A quick check on my watch showed I just had enough time to get ready and start sending CQ in time with my alert.
Dipole aerial up, HB1-b out, seat pad out, sandwich down my throat, morse key out, plugged in then disaster. I knocked my morse key off the rock and a connecting wire broke off where it entered the key. Disaster…what to do? Give up and go all the way back?..all the internals of the army key were via allen screws and I didn't have an allen key, so no repairs possible. I'd seen the odd demo on - line of folks sending morse with improvised bits and pieces - but I didn't have anything I could think of. In desperation I yanked the other wire out, cut some of the insulation off and touched the 2 wires together. Wow! morse - but not as I know it, and certainly not like it was meant to be.
Determined not to leave empty handed I might just get four QSO's done and go back with my tail between my legs and few would be any wiser. I put my earphones on and called a dodgy CQ. Disaster struck a second time…dead on time a pile up ensued - I couldn't escape that soon!. So index finger on one bare wire and the other one pinning down the other end I took each caller in turn - my morse torturing the airwaves with random scratchings here and there.
When it all ended 20 minutes later I had 15 qso's logged! I was elated I'd managed with only one or two requests for confirmation of summit ref and my callsign.
Jubilant I packed up and stepped out into the mist, compass,map in hand, and took the road more travelled back via Broad Crag and around Great End back to Styhead Tarn and Seathwaite at 3:30pm.
Later I noted from my mountaineering log book I'd last been on Scafell Pike in 1983 when I'd managed to solo 3 grade II ice routes in one day. I had just as much fun today as then, and I don't feel any older now.