With near perfect weather forecast for today I could not resist the temptation to go out for my first activation of 2023. I need to get to G/DC-001 in the next couple of months to claim the winter bonus. It is the only summit in the DC region which has a bonus but for today I chose something easier, my nearest SOTA summit, Kit Hill G/DC-003.
I want to use CW more this year so this had to be the main mode for today although I did bring along equipment for VHF and UHF.
My HF equipment was the usual IC-705, BandSpringer end fed random wire and the Icom AH-705 ATU. The great convenience of this rig is the ease with which I can change bands as I wanted to try as many bands as possible today.
The only new bit of equipment were a pair of Bluetooth headphones. I had tried these in the shack and found I could listen well to CW so I wanted to try them on a summit. My first attempts at sending were a disaster. There was an extra dit or dah being sent at the end of each character. I checked all the usual things including the settings on the radio but all seemed fine but the extra dits were still being sent. Changing over to conventional cabled headphones everything returned to normal.
I had only tested the BT headphone for listening, not transmitting. The issue I think was the delay between the rig transmitting and the BT picking this up and sending it to my ear. This explained the extra dits and dahs - what I was hearing was fractionally later than what my fingers were sending. Someone more experienced than me might be able to adjust for the delay or latency but from now on for me it will be cable 'phones only and the BT will be kept for listening to music!
I had posted alerts for all bands from 60m to 10m but my first calls on 60m were not picked up by the RBN system so I had to post a spot manually.
This lack of coverage for 60m in the UK has been mentioned before. G4ZFE seems to be the only one reporting on RBN on 60m but they were either not operational this morning or my signal did not reach them. It made little difference as my CQ calls went unanswered anyway.
A change to 40m brought a strong response and the first QSOs were soon logged. My sending and listening are getting better but I still need a lot more practice. I had done some intensive practice yesterday but this was like revising for an exam just as you walk into the examination hall. I need to keep it up but about halfway through this activation something happened and I actually started enjoying sending CW. This was a first!
Phil, G4OBK was the first to respond to my CQ on 30m followed by the first replies from outside the UK.
The overseas flavour continued onto 20m with the best DX to Dinos SV3IEG in the Peloponnese, Greece.
A change to 17m brought only one response but 15m was reaching into Finland where I had two QSOs. Attempts on 12m and 10m yielded no replies. Looking on RBN later my 12m signal was heard but nothing picked me up on 10m. I suspect if I want to try 10m CW seriously I will need to take along the 10m delta loop I have recently built to Andy @MM0FMF 's design.
I then took down the wire antenna and tried my new 10 element 70cm Yagi. I wasn't expecting any replies but Derek 2W0FLY responded from Swansea which gave him a complete as he has previously activated G/DC-003. The photo below shows this antenna in use. I was running out of time so didn't try 70cm SSB which probably wouldn't have yielded any results anyway. I will try on another date but it will need setting up by advertising on here first.
Finally, I tried 2m FM using my HT but without success and with time pressing I went QRT.
The log is reproduced below. Very many thanks to all chasers and my apologies for asking most of you to repeat your callsigns more than once.

40m CW
1148 M0BLF 599 599 Dominic
1149 G4YTK 579 599 Steve
1152 MW0SAW 559 559 Steve
1154 M7TSM 599 559 Alan
1154 G4WTF 599 559 Ian
30m CW
1201 G4OBK 599 569 Phil
1204 HB9CBR 559 559 Bruno
1206 ON6ZQ 599 599 Christophe
1208 PA0RBA 539 549 Rienus
20m CW
1212 F4JBC/P 559 579 Phil
1213 HB9BHW 559 579 Hans
1217 SV3IEG 559 559 Dinos
17m CW
1225 SA4BLM 599 599 Lars
15m CW
1229 OH3MF 599 599 Rauno
1231 OH3GZ 559 599 Jack
70cm FM
1256 2W0FLW 59 59 Derek
The maps: (F4JBC/P not shown as this QSO was a belated entry.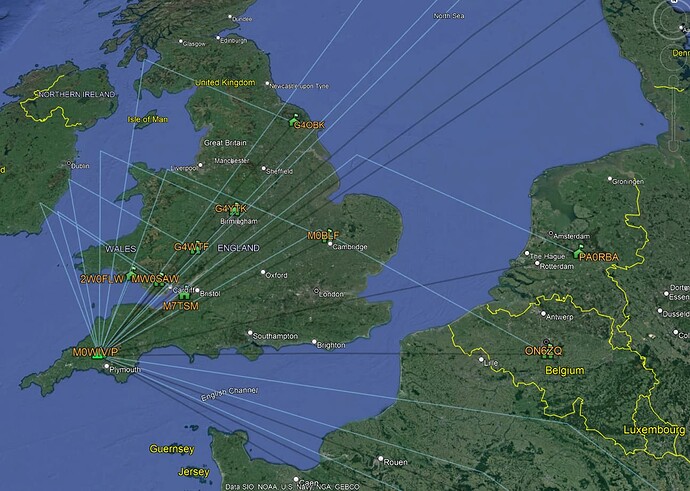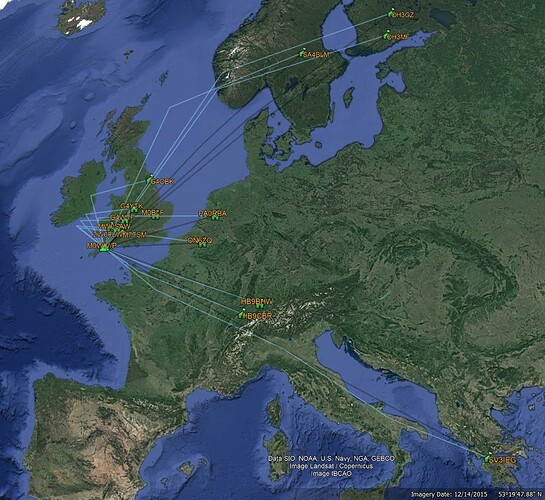 Operating position when using the 70cm Yagi: