Being back on the island in 2019 I wanted to continue my activations of other summits.
In last two years I activated 4 of them FR/RE-001, FR/RE-002, FR/RE-003 and FR/RE-006.
Logically FR/RE-004 and FR/RE-005 were high on my list.
It happened they were easy physically because at short distance walk and not very high to climb from available points accessible by car.
That was perfect because since last year FR/RE-001 I didn't really maintain my physical condition… absorbed by work and life in Algeria with lot of security constraints didn't move much thus took few more kilograms as well.
First attempt on May 28th aborted because of clouds and rain in volcano area.
Second try on May 31st was good. Weather was beautiful - sunny and 14 deg. C at altitude of 2200m.
The summit "Piton des Basaltes" is located at the distance of 2.5 kms - 1 hour walk from parking lot at entering point to the Plaine de Sables - very impressive lunar landscape in proximity of the Volcano "Piton de Fournaise".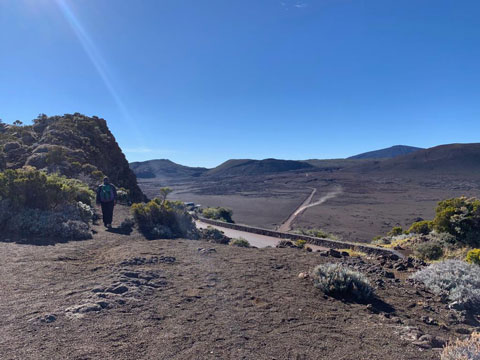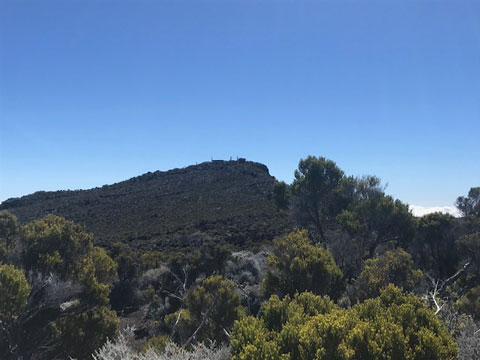 Easy clearly marked track leading to the summit chosen also by local authorities to host several antennas for radio, telemetry and phone communications in the area - all supplied by a farm of solar panels.
Quickly found an operating positions between the small trees covering the top. My telescoping antenna mast with proudly exposed SOTA flag went up and I was ready to operate around 6.00 UTC as advertised. unfortunately my SLAB battery died just after… I didn't check it for long time and capacity dropped dramatically despite overnight charging.
So my small amp from China was not useable and I was left with barebone KX2.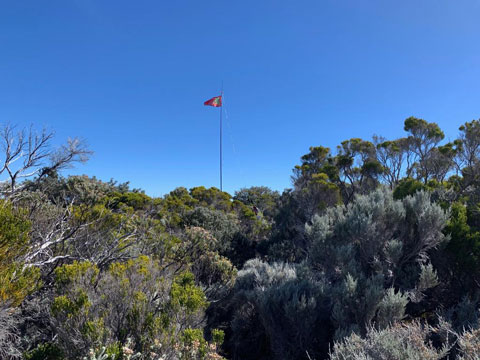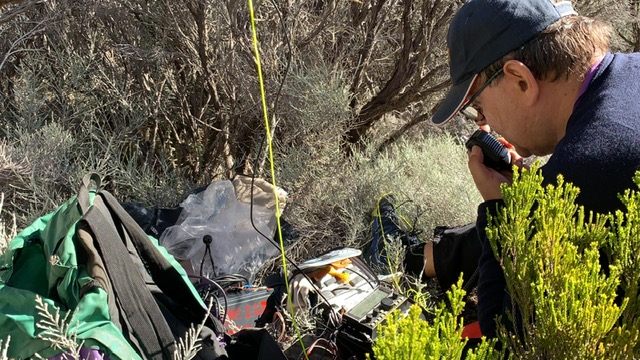 Despite calling nobody was coming back and started moving around for any possible QSO. I had a luck to find a private NET between ZS and VK and score few QSOs on 20m. Later on could not find any loud station to continue on SSB and my LiIon battery started going down so switched to data modes.
On 3W power I could make few QSO with Indonesia and then decided to move on the second summit.
FR/RE-005 Piton Chisny is different in any aspect.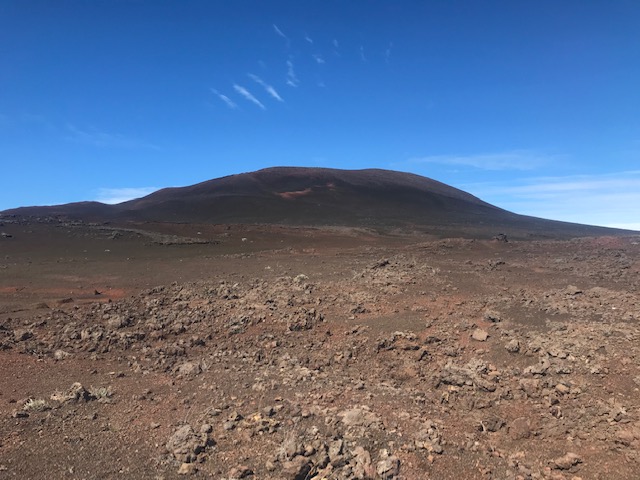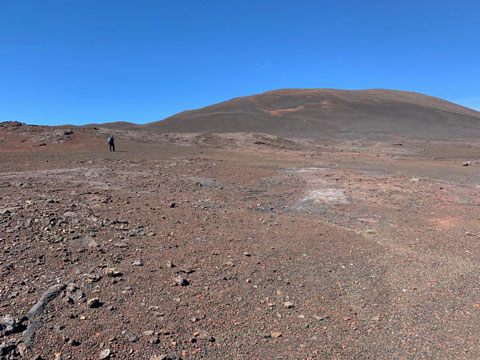 The mountain is possibly old volcanic cone that is covered mostly by volcanic ashes, sands and small stones. It's not tall but in some parts quit steep to climb especially on the very small stones and sands giving poor support for the feet. So the progression was slower and bit tiring. On the top was windy and nothing as a support for my telescopic mast from Sotabeams. I used guying wires from Sotabeams dipole to make it stand up in the winds.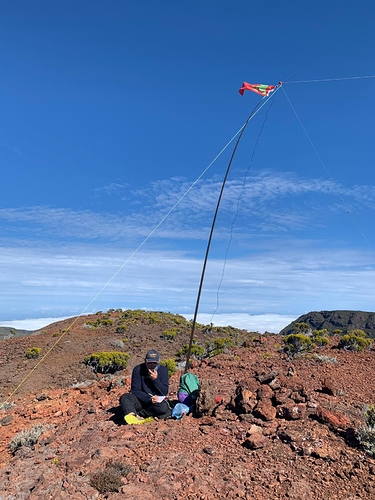 Was QRV on 10.00 UTC as advertised but nothing heard and was looking for contacts elsewhere on 20, 17 and 15m.
Heard many stations from Europe but did not manage to be heard with 5 to 10 W. Many of them were hunting DX Expedition to Eritrea. No chance to break pileup with my modest QRP setup.
Switched to data modes that were very loud and could manage some QSO with Indonesia and South Africa, but then experienced issues with my audio interface. My laptop didn't want to recognize the sound card anymore… I didn't manage to solve the issue on the summit and I had to go back. Descending was much easier and within 25 minutes reached the car. 2 hours later joined my temporary home on the Island.
The experience was good but encountered technical issues were disappointing.
After all I have to say I did not prepare well this activation as I didn't check everything before as I should.
Another lesson learn.
But the view on the mountains was awesome and very near volcano just started seismic activity (actually I felt some little quake). On the evening when watching news on TV I heard that volcano will probably erupt for the second time this year. Possibly within coming days or weeks.
For some pictures from this and previous activations have a look at my QRZ home page:
FR/F4HPX - Callsign Lookup by QRZ Ham Radio
73 Thomas F4HPX, AG7JQ and 7X0TM.