The lockdown distance limits were relaxed last Friday so you can now travel more than 5miles for exercise. I bought a car from a dealer in Dundee and was taking it there for a service on Friday and hoped to bag a unique or two to the North. However, the WX gods had other ideas and allowed significant amounts of rain. So it was straight back home. Saturday and Sunday were so wet we could watch Mr. Noah testing his new ark. Today was quite nice. Well it was very windy and damn cold for July, 14C but it wasn't wet. I had to use up some vacation so activation time!
I didn't want to drive too far and whilst I've been maintaining my rowing regime (5+km every day) and doing a number of runs, my fitness is down and my legs have turned to jelly. So I thought I try a couple of easy summits.
White Meldon GM/SS-208.
The computer said 31mins and it was right. This is not steep but there was plenty of heather and bracken. I noticed my thighs complaining on the way up and also my Achilles tendons not used to be stretched were vocal too. Still keeping on time was good. During the shutdown I've down a few repairs, upgrades etc. and today was the 1st time with the new 4S2P LiFePo. I managed to do a Tom and break the 40m link on the dipole so I started on 30m were it was nice and busy. Then jury-rigged the link and was able to try 40m. First call on 40m SSB was Don G0RQL. Now Don has been chasing me for 13.5 years and after 3 months enforced absence it was a sheer delight to hear his voice again. Could have been any chaser and it would have been good but this seemed "just right".
WX was seriously blustery and when the sun was out it was warm. Down right cold when it went behind the clouds. Anyway plenty of chasers and it was just so unbelievably good to get out and activate. I cannot explain just how alive I felt being able to get up a hill, even a tiddler like this one.
Trig point at White Meldon. The sky looks much more threatening than it was. I didn't take any photos when it was sunny to show the contrast in weather.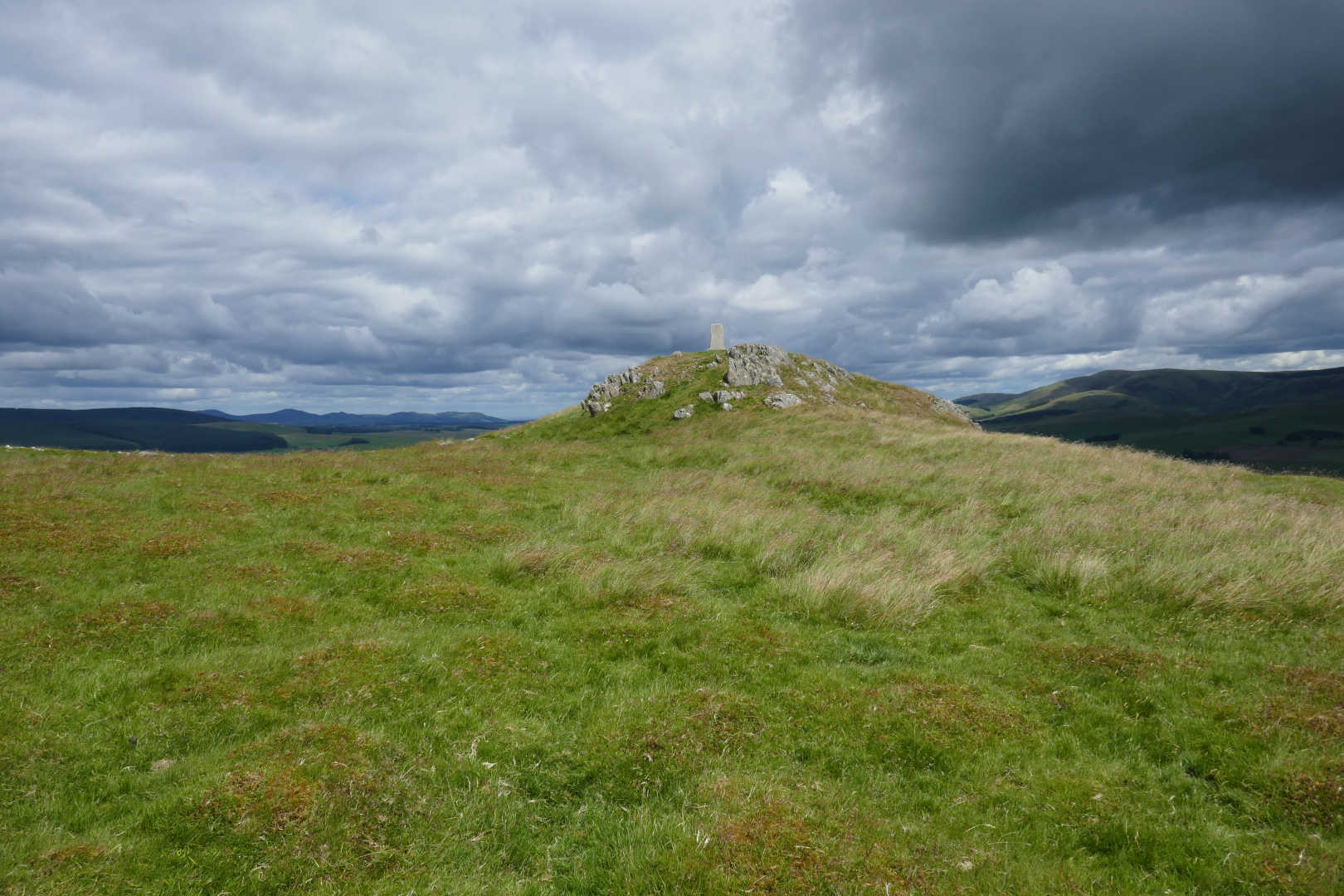 Black Mount GM/SS-158
This is much bigger than White Meldon. There are 3 ways I've done this in the past, from the North by Dunsyre, up the track to the end then up the bank around and along the flat top. From the South by Elsrickle. A bigger walk and best when everything is frozen solid and the "get it right right up yer" route also from by Dunsyre where you take the path and then go right up the slope to the top in one go. It's not really that hard unless you have been confined to barracks for 3 months, it's 220m up in 850m along or 1:4. Blow me down, I was able to make the computers time for this route too. I did think I'd be way of the pace… though now at home I can't stand without the front of my thighs lighting up.
It was colder and much, much windier. I went straight for the 17/20/30m dipole leaving the damaged 30/40/60m dipole alone. 20m was nice and busy, plenty of Europeans on CW/SSB and 3 S2S contacts as well.
The very sad Trig Point at Black Mount. The sky is much less overcast but it was colder. Tinto GM/SS-064 in the background.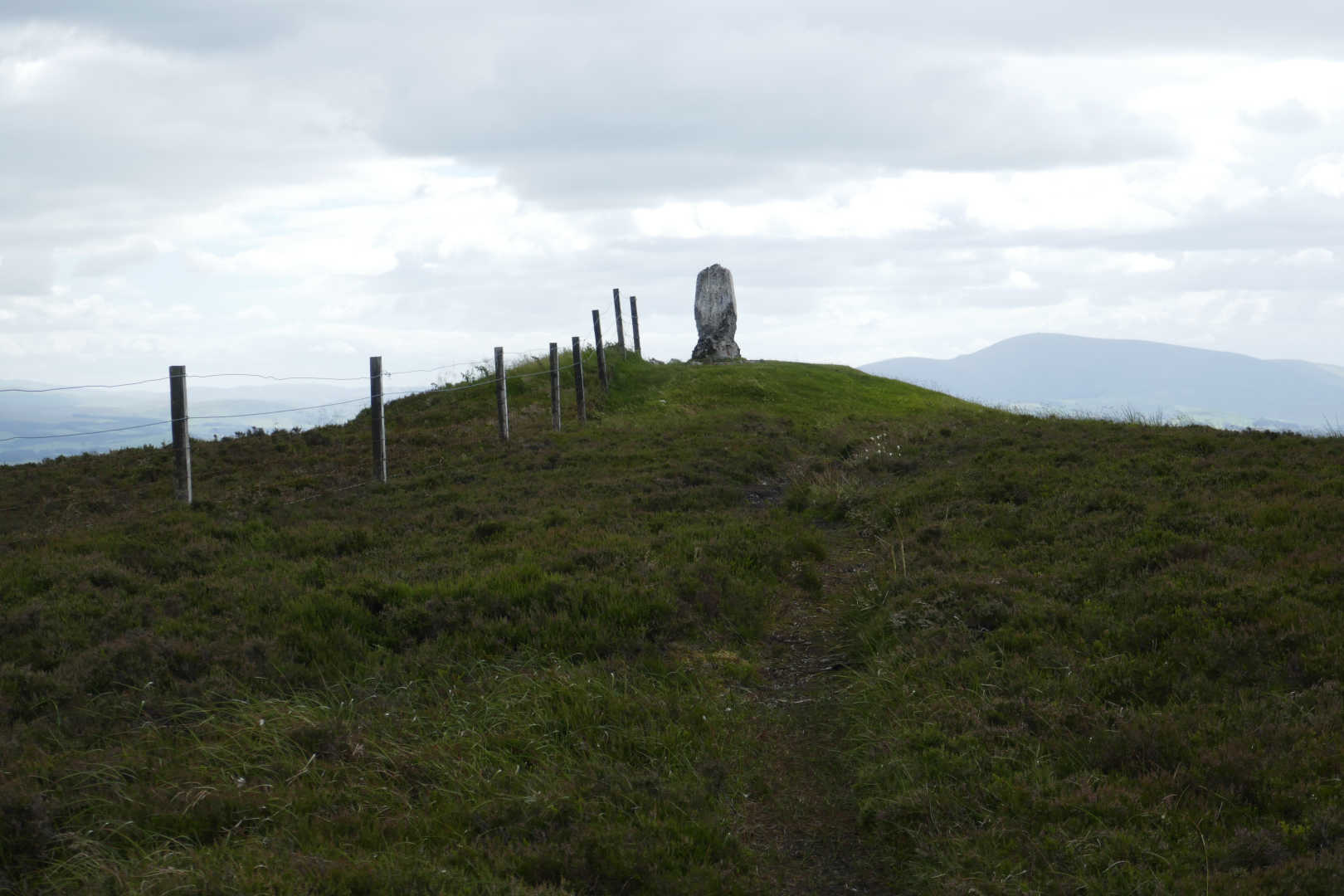 Yes, it must be July and Scotland, grey sky, need a fleece and a Buff. I haven't cut my hair since Christmas and it's not quite long enough for a pony tail (where it still grows that is). A few more months and I'll look like a right old hippy stoner!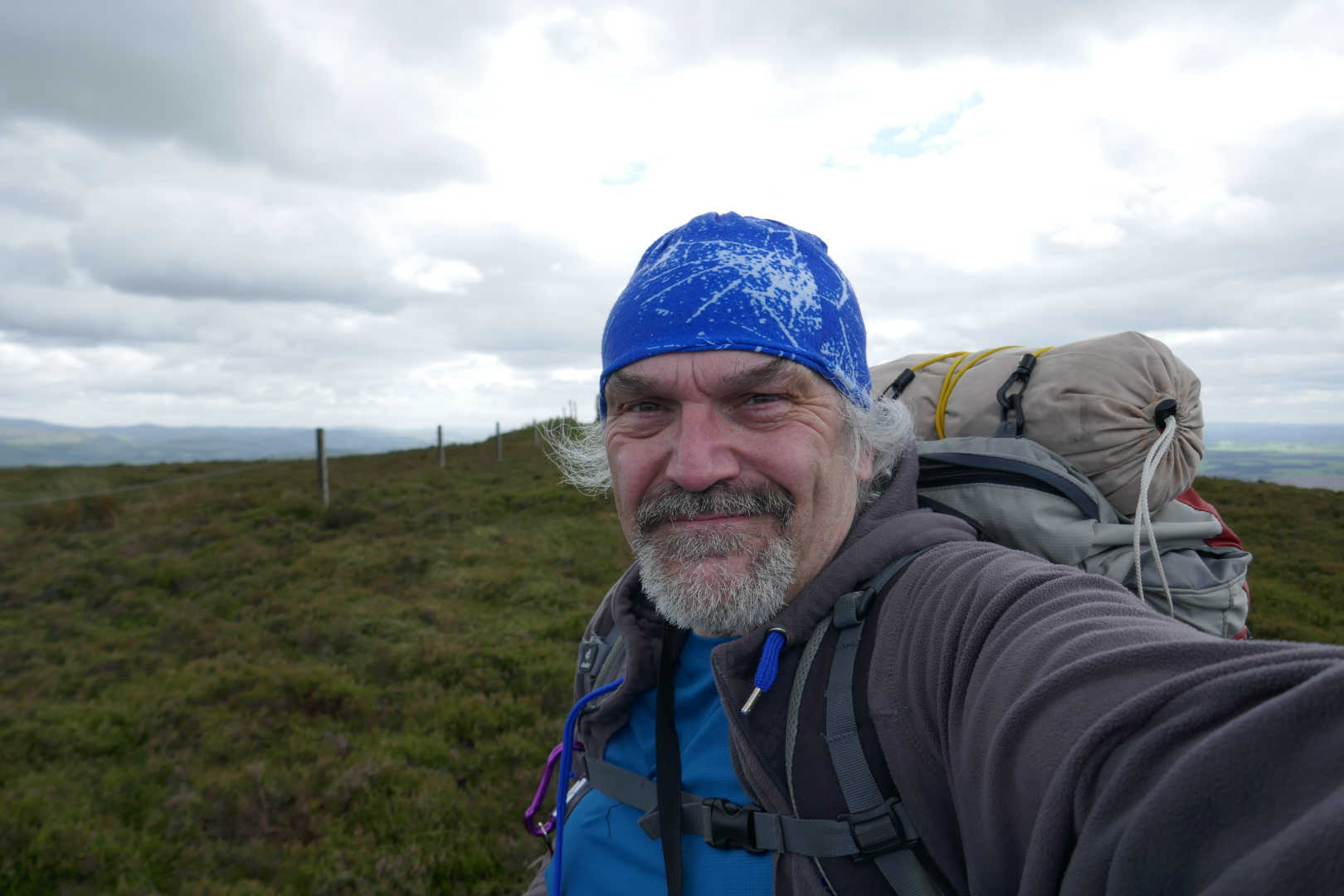 I activated Jan 3rd then we had 2+ months of awful weather. I sneaked in 2 activations March 6th as I was about to explode with cabin fever. Now 2 more activations July 6th. It was a sheer delight to get out and I cannot express my gratitude to all those chasers who worked me today. I think I've earned a wee dram except I can't stand up!