Today Roger @F5LKW got his 3000° pts and really nice title of 3 X MG




Congratulations Roger
73 Éric
Roger, congratulation. 3. Mountain Goat

Well done

73 Marcel DM3FAM
Chapeau bas Roger !!!
73, Jarek
Congratulations Roger to your third Mountain Goat and thank you for the many S2Ss!
73 Stephan, EA3/HB9EAJ
Hello Roger,
Bravo pour ce 3xMG et à bientôt sir l'air.
73's & HNY
Laurent
Congratulations Roger, and many thanks for the S2S today!
73 Moises
EA4MZ
Chapeau bas!
Félicitations, Roger, pour ce jalon vraiment impressionant!
Bravo!



Ma chasse premère à 60 m. Merci bon.
73 Martin
@F5JKK
Merci Eric, I'm sure about one thing ==> We are addict …
Thanks for my 3000th points QSO
73 Roger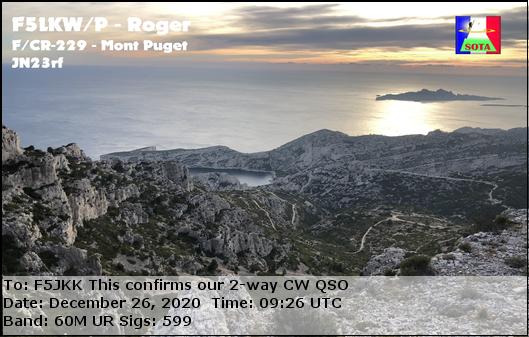 @DM3FAM
Merci Marcel.
Always a good pleasure to walk / climb for SOTA.
Now I have to reach the 4th level


73 Roger
@SP9MA
Thank you, Jarek
Not easy to win points here, all summits around my QRA, count only 1 point


Thanks for s2s OM/ZA-061 < 1263 km > F/CR-229
73 Roger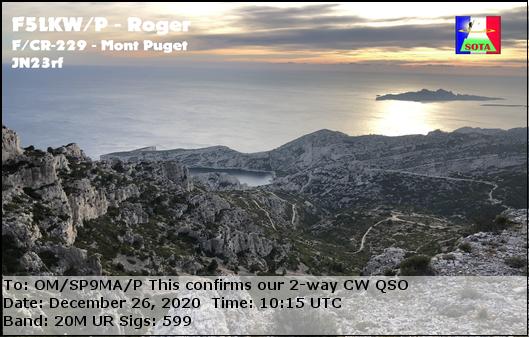 Très bien fait, felicitations!
Always a pleasure to work you. Stay safe on mountains and looking forward many more.
73 Ignacio
Bravo cher Roger,
the 3rd level was hard enought to reach in 2020 (covid year)!
Hope you can get the 4th stage in 2021 but i'm worring about
you catch me and leave be behind.
What can i do?
Gerald, your sota partner



@HB9EAJ
Many thanks for all QSO
Always a pleasure to activate or chase SOTA
HNY 2021
Roger
@HB9DST
Hi Paul
My 3rd level is also a nice souvenir when we drank Champagne at the top of F/CR-142 (Sainte Victoire).
HNY 2021
Roger
@F8CZI
Merci Laurent
Il me encore quelques points …
J'ai déjà des plans pour les 1000 prochains points.
Bonne Année
Roger
Congratulations Roger,
it was a pleasure to work you S2S yesterday as you claimed your 3000th point for SOTA. What made it even nicer was that it was my first S2S on 5MHz. My antenna, cut for 40m, was simply run over a few branches as I had forgotten my mast. It still tuned up 1:1 and did the business.
73 de OE6FEG
Matt
@EA4MZ
Moïses Muchas Gracias para QSO S2S: EA4/MD-032 < 780 kM > F/CR-229
HNY 2021
Roger