Anyone else of the participants willing to share his/her souvenirs of this splendid day?
My partner and I aimed to see a region that we didn't know in detail up to now. So we opted for «Aargau Nord» and finally chose Geissberg, HB/AG-008, and Schinberg, HB/AG-007, two simple 1-pointers between the rivers Rhine and Aare.
HB/AG-008, Geissberg
We accessed this one via the Wasserschloss (the name of the place collecting the waters of the rivers Aare, Reuss and Limmat) and Remigen and used the car park at Bürersteig mentioned in HB9CZF's blog. It's okay for one car, more would probably request the drivers to be artists.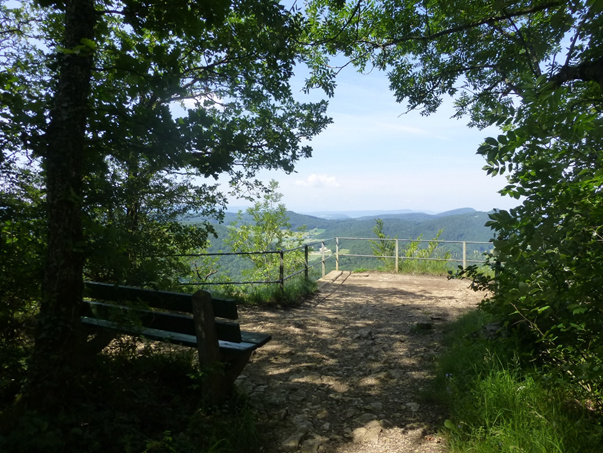 Place and conditions were amazing. We met a lovely place with a nice lookout to the west and could exchange mostly 59 reports. I used my common EFHW for 20/40 and the KX2.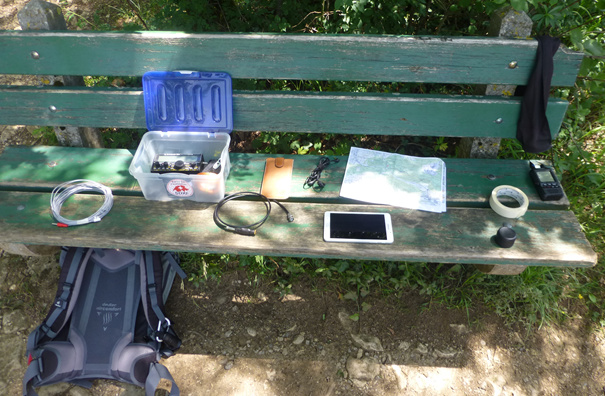 One of my other leisure activities is to explore fortifications from the last century, and this place offers many spots, due to the location nearby the border and the marvelous outlooks not only for SOTA participants.
We enjoyed some good pizza after the first activation in Mönthal, not far away from Bürersteig col, and made a short visit to the Letzi site of HB9CA to see some fellows.
HB/AG-007 Schinberg
The second one today was a bit more secluded if you can say it that way. We accessed from the Bözberg main road from Hornussen up to the Wettackerhof farm and used the car park just beside the Wettacker hut at the entry to the forest. We enjoyed a scenery with a forest and some cornfields with wheat and barley. The summit ridge is in the woods, but you have several outlooks with benches to overlook like from a balcony the border to Germany, the southern Black Forest with some wind wheels and the Chrischona tower nearby Basle, the highest transmission tower of Switzerland.
The ufb conditions had gone in the meantime, but we managed to do some contacts, even on the 17-m-band, a band my antenna actually is not made for. But it went well towards Greece and the Baltic.
I had connected this activity with one of my other amateur radio roots and was on the air with the club callsign of the Swiss DX Foundation, HB9DX, to let DX meet SOTA, what brought some contacts with curious people and awareness for our special day, hi.
I've enjoyed to have contacted many common and some new activators and chasers, and I'm looking forward to the same day next year!
Vy 73 de Markus, HB9DIZ