For my third summit on Lanzarote with the SFI riding high I was hoping for some lively bands. In the end it was really only 15m that came to the party.
LA-002 Atalaya de Femes is just beside the village of Femes in the south of Lanzarote. Access is easy as there is a 4x4 track all the way to the top, built for the large comms complex that occupies the summit.
Not having a 4x4 (that would be cheating), I parked 1/3 of the way up and got to the top in about 30m.
Set up was easy - there is a large flattish area adjacent to the comms complex that was also conveniently sheltered from the strong breeze. Mast guying was no problem.
My mast to the left of the comms masts: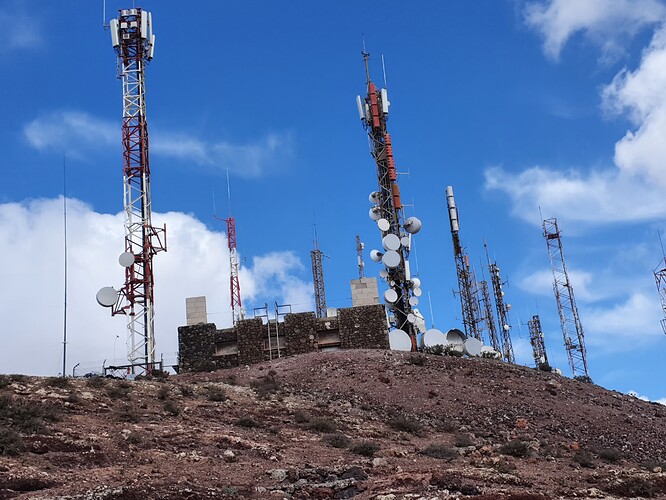 Operating position, looking straight at the island of Fuerteventura: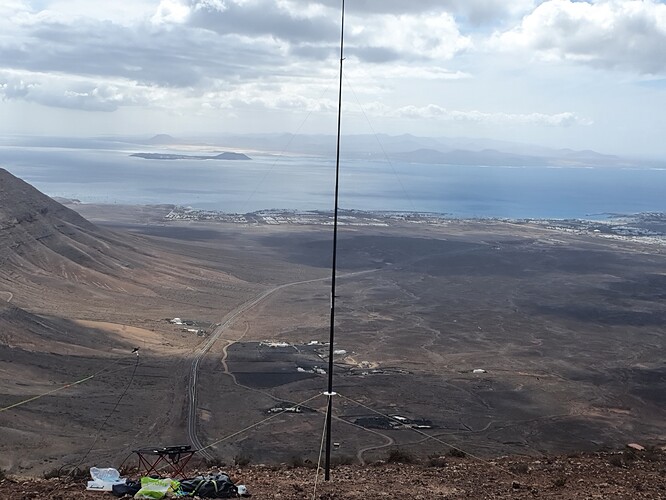 I started on 15m with a good run of mainly EU, including Mark EA8/M0NOM/P operating from a Lanzarote HEMA summit. Right after that QSO I was called by JR3RGX who gave me 59, so I thought whoo-hoo, but things went a bit flat after that, with no more DX at that time. Switching to 20m brought a good run of EU plus the first S2S of the day with IK2LEY/P. Another S2S tried to call but I just couldn't copy them. Wonder who that was?
Moving to 17m brought more EU, plus a nice QSO with a local - EA8DFC, Trev, just across the water from me in Fuerteventura.
Hearing a few sigs on 10m I tried there, but 5 minutes of CQs produced nada and it stayed that way for the rest of the day.
Back on 15m at 1300 local, things got better, with a strange mix of fairly to very weak EU and quite strong DX. K3EFS Penn was the first US station in the log, followed by AE4FZ NC, VE2GVB/P, KA8H Mich, N9MM TX, KI6EAB/W4 Fla, HB9BXQ/P S2S and K3ZO MD. With a lack of chasers, I went cruising and had QSOs with W4UW Tenn, PJ2/ND8L and ZD7FT Peter in St.Helena. Another spot brought chasers AB4PP NC and N2GTD NY.
Went back to 20m for a final session and got AC1Z plus HB9/DL6GCA/P for the last S2S of the day. Went QRT at 1615 with 111 in the log, 3 S2S and ODX JR3RGX.
Thanks to all for another fun day.