I operated from G/DC-003 this afternoon with the aim of trying the digital chat system VarAC from a SOTA summit. But first I wanted to use CW as I have been neglecting this mode for the last few months and what little skills I have were in danger of being lost.
I only operated on 60m mainly because this is a band I seem to forget about so like my CW skills it needed an airing, which I did and managed the following QSOs.
G8CPZ Andy
GW4YPX Allan edit: should be GW4VPX
G4CBN Tim
G4OOE Nick
G4WTF Ian
Many thanks to all of the above and for your patience. I did get a couple "GA John" and my apologies for not saying much in reply but my brain was usually still trying to check if I had written the callsign down correctly.
I did hear DL3HZZ Lothar come through clearly but he did not respond when I replied, which was a pity. A QSO into Germany on 60m would have been nice.
I then changed over to the digital VarAC and began calling CQ on 20m. I could see there was activity but I got no replies. I tried 15m and 10m but without a response either. Returning to 20m the blank continued. One advantage of the lack of action was I could operate the HT on 2m FM and had a nice long chat with G0RQL Don after having to QSY three times as the first two channels tried were busy - an unheard of level of activity for this region!
Closing down the VarAC I briefly switched to 20m SSB for a S2S with Peter HB9BTI/P who was on HB/ZH-020.
Looking at pskreporter later my 20m VarAC calls were getting out.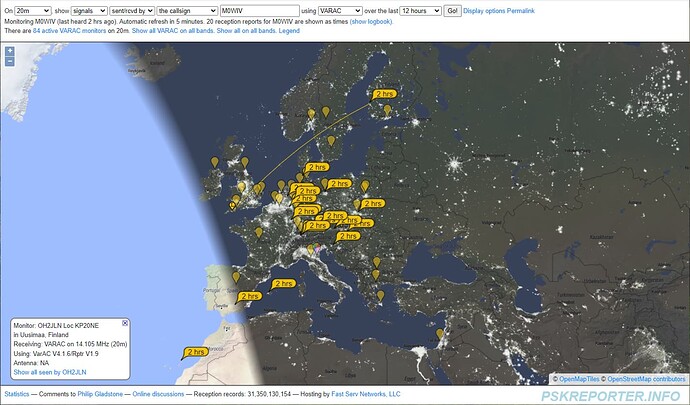 On 15m only one station in Europe reported my signal on pskreporter and on 10m again only one station heard me - but it was in the USA!
Psk is showing my callsign above as M0WIV because in the CQ call it cannot handle complex callsigns. Apparently, had I established a link to another station it would have sent M0WIV/P but as I didn't get that far I can't confirm this.
So on the basis of today's brief test the results were:
CW = 5
FM = 1
SSB = 1
VarAC = 0
So the prize goes to CW!
Many thanks to all those who replied to my calls.

I must try VarAC again but I need to spend more time on my CW first.