I skip the forecasts and just listen.
Same here.
Compton, overall HF conditions seemed pretty good on Sunday. Besides our S2S, I worked ZL and several Australian states with great signals on 40m and 20m while using just the KX2 HF hand held (Diamond RHM8B). Thanks ants.
There's a basic article about this in November's Practical Wireless

(out now)
Today was the first time I've been able to get on a summit since you wrote that. Compared to the Summer, conditions today were really buzzing. 10MHz was subject to deep fades but was busy but I was chased by F, DL, OZ, HB9, ON, SM, I, OH and mostly 559 or louder. On 14MHz I worked SP, EA2, LY, DL, K, OE, HA & S5.
K2VV was a big signal on 14MHz and some way in land in Missouri, 6400km/4000m. This was by definition a good activation because I was chased by 4 EA2 stations (EA2BD, EA2DT, EA2IF, EC2AG/p), you were the loudest on the band Guru when you called me.
I called on 18MHz as it was quite busy with people trying to escape the SSB contest on 14MHz. No QSOs but I could hear an IK3 replying but the QSB was too much to get the call or complete the QSO.
Beautiful blue sky but a ferociously strong wind made the activation challenging. So no amazing DX but it was the first time in a long time it didn't seem like I was struggling for QSOs.
Today finally got N4EX in the log on 20m SSB

.
And recenty almost got a PY chaser in the log on 17m just running 5Watt from my 817nd while operation for OE15SOTA.
Looking optimistic forward to improved conditions in my first solar cycle

73 Joe
Hi Andy,
Glad to read that. I was running 100W into my unable-to-rotate yagi beaming to NorthAmerica, but this antenna always works much better for stations in the UK than my very deaf Broadband folded dipole.
At that time I had the feel that things may be improving a bit, but I'm totally convinced now after several days consistently chasing NA activators, as well as being chased by several NA chasers during my last activations.
In addition to my activation 3 days ago in which I got 9 DX QSOs with NA on 20m CW, I have activated again today and was chased by 8 DX from NA between CW and SSB.
I'll write later my activation report.
Not only I've been consistently chasing NA activators over the last days, but I've also heard a number of European chasers doing it, like ON4VT, ON4FI, G4OBK, SM4BLM, EI6FR, HB9??? and others…
Let's enjoy the party as long as the Sun and the ionosphere play ball.
73,
Guru
I hope so as I will be in Southern France in a week's time doing some SOTA. The more I think about it the better I think conditions were on Saturday. Just before I worked Antonio EC2AG I heard him working Mark M0NOM/p on 20m. Mark was about 160km South of me in G/LD. He was clearly audible at a very weak 51, I'm not sure if that was ground wave or backscatter. But on a clear frequency I'm sure the QSO would have been possible. It seems far too far for a QRP SSB station to QRP SSB station on 20m for ground wave unless someone knows better.
If you have the chance, try to activate SOTA in the afternoon-evening and you'll likely enjoy working DX from Northamerica.
Conditions are still great. I chased a summit in W7 (Arizona) yesterday and so far these ones today, including a SOTA in California!!!


Have fun and good luck!
73,
Guru
You always get better conditions around the equinox!
So, that's why Andy chose these dates for his trip to Southerly latitudes…
Actually the conference I'm attending is the last week of October in Lyon and the company pays for that. But they don't mind me going early or staying later as long as the flights costs the same or less. It costs the same to go earlier and as nobody knows about Brexit yet, I'm definitively an EU citizen with an EU driving licence and passport and health cover and … and … and … before Oct 31st. So I'll have a quick vacation then the conference and then fly back. Maybe nothing will change or it will be all agreed but I'm not brave enough to hire a car the day after we are meant to be leaving and end up being a trail blazer for international co-operation. Or not!

"International co-operation"? That is so passe!
Indeed Brian there may be scant co-operation at first. You know I don't want to be queuing at security at Charles De Gaule Airport immediately post-Brexit with a bag of Lipos and an 817 and hear the guy on baggage X ray saying "Jean-Claude va chercher les gants en latex et la gelée lubrifiante, cet homme doit être fouillé au cas où il passerait en contrebande".

In my days playing sax I used to know people that would have enjoyed that!
What size LiPO are you using Andy?



Brings a whole new meaning to the thread title!
Before the thread topic diverts into something else, let me try to steer it back to topic by showing you the map with the SOTA chases I did yesterday with 100W from my remote station in my QTH 18Km SW of Pamplona: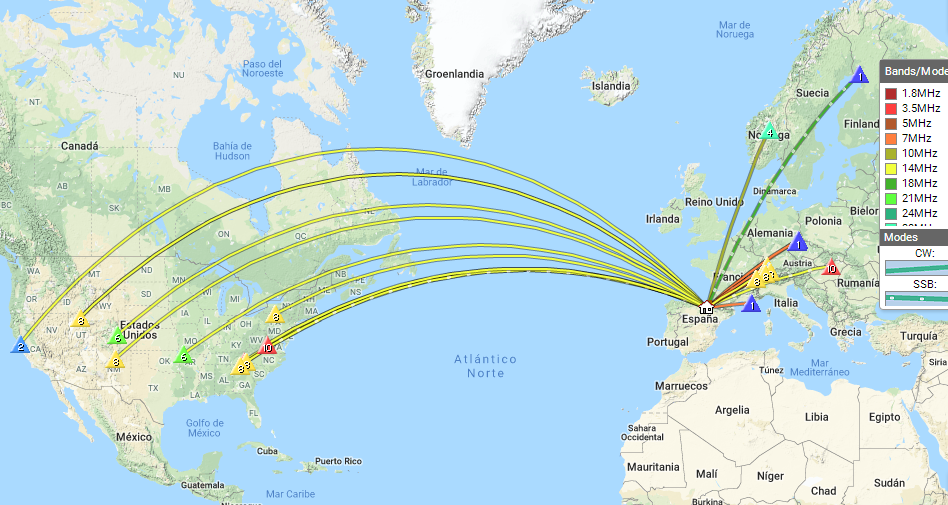 The States from coast to coast!
Conditions were absolutely great yesterday with all or most of the activators from the other side of the Pond arriving in pretty good conditions.
I love this mapping feature. It's really cool!
73,
Guru
I was one of Guru's U.S. contacts in the above map when I activated W4G/NG-014. With conditions as they have been the past few months, I was shocked and delighted to hear him calling me. Thanks, OM!

18/10/2019 and we have the start of Pre-Auroral-Enhancement in effect.
This interesting effect occurs when an out-pouring of ionised wind comes from an Earth facing coronal hole and adds charge to the various layers of the Ionesphere a few hours later, improving conditions, especially on 20m and above. This only occurs for a limied period of time as the slower moving plasma at the back of the ejection arrives 2-3 days later and band conditions deteriorate with the Kp Index sometimes going to 5 or 6 (storm level) in the worst case a total radio blackout can occur.
So enjoy the improved propagation conditions while you can.
73 Ed.