Congratulations to Pete M0HQO on joining the goat herd today on FL/V0-083.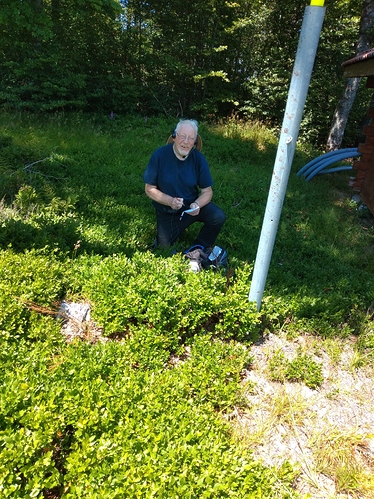 Seen here in full flight.
73 Victor F/G4ONL
Well done, Pete, and thanks for the QSO today.
73,
Rod
Congratulations Pete and thanks for the 2 activations today. A pleasure to work you.
73's
Andy
Well done Pete - congratulations!
73
Nick
Congratulations Pete on achieving Mountain Goat.
Jimmy M0HGY
Congratulations, Pete, and I hope to have a SOTA QSO some day!
73,
Paul K9PM
Hi Pete,
Congratulations on achieving mountain goat.
Look forward to working you again in LD land.
73's Geoff
GM4WHA
congratulations Pete, and welcome to the herd
Congrats, Pete! Welcome to the herd, and BAAA!
All Best, Ken
Congratulations Pete, welcome to the herd.
Lee,
N7LP
Well done Pete on MG and thanks for the contacts. 73 Don G0RQL.
Congratulations Pete, have fun in FL!
73 de TF/OE6FEG/P
Matt
I've had the pleasure to congratulate you, Pete, on the air for your recently achieved MG status during our first ever QSO a few minutes ago on 40m SSB. I hope there will be many more in the future along your way to 2xMG.
Thanks for the QSO and 73,
Guru
Well done Pete on achieving your


Thank you to all for the congratulatery postings. It all started when i retired about 5 years and was looking for a complimentary hobby to fly fishing. I had never understood this black magic rf stuff and joined the radio club at Scarborough. There i met the great man John G4YSS and the SOTA seed was planted. I was and still am embarrassingly unfit so ikept my expectations low to avoid dissapointments but set out a plan to achieve mg before i was 70 yrs. Along the way i met Phil G4OBK and Victor GI4ONL who introduced me to slick operating proceedures. I cannot thank them enough. Great friends i hope.
Thank you Derek 2E0MIX for showing me around the LD summits. Cheers to all the Chasers, its been my pleasure and hope it continues.
73PeteM0HQO
Hello Pete, well done for MG!
By the way your log for VO-034 is uploaded on 15/07 and i notice the spots are on the 16/07/19.
Same date for Victor 16/07.
73 and take care
Gerald F6HBI
Tnx Gerald.
I have removed the wrongly dated log and will re-enter it correctly when i enter all my logs for this trip.
73
Thank you for the S2S on the occasion of your MG activation! Congratulations!
Look forward to many more contacts!
73, Sylvia
OE5YYN