Well it's 17dB or 50x more sensitive than PSK31.
JT has been my passion for a couple of years now and, probably, to only way for me to work some really good DX on low power. Having worked 120 countries on JT this past 12 months, I have worked Antarctica, most of South America and as far as Tasmania (on several occasions)
When you popped up this afternoon I could see that something wasn't quite right and pleased that we managed to make contact and sort things out. That was my first SOTA contact on JT65

many thanks
I think it is safe to say that the Android App leaves a lot to be desired. At times, there were at least 4 stations calling you and I assume that the App was unable to decode them.
On the plus side your output was absolutely spot on.
By far the best program - in my opinion - is JTDX - which is brilliant at decoding multiple signals down to -28db but obviously a decent laptop or - possibly - a Win 10 tablet would be required.
New modes are currently in development with TH8 only having a 30 second duration. But it will be a few months before it is in common use.
Thanks for sticking with it and I am delighted we got there in the end
73
Dave
Indeed. Corrected now. (Autocorrect and a new but lousy keyboard on my ipad)
Hi Tom @M1EYP
Thanks for the short contact - I would like to have chatted for longer, but you sounded busy and I found the pager interference quite a pain on Bardon (every time someone spoke, I could hear the flutter of pager noise too). With your assistance I finally managed to activate the hill though!
Hope to catch you again soon.
73s, Simon
Three more activations in the sunshine today - Tuesday 20th June 2017.
G/SP-004 Shining Tor
I left home at lunchtime and enjoyed a brisk walk up Shining Tor in shorts, T-shirt and sandals. It was a bit breezy, but not at all chilly. A curious bird accompanied me for about quarter of a mile from the path from the tearooms up to the top gate. We took it in turns squawking at each other and it was definitely staying with me, swooping from left to right in front of me and landing for a rest beside me every so often. In my head, I liked to think it was appreciating some company, but in reality, maybe the reverse was true, and it was a ground nesting bird protecting some eggs.
I tried out 20m JT65 again, and had a successful QSO with top SOTA chaser SP9AMH. With just three 2m FM QSOs on the handie to add to that, I packed up and descended.
G/SP-013 Gun
The day was getting warmer, so the only layering-up I did was with the factor 30. I set up at the top, and things got off to a promising start. For the first time, I managed to establish a rhythm on JT65, and worked F4CUO, UR4UT and LY2FN in relatively* quick succession [Disclaimer: JT65 is not, by any measure, "quick"!]
I added a couple (literally) on 2m FM, and then there was a surprise meeting with top bass player Chris Cliffe by the trig point. Chris mentioned that the last time he'd seen me was at this very spot too! Chris is an amazing bassist and works with bands like FM and Heavy Weather, and had just returned from a 28 day stint in Israel. My schedule went out of the window here as Chris and I spent a good half hour chatting before I commenced my descent.
G/SP-015 The Cloud
I was now eagerly anticipating achieving my first ever SOTA qualification (4 QSOs) on JT65 and perhaps getting across the pond into North America with my new mode. I set up the 20m GP antenna, but soon found a problem - hardly any RX, and very high VSWR. When I checked everything, I found that the feeder core had snapped out of the chocolate box connector. I would need to unscrew that part of the chocolate box to attempt to fudge a repair, but I couldn't find anything about my person (car keys, allan key etc) that would budge it.
So, regrettably, I had to pack the 20m aerial area and just activate on 2m FM with the handheld. And yet again, it was Pete 2E0LKC and Ann 2E0LMD from Heald Green that were on the other end of the radiowaves.
So, this takes me to…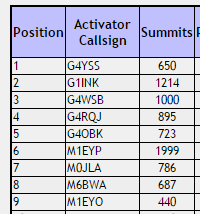 …and so the next one will be Activation 2K. I think I will be the second ever to achieve this after the phenomenon that is Jan OK2PDT.
I should be set to go for this tomorrow (Wednesday). I expect the main two antennas will be the 20m GP (now repaired) and the 10m-6m trap vert w. GP (that also does 2m). I may also take along the SOTAbeams BH4 (80-40-30-20) and a 60m dipole for other options. Modes - as many as possible: CW, SSB, FM, AM, PSK63, PSK31, JT65. (Would be cool to achieve QSOs on all seven of these modes on 10m).
Summit will be Shining Tor G/SP-004 or The Cloud G/SP-015.
Activation 2K has commenced…
Tom, Fantastic Activation today, your 2000th Summit, "in the bag", very well done and what a Marathon Activation it was, over TEN HOURS Operating several Bands/Modes. Certainly a "Man Sized" effort, with HF, VHF and UHF, FM CW SSB and Data Modes all worked.
Many thanks for the QSO's on 2Mtr. FM. and 70cm. FM. today.
Best Wishes to you, Tom. 73 de Paul M0CQE.
Cheers Paul.
My activation (#2002) early evening on Monday 26th June 2017, was hastily arranged at the last minute, so no alert or other prior notice. Nonetheless, I was surprised that Paul M0CQE wasn't there to answer a CQ call - he normally is!
I did get two couples on 2m FM - Anne 2E0LMD and Pete 2E0LKC from Heald Green, and Steph MW6SHJ and Steven 2W0JYN from Rhos. This was in-between attempting to make contacts on 10m and 6m JT65. Other stations' CQs were successfully decoded, even though the bands were very close to closing completely for the day. However, my replies didn't get picked up. When I tried a CQ myself, an Italian station did come back to me - but then the JT65android app crashed on my phone, and I lost the contact!
Prior to this, I did work Ivan IS0DCR, Sardinia Island EU-024 on 10m SSB.
Tom. Sorry I missed on #2002. I was monitoring most of the morning and afternoon. there are times when I am not able to do so, (without prior info.).
I hope to hear you on a summit soon Tom and maybe get into 3.30168095. I am looking forward especially to #2010 Odyssey 2.Hi Hi.
Best Wishes, 73 de Paul M0CQE.
So yes, you got into log(2003) Paul!
I had some supply teaching in Newcastle-under-Lyme, so went via The Cloud G/SP-015 - like the old days! I didn't even care that it was raining - I fancied a walk and an activation. I didn't need to find anywhere to get changed out of my suit either - as I was booked to teach P.E. all day so was already in comfortable clothing.
I set up the 10m-6m trap vertical + groundplane with the hope of making JT65 contacts on 6m and 10m. Well, 6m JT65 brought 9A8A, while 10m JT65 netted DJ9WH and OE5PEN. Four were added courtesy of 2m FM.
The possibilities with a weak signal mode like JT65 are starting to reveal themselves to me. There was nothing at all audible on the 6m band, certainly not in the CW or SSB portions. Leaving my rig tuned to 50.276MHz, that was mainly silent too, but occasionally you got the faint whiff of a tone. But leaving the JT65android app running on the phone, connected by cables and interface to the 817, and several QSOs and CQ calls from South Eastern Europe revealed themselves.
Interesting stuff. Hoping to catch some E's when operating on JT65 - but time running out for that now this year possibly.