As a recent overnight trip didn't kill me, I thought I'd try another one…
Inspiration came again from Fraser's @MM0EFI adventures - this time Carn a'Mhaim and Ben Macdui with approach from the south along to Derry Lodge then to Luibeg - leaving the car in the car park at Linns of Dee near Braemar.
Plots were plotted , plans were planned and off I went with a leisurely start from home getting me to the car park at around midday, then 8km cycle along very well maintained track and then single track, to arrive at Luibeg burn (river) after an hour or so.
A brief scout around for a campsite, re-fill the water bottles, then off up Carn a'Mhaim - managed to get a foot wet right at the start as a round boulder in the stream decided to roll off upstream just as I transferred weight to it - nice…
The track up was easy to follow once I'd got back onto it and the summit soon appeared, along with lovely views of the Lairig Ghru and the mountains to the east. Also in view was the next days summit and route up.
2m fm was a bust, so on to HF with a good run of callers in very noisy conditions - noisy enough that I wasn't able to complete a couple of QSOs as missed all the details which was a shame.

Devils point from CS-013
Panorama from CS-013
Think this link /pic below should work as a scrollable pano in google photos…

Ben Macdui
From an overnight camp down in the valley, I headed up the ridge to Sron Riach, then on to Ben Macdui. There was cloud hanging over the last 200m of the hill, so from a gentle stroll(! not!) up the path, it was on to "pay attention" mode - I soon reached one of the many good paths to the summit and set up just to the west of the summit cairn.
This wee toad was enjoying the sunshine on the lower slopes.
Initial calls on 2m fm were unpromising and I was hearing nothing at all until @GM4YMM Christine came back with a good strong signal from Edinburgh - the exchange was made and as Ken was busy, she left a note giving the reference etc so he could pick it up.
A couple more calls to the holidaying Derek G(M)1ZJQ in Cupar and Steve GM1DSK in Perth followed. Bill M0DXT then popped up from Carlise. A lull in exchanges ensued, then I scanned around and hear Ken @GM0AXY talking with @MM0YCJ Colwyn while the latter was waiting for Andrew @G4VFL to appear on Arthurs Seat. Ken was disbelieving Christine's writing as I "must be on CS-001" I managed to get in the explain that yes I was on Macdui , not further south and closer to Edinburgh. Despite me hearing Colwyn clearly while he was speaking with Ken, I never managed a direct QSO with him - maybe some odd reflections going on there. Another call with Tom @GM4YWI who lives about 10miles from my QTH wrapped up 2m very nicely.
A quick call on 40m gave a few more QSOs but with very difficult conditions. Pedro @EA2CKX being DX on the day with Northern Ireland and Wales joining England on the list too.
By that time, I was satisfied and with a descent and cycle back out to follow, wrapped up and took a few photos as the cloud had lifted - hooray!
Someone enjoying the view into the valley.
Southern end of Lairig Ghru
Carn a'Mhaim from Ben Macdui
Route in and out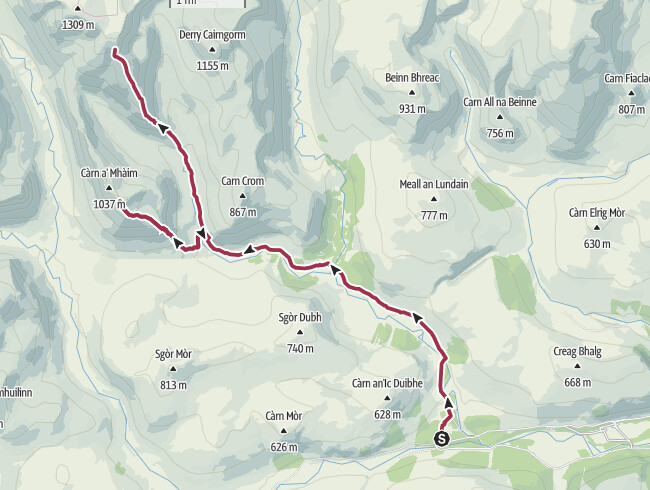 8km cycle each way (to the Y junction on the map) and 15km total walking - made for a nice trip out.
I still have a few midge bites as the site of the camp was in no wind at all and the little pests got through the multi-layered defences - including the midge net!!
Alan