Sunday morning, the last day of July and my "dad" duty for this morning was dropping off my son for an exam in a Taipei suburb. I had done my homework and the closest mountain I could activate after getting off duty was BV/NT-043, also known locally as Tianshang Mountain. This one is located in Tucheng - where I used to live in the 90s - and being familiar with the area meant I had no troubles getting there. Back in the day work was more important, so I never climbed Tianshang Mountain, but this was the day to do it. I was lucky to find a parking spot right away, so not the same misery I had when I wanted to activate Datun mountain. These urban mountains can be quite popular, so I'd rather like to do activations riding my scooter to avoid parking problems. It's cheaper, too.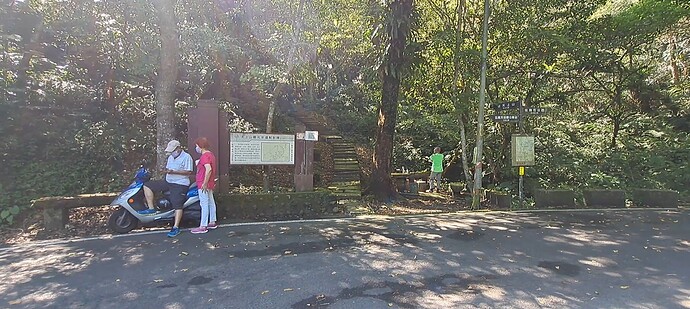 The parking spot I found was right at the one of the entrances and the 500 meter (154 meter elevation difference) hike up only took 24 minutes. It was stairs all the way up.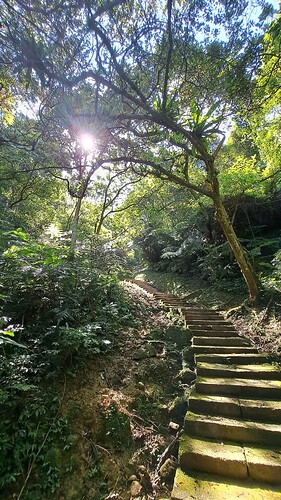 The area around and behind Tianshang mountain is quite big and a heaven for hikers. Not difficult to walk and everything is very well indicated with signs.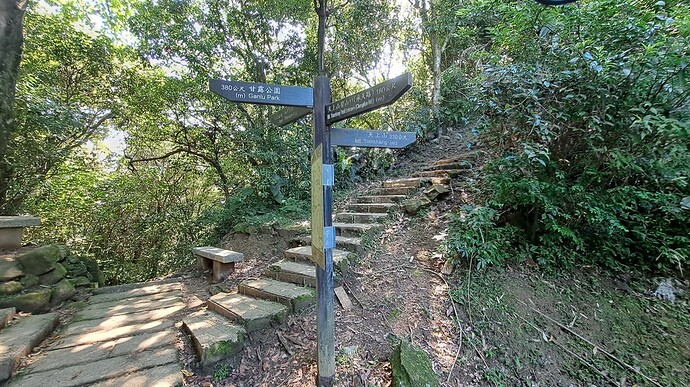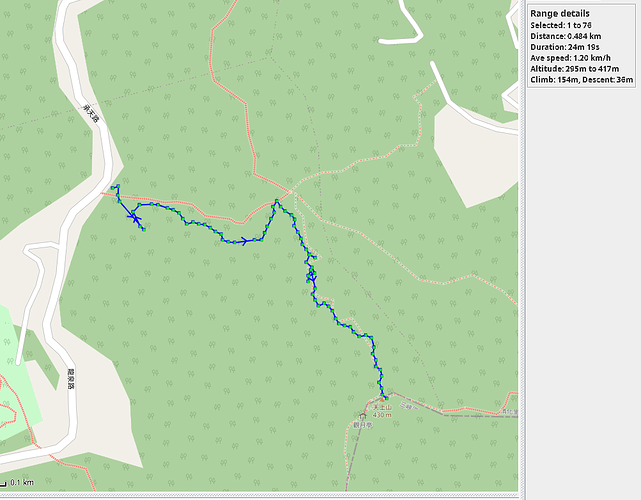 Before arriving at the summit there were already some beautiful views, like this one of Guanyin mountain.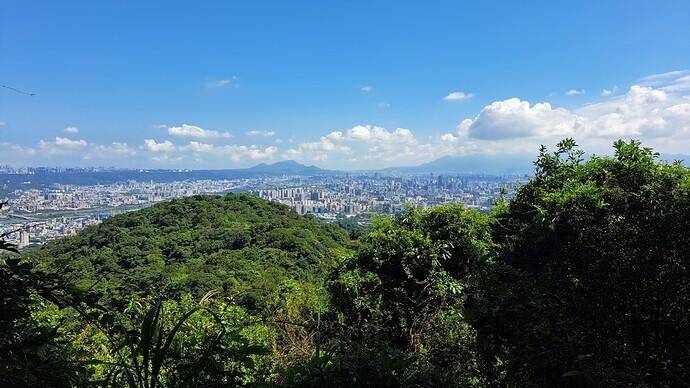 BV/NT-043 is only a 1-pointer at 430m ASL, but to my surprise the views at the (very small) summit were magnificent. You could see the whole of Taipei, Guanyin Mountain (which I activated on May 29) and also the back country.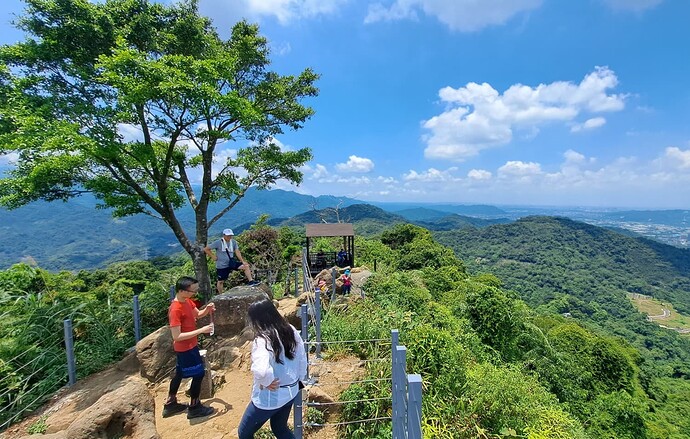 The obligatory photo of me at the trig point.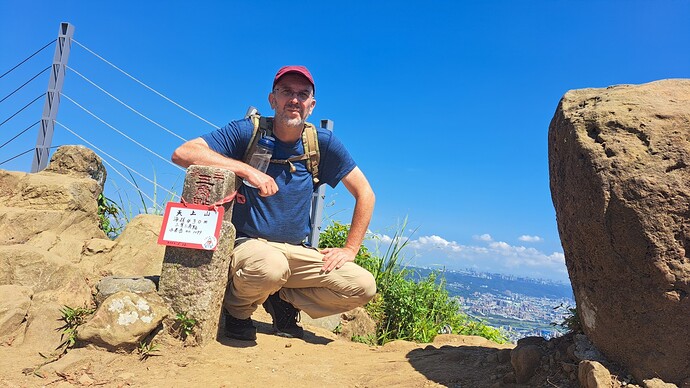 I found a shady spot and set up my station. It took a bit of effort to get the first three QSOs in the log, so I called CQ on 2 meters and got two locals in the log. Activation successful! It was also the weekend of the IOTA contest, so maybe that had some influence.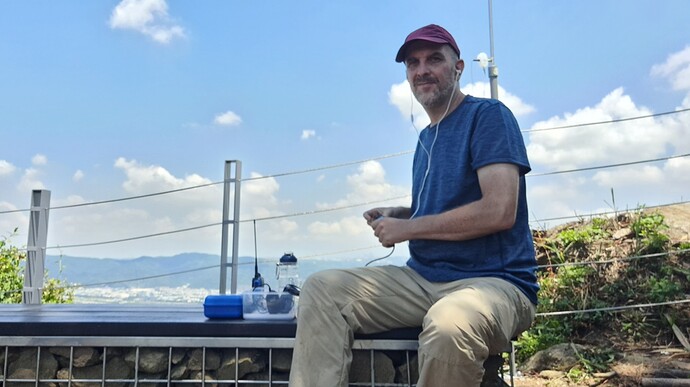 I took a lot of time to shoot some photos and videos with my new phone and just enjoy the view. Then I had a second round of calling CQ on 20 meters and got one S2S QSO in the log.
Always looking out for Taipei 101.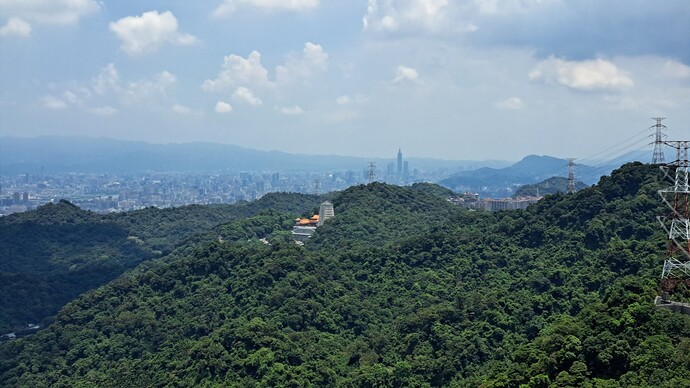 Close to midday it was getting hot and I packed up and headed down the other way, completing the circular route. On the way down I passed this pavilion with some people cooking their lunch. There are many such pavilions in the area.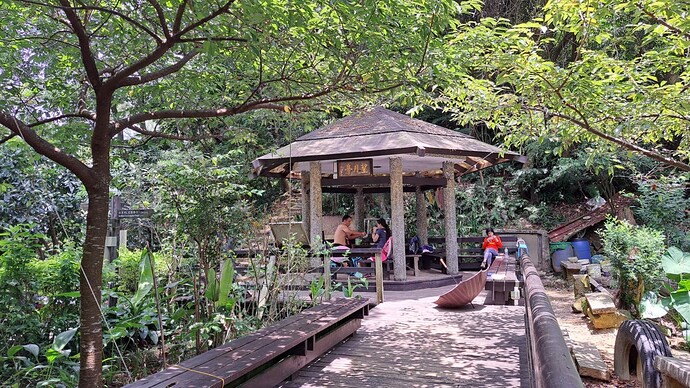 Because of the heat I usually don't have much of an appetite, so the one sandwich was quickly consumed and then back home via an alternative mountain road. That took way more time than going back via the highway, but it was worth it. A Sunday well spent and one more SOTA activation added to my list.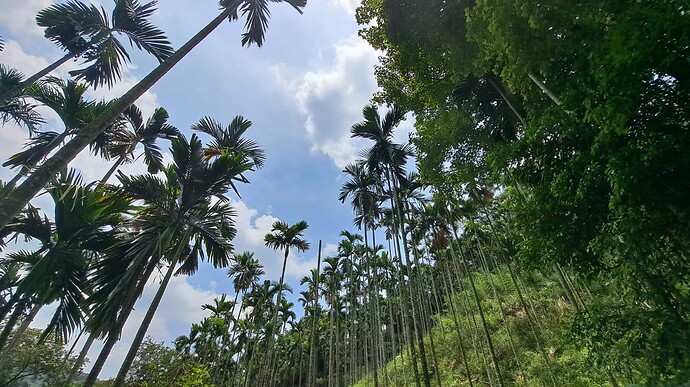 | Time(Z) | Call | Name | SOTA reference | Freq | Band | Mode |
| --- | --- | --- | --- | --- | --- | --- |
| 0204 | JH7IOT | Atsushi | | 21062 | 15M | CW |
| 0206 | JA1VRY | Tadashi | | 21062 | 15M | CW |
| 0209 | 7N1FRE | Kaz | | 21062 | 15M | CW |
| 0221 | BU2DM | | | 144620 | 2M | FM |
| 0223 | BV3TW | | | 144620 | 2M | FM |
| 0249 | JO3WLQ/3 | | JA/KT-012 | 14062 | 20M | CW |
| 0252 | JH1MXV | Hideo | | 14062 | 20M | CW |
As a bonus I took my new mobile phone and shot some footage which I turned into this video. I hope the YouTube link comes through. Enjoy.