Hi Saku
Another easy double option would be GW/NW-044 Moel Famau and GW/NW-051 Foel Fenlli accessed from the same car park near the town of Mold which is quite close to Chester.
73
Nick G4OOE
Hello Saku,
If your visiting Chester, your closer to the Clwydian range within reason and could get two summits easily activated within an afternoon.
Foel Fenlli GW/NW-051 and Moel Famau GW/NW-044 are both very easily activated. 051 has a good take off to the west.
Jonathan
I don't think it's the HF radio potential of each summit that's being compared here Mickey, but the overall merits of a visit/walk there by a foreign visitor with limited time. For sure, your SP-017 logs are mightily impressive, but then again you have equally impressive logs from The Cloud - as have I, on 5 watts QRP at that

No, for a one-off visit, out of the two, we must suggest The Cloud. But with a good block of 4-6 hours available time, then I too would recommend consideration of the Clywdians pair of NW-051 and NW-044.
However, I think that the crucial point here that we're all missing, is that Saku needs someone to activate with - who has a car and can collect him - and drop him back off again at his hotel. That's probably the first piece of the jigsaw to put in place, and then it can be decided which summit to head to.
It would be really cool if you could be the chauffeur Mike - but I would urge caution before choosing to take a visitor from Finland up one of England's very worst and most disliked SOTA summits!
Jonathan and Nick, thank you for the hints. Well, this is my second visit in UK ever so I am a bit stupid and do not know and understand your country's specialities – I mean G, GW, GM etc. in Finland here is OH only. But I see that it is more options what I could image before.
Basically one summit is it what I am searching – if it is possible to visit in two summits the pleasure is double. One pile up in one summit is more what I have experienced in UK ever!
Walking is not any problem, orienteering is my long time hobby. But Tom has understood my base problem correct manner, the co-operator is missing. It is not dramatical if I do not find it but still I am living in small hope until week end.

73, Saku OH2NOS
I would offer to pick you up Saku as Tom suggests, your visit is right in the middle of exams unfortunately.
I am biased but I love those hills. Third picture looks across them from Moel Gyw
Jonathan
Saku
This may help you understand our callsign system.
The United Kingdom consists of Great Britain (England, Scotland and Wales) and Northern Ireland:
G = England
GI = Northern Ireland
GM = Scotland
GW = Wales
There are also the following British Crown dependancies:
GD = Isle of Man
GJ = Jersey (no SOTA summits)
GU = Guernsey (no SOTA summits)
Visitors would use the current designator M, MI, MM etc. For example if you operate in Wales you would use MW/OH2NOS/P for Moel Famau etc.
Unfortunately I am unable to come over to Chester on Monday but I hope that someone will help you.
I have sent you an email with a possible plan.
73
Nick G4OOE
+1 for these two also. From Chester they are actually much quicker to reach than Billinge or The Cloud.
I work in Chester and live in Mold. Sadly on Monday I'll be in work (assuming I'm back in after 3 weeks of flu

)
Hi Saku
I have sent you another email and I can come over to Chester and pick you up on Monday to activate one or two summits.
73
Nick G4OOE
Thank you SOTAmates you are excellent guys!
Next Monday afternoon January 25th Team Nick G4OOE/P and Saku MW/OH2NOS/P will be on air from GW/NW-051 and/or GW/NW-044!
Be aware and watch SOTAwatch next Monday!

73, Saku OH2NOS
Hi Saku, I thought it was Warrington you were staying at, rather than Chester? Might make a difference on choice of summits.
From Chester, the pair of NW-043 and NW-042 might be an even better bet as they have the fantastic Ponderosa Cafe in between the two.
Hi Tom!
You are right I have spoken to you at first about Warrington. Meeting place was changed last week and so Warrington changed to Chester. But when you look to UK from Finland side they seems to be located very close.

73, Saku OH2NOS
OK Saku, FB! Helsinki and Stockholm look close to me too

Yes, from Chester, I'd recommend Moel y Gamelin GW/NW-042 and Cyrn-y-Brain GW/NW-043 as an even better pairing than NW-044 & NW-051. Probably slightly closer as well. And the Ponderosa Cafe!
Hi Tom
The Ponderosa two would be a good option but Saku has limited time available and he prefers to work HF. I don't think we have time for two multi-band HF activations and a visit to the cafe.
73
Nick
Yesterday's visit to Moel Famau (GW/NW-044) and Foel Fenlli (GW/NW-051) were interesting. This was my first activation in Wales ever, so for my lucky I had the best possible guidance when Nick GW4OO/p was the Team leader. It was not raining on the parking place when I asked if I really need raincoat. Nick said that take it because of wind. This was the live saving advice – during the trip was the most awful wind what I ever has seen and experienced – time to time was problems to stay up. The same continued when working. First time I had problems to listen because the noise was so huge I could not hear loudspeaker when sending cw – new feeling.
With five layer in upper body I survived. Pile up started and I tried to handle it – better and worse. At 13.31 I sent 599 to DL1FU couple of time, but he did not answer. Same happened at 13.34 with DF5WA – I was a bit confused! But then Nick remarked that right wire of dipole was closed to the metal fence – fixing that operation continued. After pile up in 14 MHz we were so frozen that I proposed to Nick to change the place. Then we walked to Foel Fenlli and kept qsos on 2m – new experience again. Also I understood why 2m is good option here. Being frozen on the place where is not any trees where to install antenna it works!
I learned couple of things of real life: here is not any trees on the Hills, so you need to install your antenna different manner and if it is windy – it is windy and it is heavy. So far I have used screw mounted link dipoles. Now I learned that using alligator clips, life is easier. So the under construction being antennas at home will get alligator clips. Summa summarum, this was excellent experience. Especially thank for my guide Nick G4OOE and for all the other ham-mates who made this event possible!
73, Saku MW/OH2NOS/p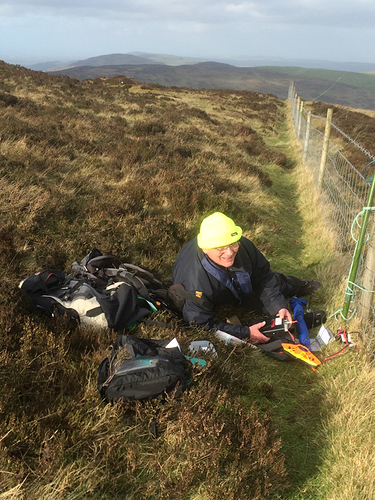 Nick is tuning the station.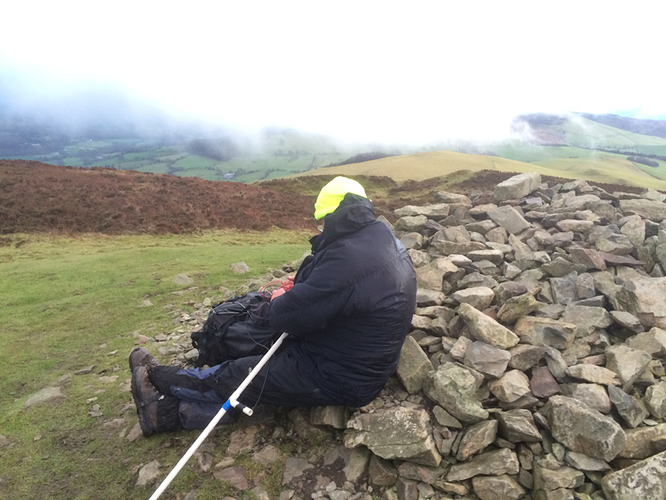 2m qsos are starting.
Unfortunately from the pictures can not feel the wind!

Hi Saku,
I would rather say "fortunately"


I can imagine that horrible strong cold wind and I think we all prefer not to feel it, hi, hi!
Congrats for the successful activations.
73 de Guru
Thank you for the report Saku. I'm glad you enjoyed the activations despite the cold wind and well done Nick for ensuring that Saku was able to enjoy a few hours on the hills of North Wales.
73 Allan GW4VPX
Well done Saku (and Nick).
There was obviously something very wrong with your setup on CW.
I briefly heard a few dits and dahs at times, but it wasn't a workable signal.
Later when you SSB you were 59+, but with the big pile up you had, I didn't bother calling

Glad you enjoyed the Welsh hills and weather.
Looks like you had a nice day. Imagine what it's like when it's horrible!
CUL
73
Pete
Saku on footpath to Jubilee Tower, GW/NW-044 Moel Famau
This dual activation of Moel Famau and Foel Fenlli was a great experience for me and the weather was kind to us in the main apart from the wind!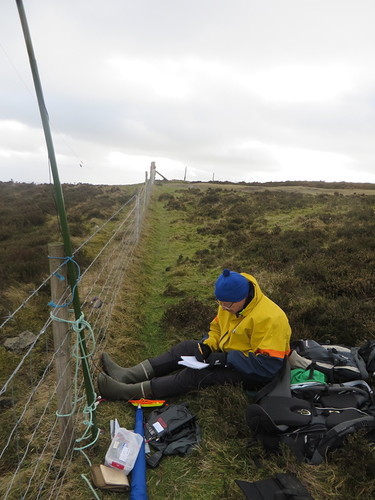 MW/OH2NOS/P in action on GW/NW-044 Moel Famau
We had a good chat on the way to the Jubilee Tower ruin that sits on the top of Moel Famau and I learned a lot about the history of Finland and Saku's activations in the country. Saku is very fit and is a keen orienteer so these summits were very easy for him. We split the load into two rucksacks. I took the FT-857 and Saku took the FT-817 (as back up) and various bits of kit to ensure success. We started on 7-cw and all was going well for a while then although we could hear stations 599 on 7-cw and 59 on 7-ssb they were having problems reading Saku. A look at the antenna showed that the wind had blown part of it onto the barbed wire fence where it was tangled. After sorting out this problem Saku was able to work through the pile up. Saku then went on to 10-cw and 14-cw where he worked several dx stations including KT5X & NF9V. 145-fm was a new experience for him which I think he enjoyed. We spent almost 2 hours activating but unfortunately didn't have time for 14-ssb if we were to fit in an activation of Foel Fenlli in our limited time frame. We headed back to the car for a quick drink before ascending the steep path to Foel Fenlli. We only had time for a quick "smash and grab" 145-fm activation. Saku could see that I was struggling so kindly carried the rucksack with the 2m equipment, a VX7R and FT-1900 (if high power was needed), LiPo and antenna. We arrived at the very windy summit of Foel Fenlli and were on the air for 16 minutes and we both worked 8 stations. We then headed back to Saku's hotel in Chester where he had to get ready for his evening meeting.
I was so glad that we had managed to squeeze in the two summits and give Saku a taste of SOTA activations in the UK. It was a very rewarding day for me to learn something about Finland, a country that I had only visited once when accompanying my son on a business trip a couple of years ago.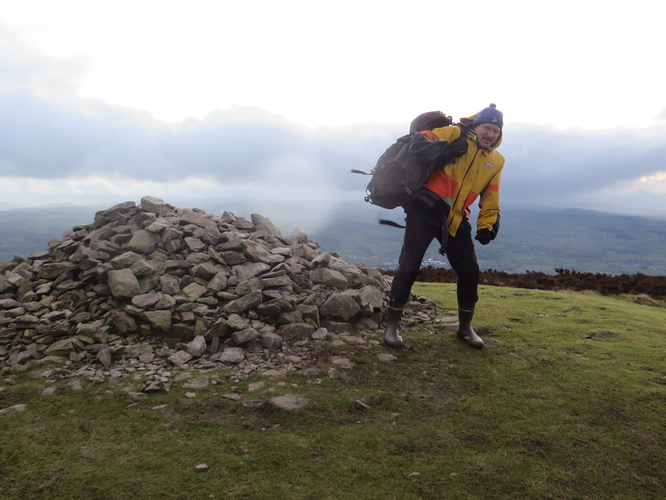 Saku leaving GW/NW-051 Foel Fenlli
Thank you to Saku for this great joint activation and thank you to all the chasers for making our day successful.
73
Nick GW4OOE/P
Well done Nick, thanks for the photos. I was pleased to work Saku on 7.033 CW.
73
Victor GI4ONL