I spent the night in Tyndrum. The place with the Green Welly Shop !! https://www.thegreenwellystop.co.uk Great place, but boy is it noisy if you overnight in a camper. It must have the noisiest 3 or 4 acres of gravel parking in the UK. So after smiling at the gold panning equipment - surely a bit of a joke - I spent the night parked up at the railway station.
The trains weren't running due to the staff strike. I used my solar shower to get my first decent wash/shower upon arrival in bonnie Scotland. And settled down for a bit of peace and quiet. Around 10pm a one year old Audi turned up. The occupant proceeded to pull on a wealth of high-vis clothing, boots and helmet. I couldn't resist asking him his intentions.
"I'm making an assessment as to the track safety", he told me.
"But the trains aren't running are they?", I asked. "No, but we still have to do one", he said, so I left him to his work. No more than 5 minutes later he returned, took his gear off, but not before I asked him where his home was. "Glasgow", !!!

and off he sped. What can I say??
This was going to be an easy day out. Follow the West Highland Way and turn right up the first burn. There were quite a few fellow walkers on the path, most carrying large rucksacks, some larger than others. I was somewhat perplexed though when I saw two lads veer off the path, one was pulling what I can only describe as a large loaded shopping trolly. Where and what they were doing I only discovered on my return**.
It was only after a rather longer walk than anticipated did I realise that I'd almost reached Auch Gleann a mile and half beyond where I intended to go. After several explitives, I decided that my only real option, other than turn back to my original planned route was to carry on a little and climb up the steep NW shoulder of Beinn Odhar. Luckily there was a bridge giving access (even if there wasn't at least I was safe in the knowledge that no trains were running and the track was safe.

Yes it was steep. But the wx was kind and I arrived some 45 minutes after my alert time.
I found a comfortable operating QTH, by re-arranging a few stones, changed my battery which had served well on seven activations so far (a 3amp Li-on)
https://www.ebay.co.uk/itm/185308985146
Opening up on 14mhz at 1346GMT (UTC if you wish!!) Chris F4WBN, Jack OH3GZ, Jose EA7GV & Manuel EA2DT were on me in an instant. EA2DT's morse is so recognisable that I have no trouble digging him out of the deepest of QSB or QRM. I only need one letter and one space - no one sends their callsign like he does.
II got an S2S with fellow club member, David Holmes G4ZAO/P, on GM/SS-SS-197, and two more S2S's, HP9/DL6GCA/p on HB/TG-002 & M0KVI/P on G/SE-014. Including a QSY to 10mhz I gtt a total of 15 chasers in one hours of activating.
The only couple I saw kindly took this photo of me operating and spent several minutes chatting. The only people I saw on the hill that day and the only photo I have of me on the hill doing SoTA.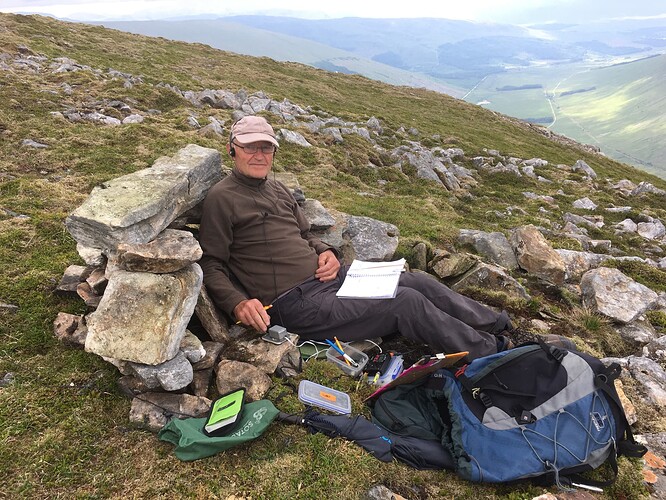 The way back to Tyndrum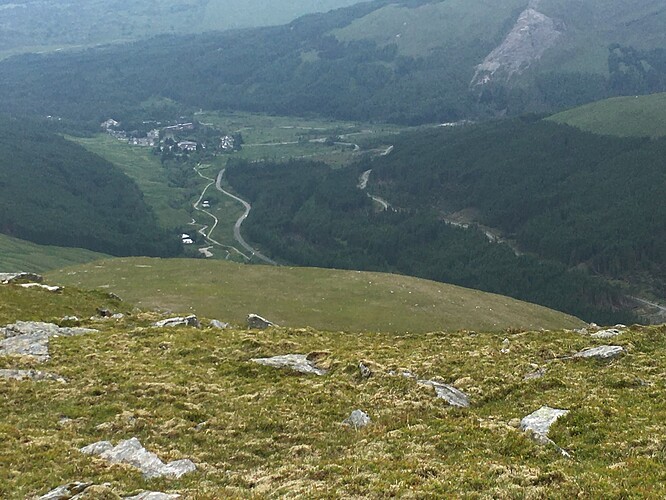 Radio Kit Taken
SW-3B 5w 3 band transceiver
1 X 3amp Lion battery plus 1800mAH spare
1 X Small Russian straight key in box also containing a tiny pen knife, earbuds tape & some bits of wire.
1 X small pr headphones (JVC bought from a charity shop for £4)
1 X Sota Beams linked dipole + Life's a Breeze 4m pole
A5 sized Note Book (log book) plus 2 pencils & one Biro.
Flexible plywood A4 sized clip board (+ watch set to Z/GMT/UTC) - packs easy - flexible in bag, indestructible and lightweight.
** And what of those two lads I saw, one of which was pulling loaded shopping trolley?
I discovered them panning for gold in the burn which flows through the village. I wonder if ??? Well, the village shop certainly sells the gear - and there's a 'new' gold mine in them thar hills.
David