These two are not the most exciting hills - they are big lumps separating Yorkshire Dales (but now in Cumbria) - but there are 6 points on offer and they can both be done from the same spot off the A684 near Sedbergh where there is plenty of parking. The routes are very straightforward as they just involve following a fence or wall all the way to the summits but they did feel like a bit of a slog. But that meant, especially for Aye Gill Pike, that the descent was quick and enjoyable, unlike many more interesting hills. And the views are good.
One of the aims of the trip was to give Éric @F5JKK his last G/NP chase on G/NP-023. Despite this I did G/NP-012 first - I usually do the higher pointer first in case I have to miss out the second summit.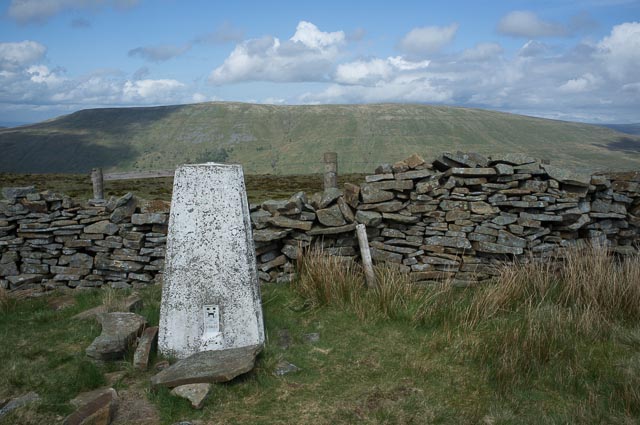 Baugh Fell G/NP-012 from Aye Gill Pike G/NP-023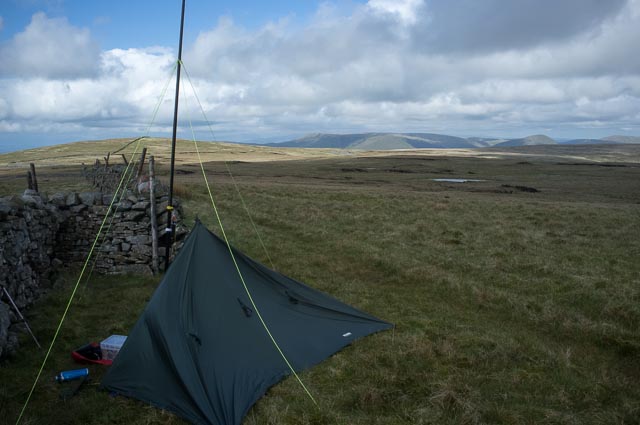 Set up on Baugh Fell with The Calf G/NP-013 and Yarlside G/NP-019 in the distance
As it was a weekend with an Italian contest starting at 1200 UTC I chose 30m as my primary band using my homebrew 5 band rig plus EFHW antenna. I usually contact Éric on 20m so I was hoping that the lower frequency would work for us and he was one of my 13 QSOs on the band, although he only gave me 449 (he was 579 to me). As this was before the contest start I also tried 40 and 20m but only got 2 QSOs on each band. I did get TM15SOTA on 20m but thought I might have had more inter-G on 40. With a longish drive and another summit to do I didn't bother with 2m FM.


Wild Boar Fell G/NP-007 from Baugh Fell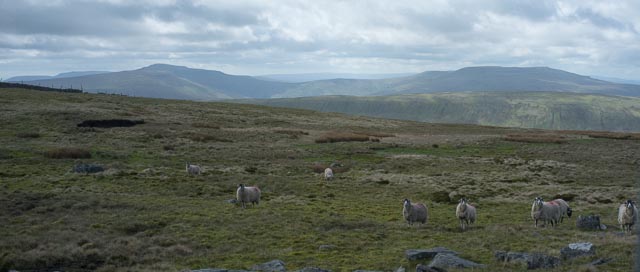 Whernside G/NP-004 and Great Coum G/NP-011 in the distance with Aye Gill Pike G/NP-023 in the middle, plus some sheep
Baugh Fell has a number of summits with the highest point being Tarn Rigg Hill at 678m. The trig point is on Knoutberry Haw at 676m. There is also a West Baugh Fell at 639m.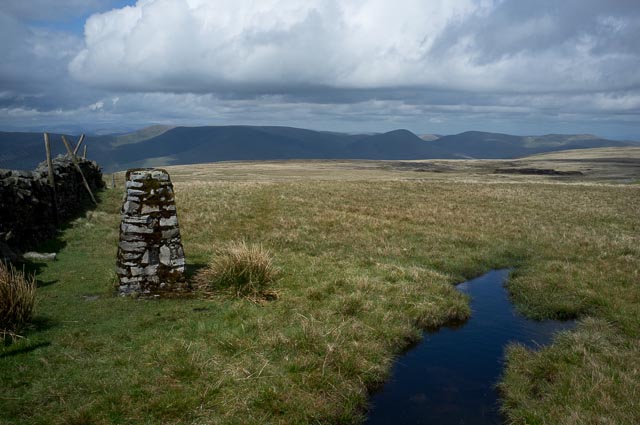 Knoutberry Haw trig point with The Calf G/NP-013 and Yarlside G/NP-019 in the distance
After descending Baugh Fell I walked past my car, crossed the road and started up Aye Gill Pike. I quickly found a nice path. After a stop for lunch and crossing several stiles I was soon on the top.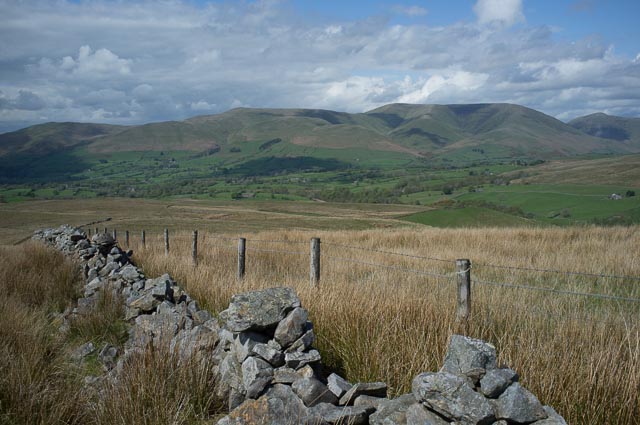 The Calf G/NP-013 and Yarlside G/NP-019 while ascending Aye Gill Pike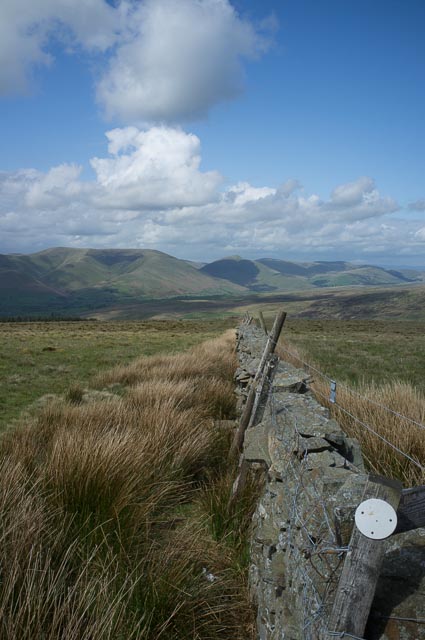 The Calf G/NP-013 and Yarlside G/NP-019, again
I set up for 30m again and was very pleased that Éric F5JKK was my first caller. Again he only gave me 449 but it was a good contact. Only 5 QSOs on 30m plus one more on 17m was a disappointing total but it was enough for the points and it was time to leave. It really was an enjoyable descent as the slightly boggy ground made for easy walking.
Thanks to a bad accident on the A65 between Settle and Long Preston I had to make a detour on my drive home by taking the scenic route between Settle and Airton. I used to drive that route quite often so it was nice to do it again and amazingly didn't seem to add very much to my journey time.