Thank you, it was the green which made me think it was ex-military.
Thanks for the S2S - what a funny coincidence:
We were both driving with a Land Rover to the activation.
We both had a nice activation in the snow.
Our S2S was the last QSO of the activation for both of us.
I was on DM/BM-002 and have written down 13:19 UTC - using an old fashioned paper log.
73 de Michael, DB7MM
Michael, It was great to hear you just as I was about to close down - it made my day! Also, thanks for the time correction. I will update my log.
It's always nice to hear from someone else that likes rattling around in a Land Rover. I had a peek at your website. Is it still a 90 that you drive?
Cheers, Fraser
Hi Fraser,
What a fab report and photos. They make my first five activations seem like walks in the park !!
73, Lea M0XPO
Thank lea. I must be doing it wrong! I can only think of one walk in the park so far!!
Yes, the 90 is still my daily driver. Purchased new in 2012 meanwhile it has collected more than 120000 km. Not such a nice version as yours but at least one with a working heating (as long as you require enough power from the engine

). Here it is a the car park of DM/BM-002 last Sunday.

Here the report of my activation of DM/BM-002:
Ascent is partly on the ski slope which is also used by walkers. Only very few skiers on the ski slope as lifts are closed.

No sun but overcast sky - but at least no fog during the ascent.
Despite quite a number of touring skiers and hikers are on the summit I could set up at one table and bench.

After two QSOs on 2 m FM I worked HB9FUE/p and HB60ANT (operated by
@HB9DIZ
) S2S on 40 m. Next I called CQ on 40 m and had a significant pileup resulting in 34 QSOs in 40 minutes.
Meanwhile the summit was covered in fog and weather was getting more and more unconfortable:
Checking SOTAWatch I discovered
@MM0EFI
calling on 20 m and heard him announcing the last call before going QRT. So I hastily called in for S2S and we made the QSO. As I was getting cold and sleet of snow were starting to collect on my setup I decided to pack up, also. Sorry to all chasers waiting for me to call CQ on 20 m. During descent the sleet of snow were getting more so packing up in time was the right decision.
73 de Michael, DB7MM
Well done on the activation! That looks like Scottish weather.
Dora is V8 petrol, so instant heat, at great cost (£££)

My old HiLux had an electric heating element. It was a 250W heater element that would only heat when the engine was running and the vehicle was cold. It drew enough current that when you switched it on the revs grew from about 750 to 1300rpm to power it. It still took considerable time to get any real heat out the heater as diesels run so cool. My previous diesel car also had an electric heater that was automatically enabled when the car was cold but the battery state and revs were sufficient. Like many cars it had very "smart" battery charging to ensure there was enough charge in the battery to start the car before the electric heater or heated seats/rear window would come on.
That's interesting. Some Toyotas used 24v for starting back then. Maybe that was one?
Discovery 3's had a webasto heater in the engine bay. Most had locked themselves out due to lack of use over the summer. There were no user controls - it came on automatically to heat the water flowing through the engine and coolant/heater piped.
Mine was locked out and I never got it fixed. In winter I would drive the 15 miles between Peterhead and Fraserburgh, only getting warm air for the last couple of minutes. The TDV6 was such a cool running engine.
No 2x 12V big batteries in parallel. Mine was a 2.5L I4 and it had a big radiator with viscous fan. It was properly torquey so you never had to rev it, rare to take it above 2500rpm when driving about on roads etc. It took a long time to get hot. You had to turn it on, wait for the glow plug light and then it would start, every time. Even when it was -14C here without a struggle, it turned over a little slower but still started on the 3rd "warump"… i.e warump warump warump starts. Though when it was that cold, it was a bit rough for the 1st 30 secs. I never touched the throttle till everything seemed happy.
My Audi 3L V6 diesel got hot quick. It too had an electric cabin heater but even so the water temp gauge showed something quickly. This BMW 3L I6 diesel gets warm quick too but there's no water temp guage just the "your electric water pump has failed, prepare yourself for a £850 repair bill" warning lamp. But unless you drive it smartly, the oil temp doesn't get up hard driving temp for ages on a cold day. At least with electric seats in both cars you could warm up quick. Greatest invention though is the heated steering wheel. I thought they were a complete joke till I had one!
My Nissan Leaf heater comes on straight away… one of the benefits of an EV.
In fact (as long as I and the car) have phone signal, I can often use my Nissan car app to turn the heater/aircon/seat heating/steering wheel heating on a few mins before I get in… toasty and defrosted before I get outside.
Yes I know it is affecting the range, but by very little and I use the feature when it makes sense.
On this occasion I'll have to disagree with you Andy. Gerald has hit the nail on the head, this is the greatest invention: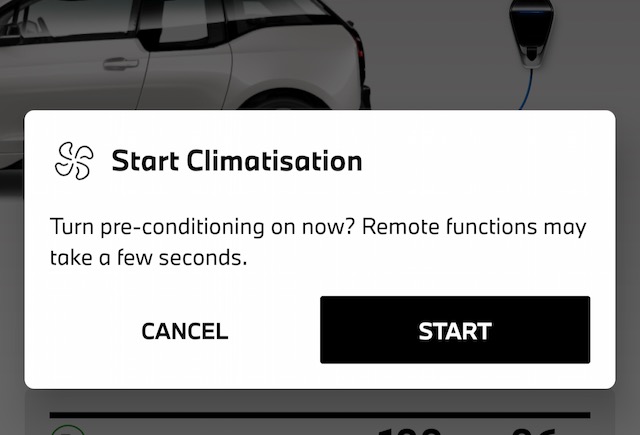 De-iced, warm and toasty. Before I've even left the home or office

Another work chum does that with his Tesla. As it's plugged it at home in the morning when it needs defrosting etc. it doesn't use the battery either. Another electric car owner (now on 3rd vehicle) said one of the first things he learned was heated seats/wheel means you can turn the cabin heater right down and the seat/wheel energy usage is much less than the cabin heater. You get the needed comfort with much less range usage.
Just wondering what the impact on range is? How much less mileage?
Any thoughts on it?
I'm usually plugged in at home, but (before WFH) when I used it at the office in winter I think it used 2-3% of battery to de-ice all the windows and warm up. So perhaps 4 to 5 miles off the range at most, not a lot. My car has a 125kW motor, so using a few kW for heating doesn't have that much effect in practise. Another way to look at it is typical EV consumption is around 4 miles per kW hour. So 3 kW heater for 15mins is not far off that.
Once you are on the move the heating power consumption is a lot less, as Andy says the heated seats and wheel (I don't have one unfortunately) mean the cabin heating can just be ticking over.