This has been a busy period for the Summits Team. We have several new associations launching this weekend along with major updates to some existing ones.
I'll describe those I've been working on and leave it to others to describe some more, such as the IS0 revision…
New Associations
(In no particular order)
EA9 Ceuta
Ceuta has a single summit, which is inside the fort - Fortaleza del Hacho. The Spanish LIDAR survey picks out the highest point as inside the south-east corner of the fort, and in case it's not possible to get inside (?) fortunately the AZ extends to just outside the wall.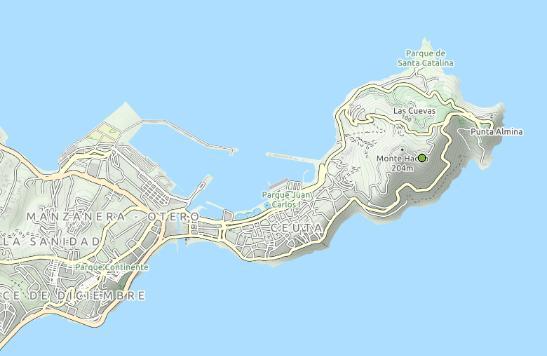 [Acknowledgements to OSM for mapping in this post]
Welcome to Javier , EA9AI.
ZB2 Gibraltar
Heading a few miles across the sea to the north takes us to Gibraltar. Here again we have a single summit - The Rock of Gibraltar. In times past I believe the summit was MOD land and not accessible, but apparently that changed from 1993 and much of it is now a nature reserve, plus there are some very very big guns to inspect!
Now I must mention that ZB2 is not a signatory to CEPT reciprocal arrangements. As such you may not turn up and start operating. You have to contact the authorities in advance to arrange a licence. You will need a ZB2 address for the duration of the licence (which I suppose makes it tricky for a day trip). The other big restriction: - No HF! (Just 6m, 4m,2m and 70cm - no linears either)
http://www.gra.gi/communications/amateur-radio-reciprocal-licence
ZB2 is starting up without a local AM - we didn't want to wait! Reports back from here would be most welcome.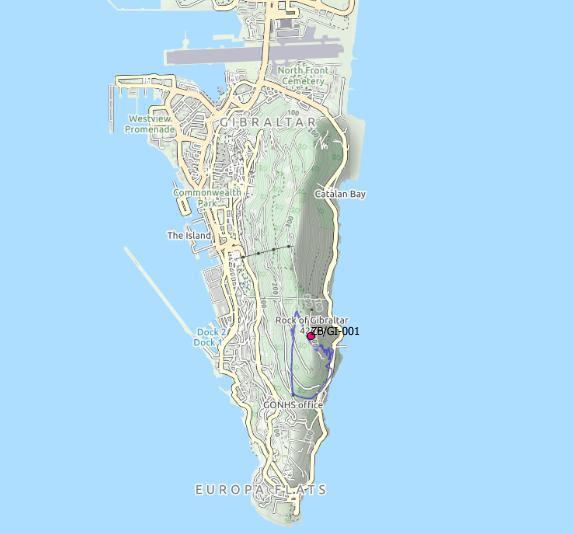 VY2 Prince Edward Island
Eventually we hope to get each and every Canadian province running on SOTA. The newest member of the family will be VY2. This qualifies as a P100 association with two summits.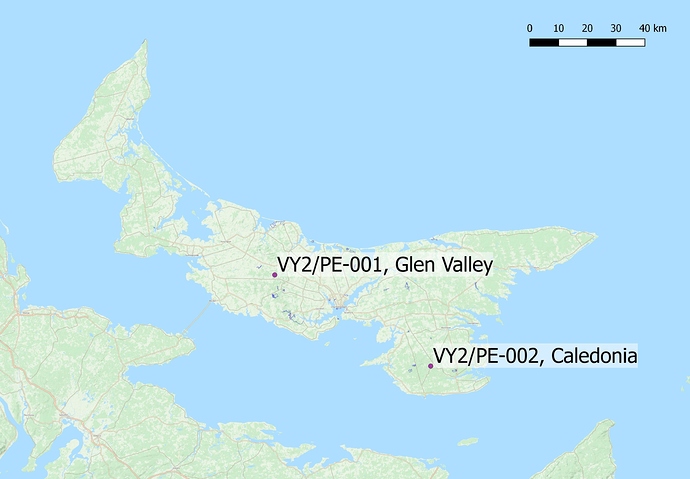 A big welcome to George, VY2GF.
OY Faroe Islands
I'm based in the UK and was shocked when I realized that one of our closest neighbours was not listed in the programme. Well, we had to fix that!
The archipelago seems to me a SOTA dream, almost like the Lake District was picked up and moved north a bit (remembering they used to speak Norse there too!).
We have 108 summits waiting to be activated.
Again we're running this one from the MT initially as we couldn't find an AM in time. I hope we will generate some local involvement.
Oh, if you need any convincing check out the Sheep View videos:
Being a part of the Kingdom of Denmark we're Ok in OY with CEPT arrangements. Here's a hiking guide: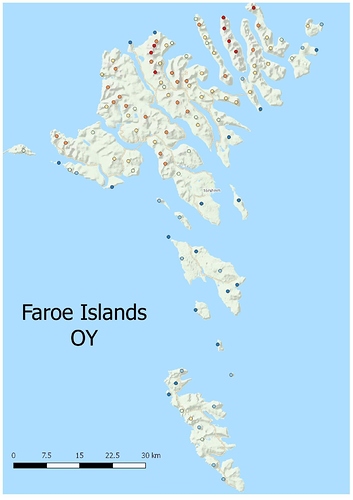 (On a technical note we got new elevation data just in time to help with surveying of OY. Latitudes above 60N are not covered by our go-to source of SRTM, but a new Arctic DEM is gradually filling in the gap)
Updates
EA3 Spain (Catalunya)
AM Daniel has been working hard with me on a major update to EA3. I've processed the Spanish LIDAR data, as used also for EA2, EA8, EA9 and ZB2 (!). Ultimately we (Summits Team) hope to apply this to all EA but it's a slow process.
There are a few summits set for retirement. A handful are being replaced by higher near neighbours. In these cases we're putting off the changeover for 6 months to give you a chance to collect the old refs first.
There are lots of new ones. I'm sorry, I meant to count them. But anyway, quite a lot!
One of my favourites looks to be EA3/BC-086, Castell de Montjuïc. This is right in Barcelona overlooking the sea. But there are lots of new big mountains too of course!
Edit: I just counted them. 291 new summits, less a few deletions.
That's it from me. Enjoy your new summits everybody and stay safe!