With Saturdays activation of "Schwarzer Berg" (here in this region better known as "Taubenberg") DL/MF-082, I understand why drive-on summits are so much appreciated

On Saturday morning I had an appointment with some friends in the valley of Mangfall for a trail-running training. It was really a nice event which has been well organized by the trainer. But at the end of the training I didn't immediately feel exhausted. So I came to the conclusion, that a SOTA activation of DL/MF-082 on my way home would be a nice additional activity on this mild spring Saturday

Despite the fact that DL/MF-082 can be completely driven on with the car, I decided to park my car abt. 1km and abt. 90 height meters away from the summit, below the Taubenberg-Inn in order to enjoy the fresh spring air. Soon after the first meters away from the car I bitterly regretted my decision, because with each step I heavily felt the result of the early training

Our trainer seemed to has done his job very well

At least I kept to my decision.
After 15 minutes of painful walking

I finally reached the highest point of DL/MF-082 which is decorated with an abt. 100 year old and 30 meter high viewing tower: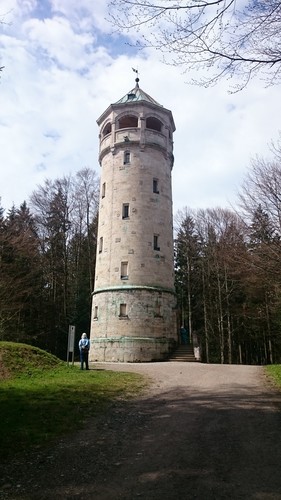 The doorstep shows a welcoming mosaic: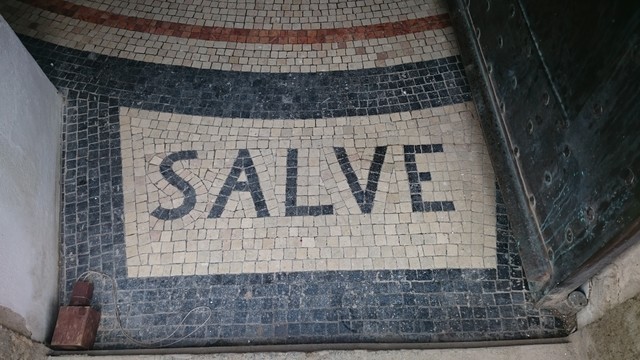 Inside this tower spiral staircases wind up to the viewing platform. Indeed there are two interleaved staircases: One strictly for upstairs and the other one strictly for downstairs: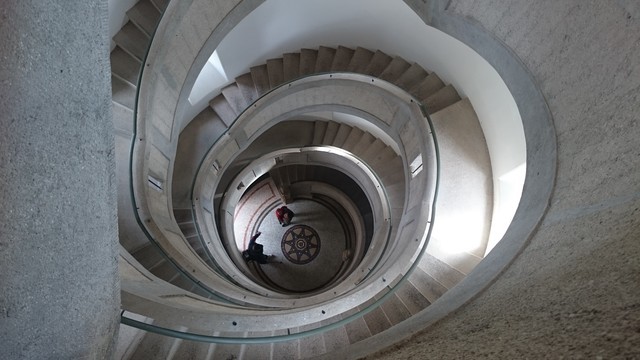 After another abt. 20 height meters I finally reached the viewing platform: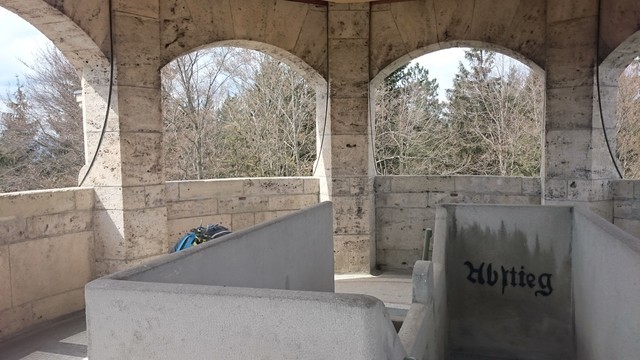 Because of the circumventing trees, that already reached the height of the viewing tower the panorama wasn't that exciting: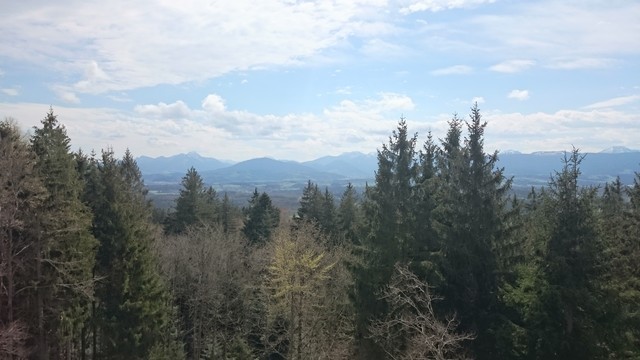 As many visitors continuously explored this tower, I soon left this place in order to set up my dipole antenna on a nearby meadow: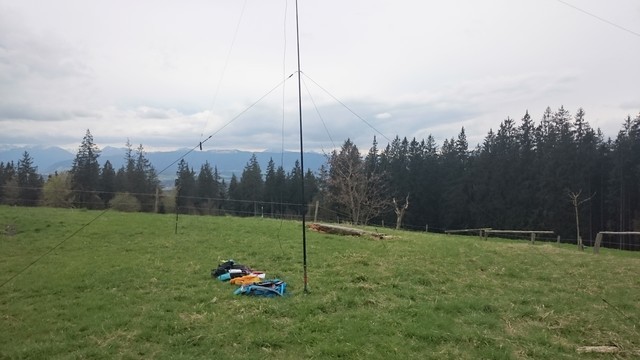 I wanted to test my new little CW transceiver, but the band conditions weren't really exciting. I'm not sure of the transmitting power of this transceiver but I assume it's somewhere between 2 watts and max. 4-5 watts. I also struggled awfully with the Iambic mode of this tiny rig, so I've to practise a little bit more for my next activation.
At least 15 contacts on 20m band, even one contact with NA, with K4DY, assured that it works. 30m band has been worse with only 7 contacts. Thanks to the patience of LA1KHA also a summit-to-summit on his SOTA reference LA/TM-049 has been successful.
A comparison with 20m SSB confirmed that the band conditions were not the best. But at least 12 additional contacts yielded the final sum of 34 contacts.
For those who are interested which new transceiver I've tested, it's this tiny blue thing on the next photo, connected to a totally oversized battery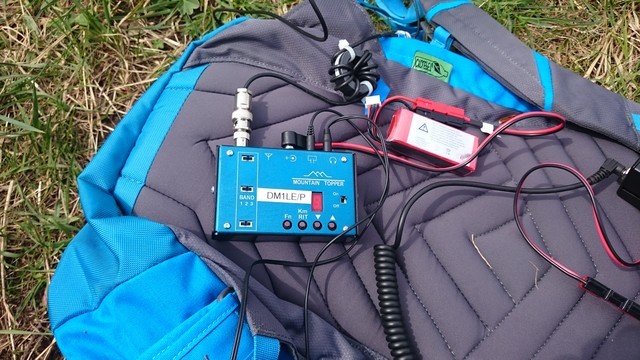 I would call it E.T. (calling home) radio, because in many reports I read about this radio it has been mentioned that it's willing to call home, i.e. to North America. And in this role it didn't disappoint me on it's first SOTA activation

Many thanks to all chasers for calling me, especially for your patience with such bad band conditions. Also many thanks for spotting me on SOTAwatch and thanks for the S2S.
73 Stephan, DM1LE